Tips to create an efficient data dashboard
Choosing the right data visualization techniques and tools is the key point to figure out when working with data. However, it is not the only one.
Often visualizations are combined into dashboards to provide analysts, management and other users with complete information on a subject. Dashboards have different functions (show changes in conditions, help track activity and location in real-time, provide remote monitoring and control of a system, etc.) and specifics (dynamic vs. static, historical vs. real-time, KPI/goals dashboards, etc.) that determine their design and features. However, there are several important factors to consider when you create a data dashboard of any type or purpose:
Tip 1. Consistency
Consistency is the key to fluency and fast dashboard navigation. It's important to stick to specific color-coding, fonts, styles and visualization elements when showing the same metrics across different dashboards.
Tip 2. The right choice of visualizations
No visualization is one-size-fits-all, even a line chart. It's crucial to choose the right visualization technique for each type of data on a dashboard to ensure its usability and avoid confusion or even misinterpretation. Check the examples in this article that support this point.
Tip 3. Personalization
Not only does the audience impact the choice of individual visualizations but also determines how to create a data analysis dashboard. It's essential to keep the goals of different end-users in mind when deciding what visualizations and data should be included in a dashboard. After all, important information for one user can be unessential or even meaningless for the others.
For example, a health tracking app used by patients and doctors should have two personalized dashboards. The patient's dashboard can include basic health data such as blood pressure, medication intake, activity tracking, while the doctor's dashboard can combine this data with test results, EHR notes and other medical information to provide a more comprehensive picture of the patient's condition.
Tip 4. Device constraints
Screen size is an important parameter when we are talking about multifunctional dashboards that are supposed to be used on different devices. A dashboard on a small mobile screen should provide no less value as a dashboard on a desktop screen. For this purpose, designers should consider responsiveness and provide tools and features to easily manipulate dashboards on limited smartphone screens — quickly navigate between views, drill data, compile custom reports, etc. This point is particularly important when creating UX/UI design for IoT apps for they are usually data-heavy.
Tip 5. Value
A dashboard should provide value the moment the user accesses it. However, it does not necessarily mean that all the data should be stuffed to screen one. On the contrary, visualizations should be carefully selected, grouped and aligned on every screen to immediately answer all important questions and suggest ways to further explore the data.
Tip 6. Testing
Whether you create an automated data visualization dashboard using the tools like Grafana or design a custom dashboard for your system, it's important to test your visualizations on different volumes of data and in different conditions before going live. In many cases, dashboards are developed based on test data. Once released, dashboards show real data which can be quite different from the test data. As a result, these dashboards look and behave as intended. Testing in different conditions helps bridge this gap and avoid inconsistency.
Real use cases and partnership opportunities with Digiteum
We have worked on a range of data visualization and analytics projects for cleantech, healthcare, retail and IT companies and successfully integrated custom data solutions into their operations. Here are a few use cases that show different approaches to data visualization and their effect on business outcomes.
Efficient performance monitoring helps a printing company handle a 200% traffic increase with a 0% slowdown
Our long-standing client, one of the leading printing companies in the U.S., was dealing with a traffic upsurge challenge every holiday season. They needed an effective monitoring and control solution to avoid website slowdown or performance decrease.
Our dedicated team has been working with the lab's tech infrastructure for a decade. To address the challenge, we developed a custom data analytics and visualization tool based on the combination of Elastic Stack solutions. It collects and analyzes real-time performance data – website traffic, backend load, the quantity and status of submitted orders, printing status and queue. The system then visualizes data for real-time monitoring, registers failed operations and sends alerts to the support team if any problem is spotted.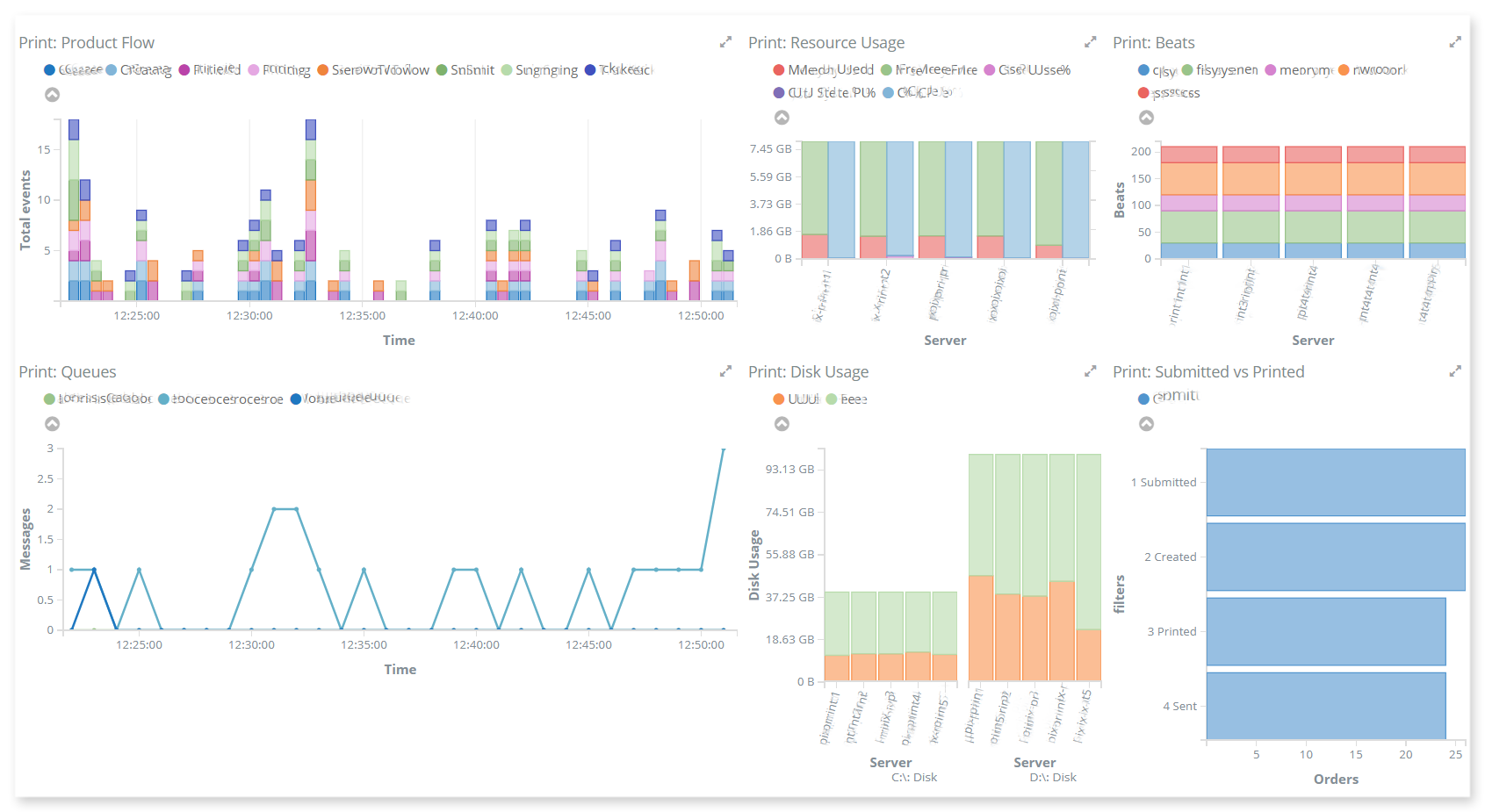 From the moment this tool was integrated into the lab's operations, the company could better manage growing traffic and go through intensive seasonal sales without slowdown or lost orders. Since then, we have upgraded the monitoring system and scaled the client's entire infrastructure to better address the constantly growing load (microservices development services to enhance scalability and resilience, migration to modern .NET technologies, adoption of cloud and data services, etc.)
Monitor IT infrastructure in real-time to improve security and employees' performance
A Finnish tech company developed a SaaS product for real-time IT infrastructure monitoring. The system was originally focused on Windows products, and we were asked to scale it up for the macOS platform.
We developed a multifunctional monitoring system to track performance and provide real-time data on the health and security of the customers' IT infrastructures. The system collects data on registered software and hardware performance, sends it to the cloud-based backend for analysis, and provides customers with visualized insights on dashboards and reports.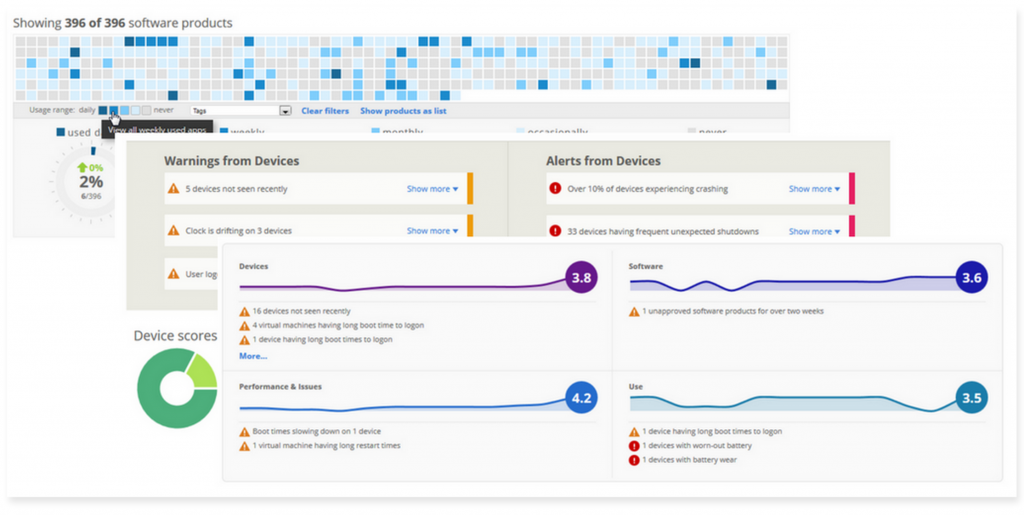 When integrated into the company's operations, the system helps improve employee productivity and mitigate possible security and performance risks. It is an effective tool for IT asset tracking and management.
These are a few examples that demonstrate how effective data visualization systems and tools affect business operations and help companies deal with major performance challenges.
We work with a wide toolkit of data visualization and analytics platforms and apply a range of techniques, including popular data visualization techniques in Machine Learning, IoT and big data. If you are looking for an expert to help you make sense of your business data and develop custom digital tools to work with it, send your request over our quick contact form. Check our big data services to learn how we can help you turn your data into source of income and growth... without losing track of your costs.
Summary
In this article, we answered many questions: What are data visualization techniques and tools? How to use different visualization tools to unlock the power of data? How to build effective data dashboards? You can use this foundational knowledge to start working with your data and select tools that will help you extract real value from your assets.
If you are looking for a skilled team to help you design and create a data visualization system for your business, consult on the use of professional data visualization tools and integrate them into your decision-making process, we can help. At Digiteum, we have solid experience working with top data visualization and analytics platforms. Our designers and developers create stunning visualizations and data tools for such companies as Oxford Languages, Printique, Diaceutics. Check our portfolio and contact our team to get a consultation on your project.
FAQ
What are the most popular techniques used for data visualization?
There are several common techniques used for data visualization: charts (bar, line, pie, etc.), plots (scatter, bubble, box, etc.), maps (heat maps, dot distribution maps, cartograms, etc.), diagrams and matrices.
What data visualization tools and platforms are available in the market?
There are many different tools for data visualization and analytics. Some of the more popular are:
Tableau
Plotly
Power BI
Kibana
Grafana
How to visualize data effectively when building data dashboards?
Create consistent color coding, styles and visualization elements for easy navigation.
Choose the right data visualization techniques for different types of data and use cases.
Personalize dashboard layout and functionality to specific audience.
Take into consideration device constraints and provide additional tools to manipulate data on small screens.
Group and align data to maximize value, not volume.
Test dashboard performance using different volumes of data to see how it can handle the real data flow and dynamics.