8 Benefits of Using IoT in Building Energy Modeling & Analysis Software
Commercial buildings have been considered huge resource wasters for decades. Back in 2010-2015, several studies agreed that up to 30% of the energy used in the commercial property sector went to waste.
In 2021, this number is no longer relevant. Aside from stricter environmental policies and incentive plans introduced worldwide, we have started developing a strong technological base for sustainable building retrofits and construction. Building energy modeling software, energy management and performance analysis systems are being widely adopted by architects and operators to make commercial property greener and more efficient.
Let's look into these tools and see how they create tangible value for property managers, the environment and society.

Property management requires control over a complex of operations and assets — HVAC, energy, air quality, water, security, etc. The majority of new and retrofitted commercial buildings today have some management systems in place to monitor and automate processes (e.g. indoor temperature control).
Depending on their capabilities, these systems can at the very least increase the efficiency of building operations and reduce waste. At most, advanced building performance analysis software helps operators and architects completely reinvent building management and design — develop carbon reduction strategy, qualify for green building certification, maximize automation, and significantly cut utility and maintenance costs.
To get a better understanding of how exactly it works, have a look at these examples.
Building performance analysis software
This software is used primarily by architects, engineers as well as building managers to understand building performance across different aspects - energy use, lighting conditions, heating and cooling, solar production, etc. It is a powerful system that allows to create dynamic models and visualizations based on various data sets, manipulate and create different scenarios for a digital version of an existing or yet-to-be-built facility.
Insight by Autodesk is a perfect example of building performance analysis software for pros.
Energy modeling and simulation software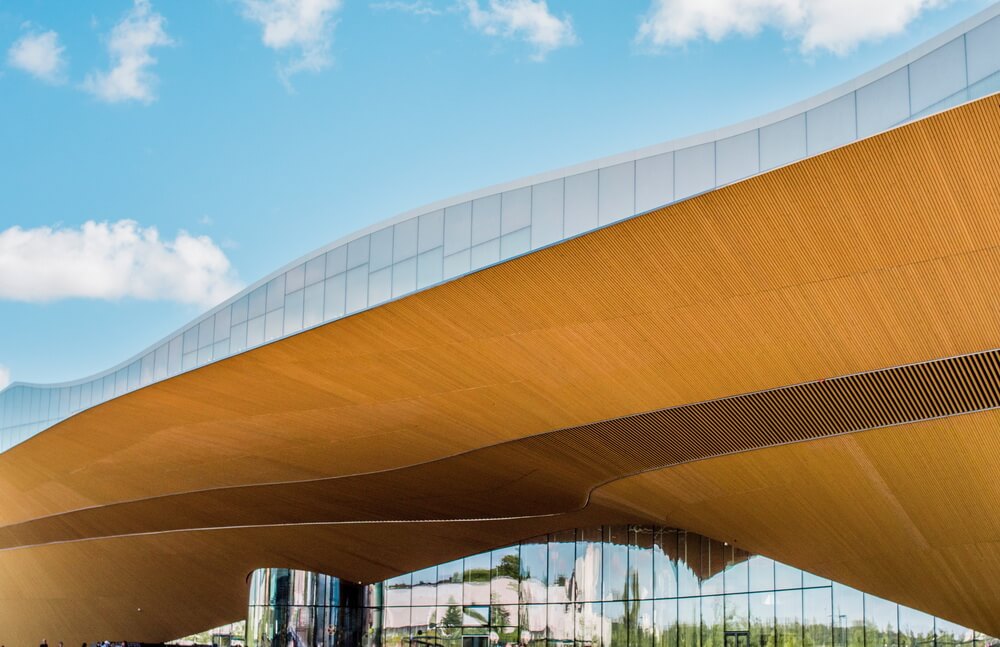 This category of software is specifically focused on energy modeling and simulation for new and retrofit projects, especially the ones that target green qualification or zero-carbon goals. These systems are widely used for design as well as real-time energy control in existing buildings and offer a variety of features and services:
Energy simulation and performance modeling based on real data from physical assets, environment, renewable production, occupant activity, etc.
Design and calculation tools for green code compliance, incentive program qualification, ratings (LEED, GreenStar, etc.).
Energy analysis tools, scenario testing, ML-based predictions, etc.
Graphic apps and sketch up tools for interactive modeling.
There are both commercial and free open-source platforms in this category. Some of the most well-known applications are NREL's OpenStudio and a large-scale IES digital twin platform which has helped many brands design and implement ambitious net-zero projects across new buildings and retrofit.
Building energy management and monitoring systems
Energy simulation software development projects are essentially focused on the needs of designers, engineers and main stakeholders (e.g. property owners, governmental and international energy organizations). Energy management and monitoring systems cover the direct needs of energy managers, building operators and utility companies.
These connected systems usually consist of hardware and software solutions for real-time energy usage telemetry and analytics, dynamic cost calculation and problem detection. The hardware part includes meters, sensors, gateways, converters and power generators that collect data from physical objects and spaces. Software processes this and other related data (indoor/outdoor temperature, usage patterns) and delivers actionable insights using interactive dashboards and visualizations — trend analysis, tariff calculation, overload and safety risk detection, waste points identification, etc.
Wattics is a good example of an enterprise-level energy analytics solution. This cloud-based platform provides a versatile toolkit to monitor the use of resources in commercial buildings and create a data-driven energy-efficient strategy for management. IotaComm's Smart Buildings is another good example of a system for comprehensive building analytics.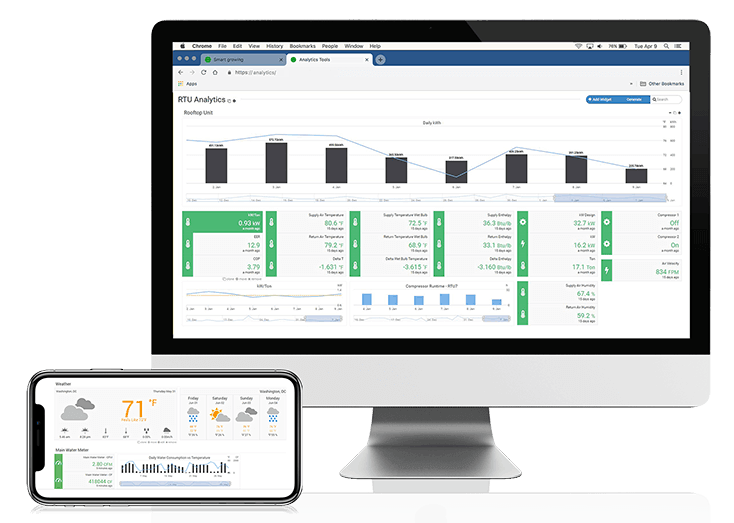 Image credit: Iota Communications, Inc.
Internet of Things is the technology enabler for modern energy management tools. Using data from different sensors, IoT-based energy analysis tools provide a much more detailed view of how energy is used and how usage patterns respond to even slight changes in the environment (weather, season, occupancy, heating/cooling, airflow, etc.). This is by far not the only benefit.
Monitor and respond in real-time
Sensor-based energy monitoring systems receive data in real-time and allow managers to respond to events nearly instantly. For example, if the system detects unexpected overload, it either sends alerts to an operator to solve the problem manually or uses algorithms to balance the load automatically and prevent an outage.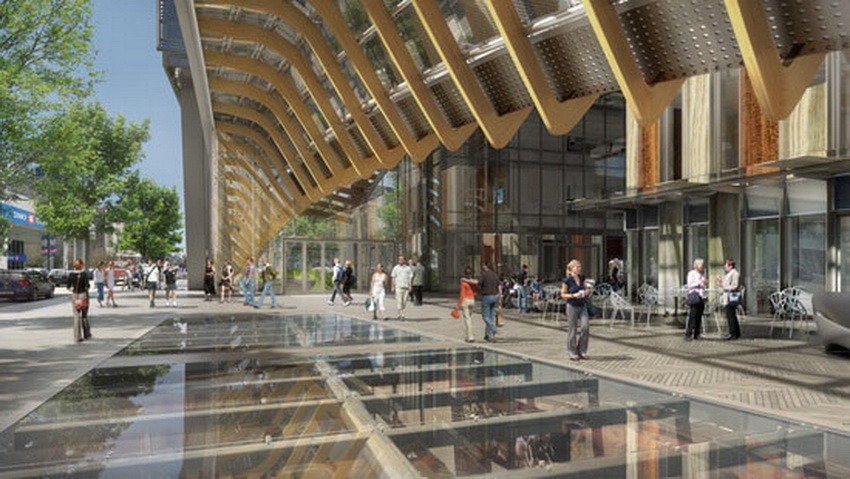 One of the most fantastic things about data analytics systems is their ability to analyze and correlate data from different sources and create a comprehensive and detailed view of events. In our case, to better understand the lifecycle of the whole building, energy analysis software combines:
telemetry from different power-consuming and generating systems (circuits, solar equipment, energy storage, HVAC, lighting),
natural environment (weather, natural light and ventilation, indoor/outdoor temperature),
occupancy-related data (circuit load, usage patterns, preferred modes),
price-related data (utility tariffs, tax credits).
This holistic approach allows the system to find unique value points and saving opportunities.
Be predictive and proactive
Sensor data shows building operators how the energy is used and allows them to build proactive energy conservation strategies. Moreover, it gives an insight into power equipment health (overheating, overload, malfunction, outage) and helps managers integrate predictive maintenance practices.
Follow codes and new standards, qualify for certificates and green programs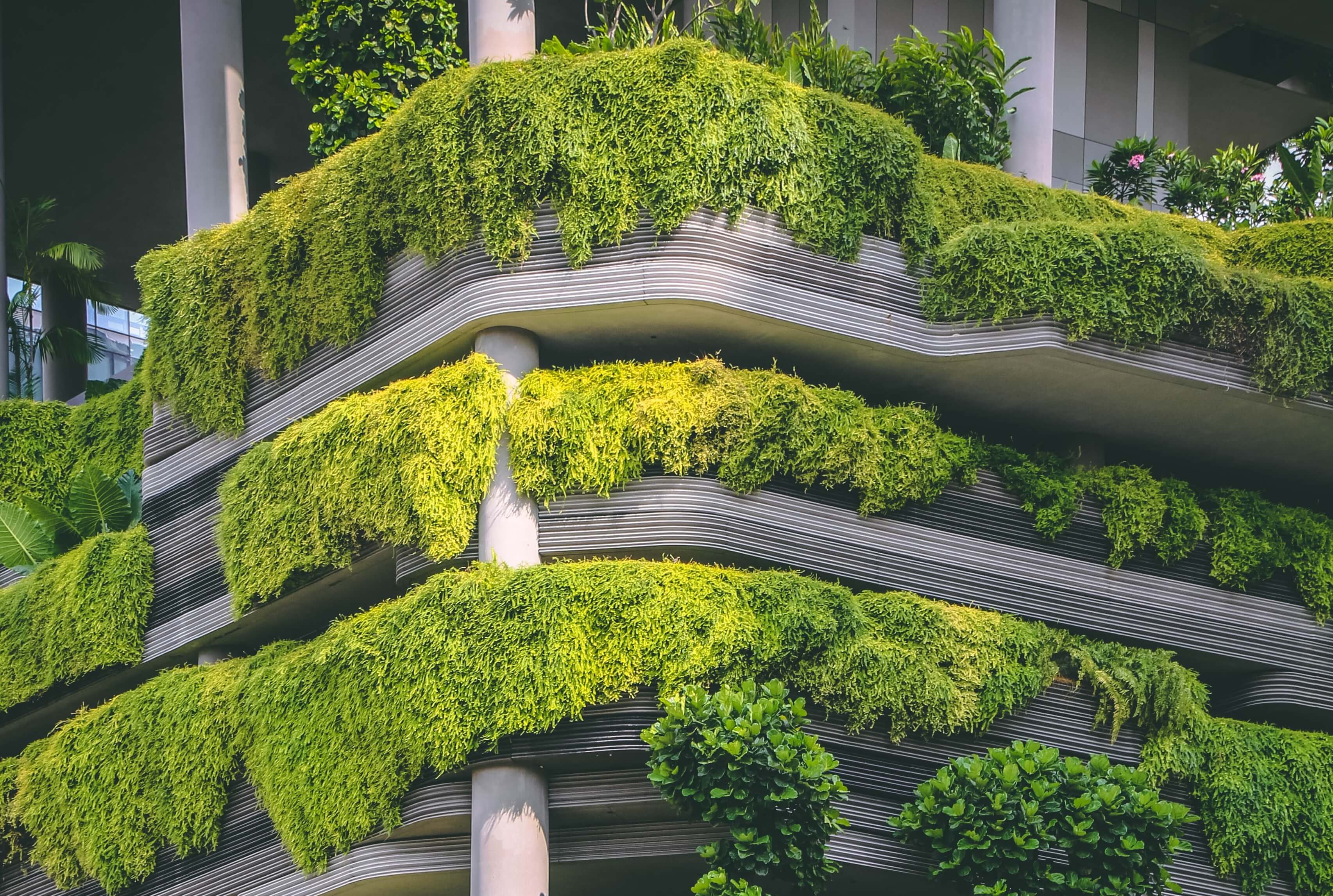 Evolving standards and incentives for energy-efficient buildings are among the main reasons why new construction projects begin with energy modeling and have energy analysis software integrated into the original project scope. These systems help analyze building energy performance against current regulations, qualify for state and international ratings such as LEED, and receive valuable benefits and tax credits.
Let's not forget that IoT systems work both ways. Sensory data tells us what happens to the physical world, and actuators help us control it remotely. And when intelligent algorithms are involved, we don't even need to do anything but oversee.
Another benefit of integrating energy analysis software for buildings using IoT is the ability to maximize automation and let the system make decisions based on the incoming data. 10 years ago we called scheduled lighting automation. Today, automation means that different parts of one infrastructure can self-check, self-manage, even share data and, importantly, maintain optimum operating conditions.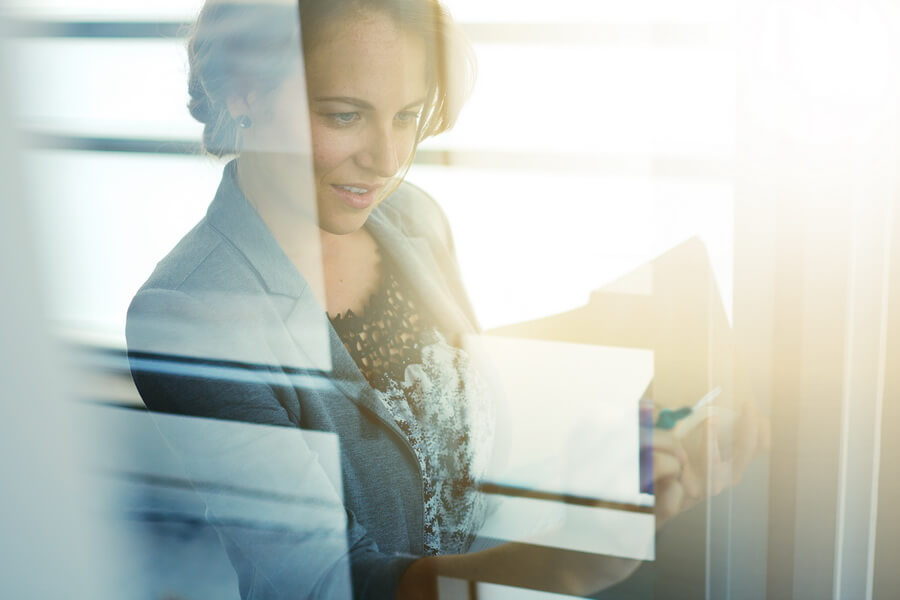 Proactive energy management alone is a source of significant savings. However, besides cutting on evident energy waste (power unused devices, heat unused spaces), building managers may identify new saving opportunities thanks to smart energy management software. For instance, the system may calculate the most cost-efficient balance between power consumption and storage by correlating dynamic electricity pricing and load requirements.
Better safety is another good reason for integrating building energy performance analysis software. If the system is equipped with adequate algorithms, it can instantly identify or even predict malfunction, outage or fire hazard caused by an electrical fault. In this case, it will alert building operators in time and help them prevent serious damage.
Integrate renewables and go net-zero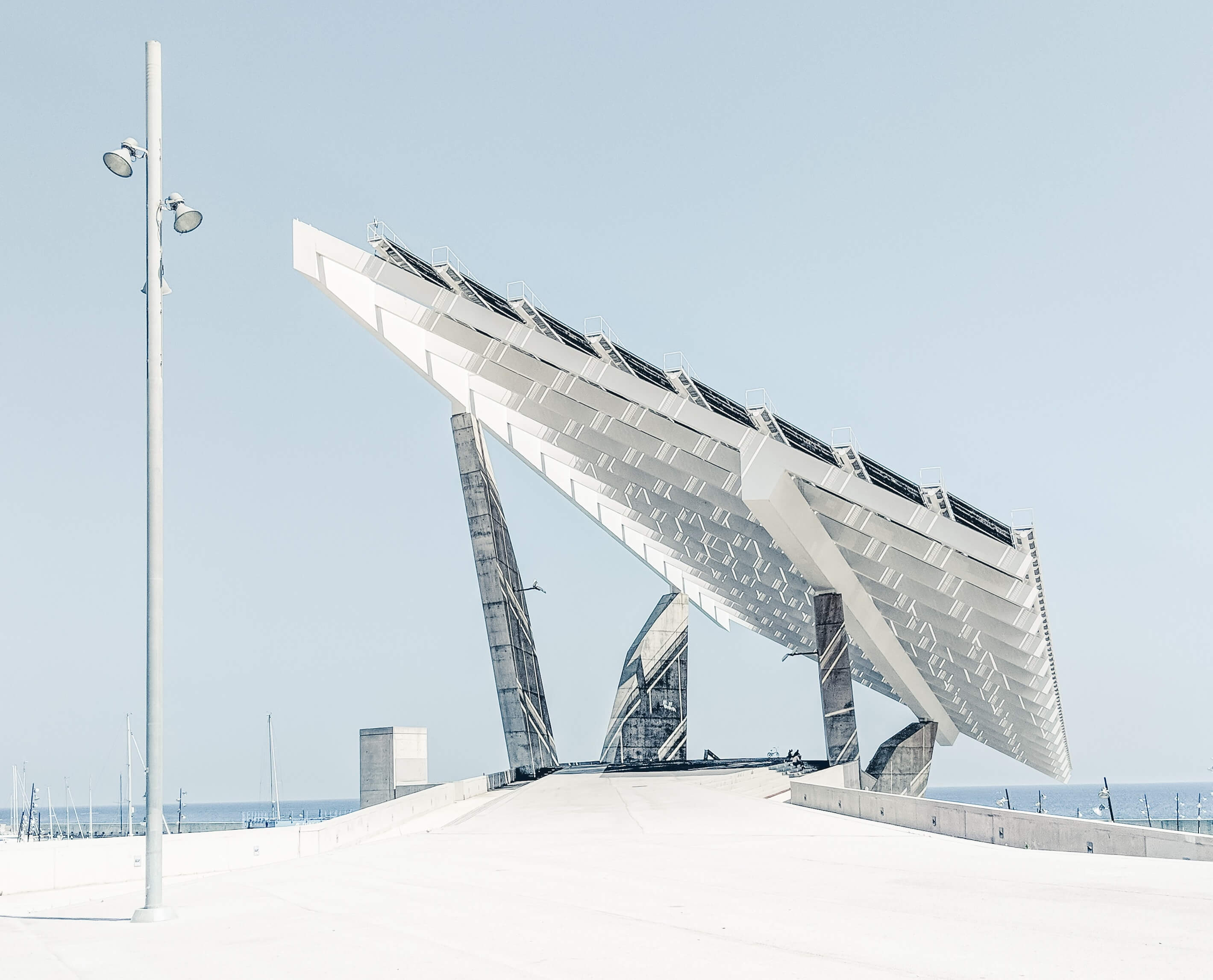 Today's energy monitoring and management systems are created with building trends and the evolution of the energy sector in mind. Some of them offer features for solar and smart grid management, others provide integration tools (API, SDKs) to connect to related systems. More complex solutions are able to forecast PV production and help building managers get closer to their net-zero objectives.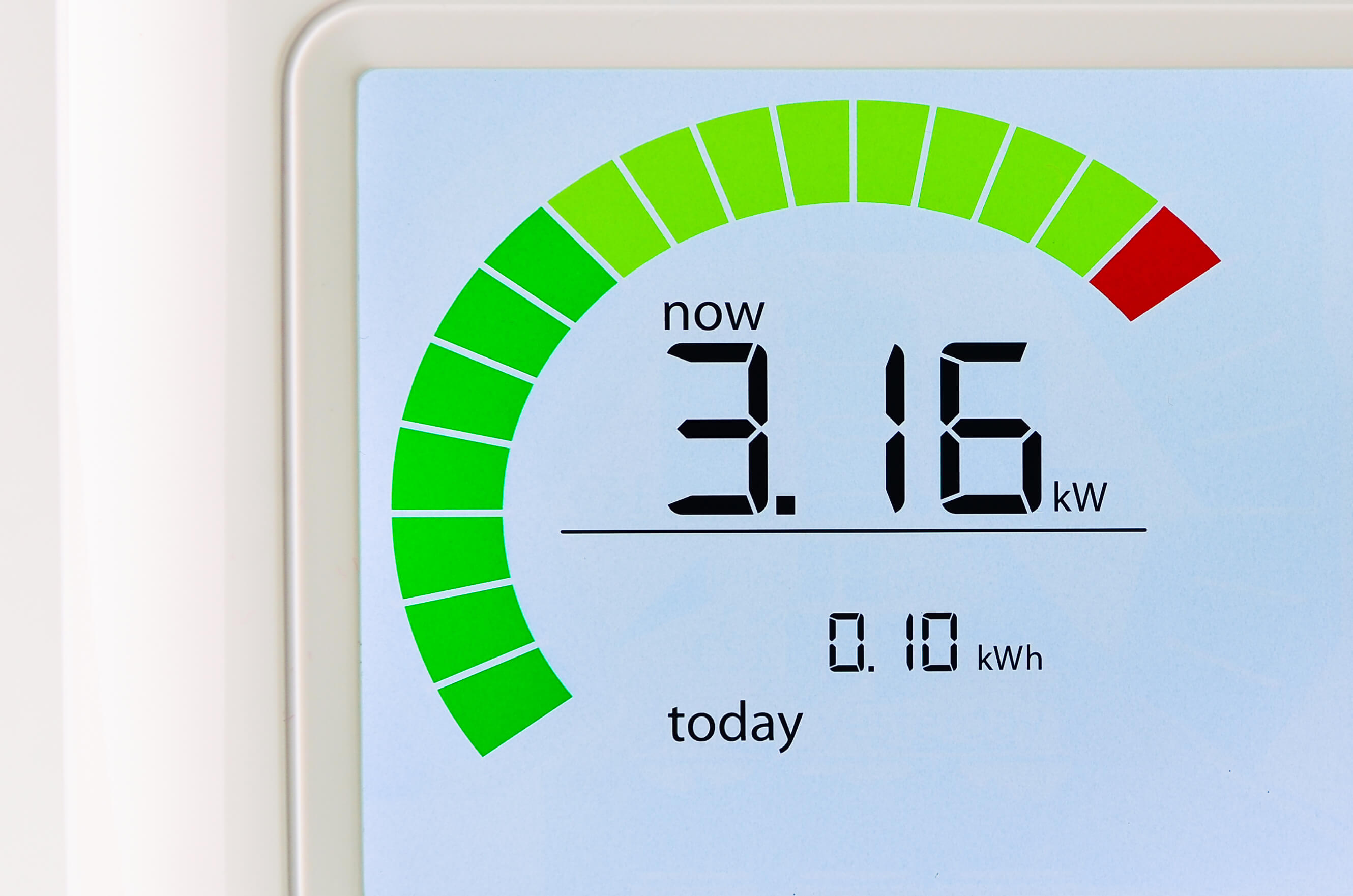 Sensors are the entry point of every connected energy management system. Thanks to sensor networks, we can collect data from physical objects and the environment (meters, electric appliances, spaces, outdoor conditions) and better understand how energy is used.
Cloud-based big data services
Cloud is an essential component of any IoT system. It is capable of handling massive energy telemetry data and connects all the parts of the system. Modern IoT cloud solutions such as AWS IoT or Microsoft Azure IoT Suit offer versatile tools for big data pipeline management and scaling.
Intelligent analytics and interactive visualizations
Energy telemetry may bring little to no value unless it is processed and delivered right. Today, machine intelligence (ML algorithms, computer vision, predictive modeling) is already widely used to analyze big data, discover trends, create predictions and build interactive visualizations. These tools help property managers make sense of their data and act on it.
Web and mobile applications
End users — building managers, owners, utility and energy professionals, operators — communicate with energy management software via web and mobile interface. Depending on user roles and objectives, these applications have different design and features (complex dashboards for energy monitoring, notifications and reporting, remote device configuration and control, etc.).
Graphic modeling and simulation tools
All the previously mentioned technologies are involved in building energy simulation software. These high-load web or desktop applications use data from various sources (including real-time data from the physical environment) to suggest optimal energy-efficient design for buildings and installations (e.g. PV coverage, facade geometry). They use complex algorithms to predict energy consumption and run simulations and require powerful web editors to create and view models.
Are you ready to create software for energy efficiency of buildings and searching for designers and engineers to help you speed up your project launch? We might have just the right expertise and skill you are looking for. Read on to learn about our experience in this field.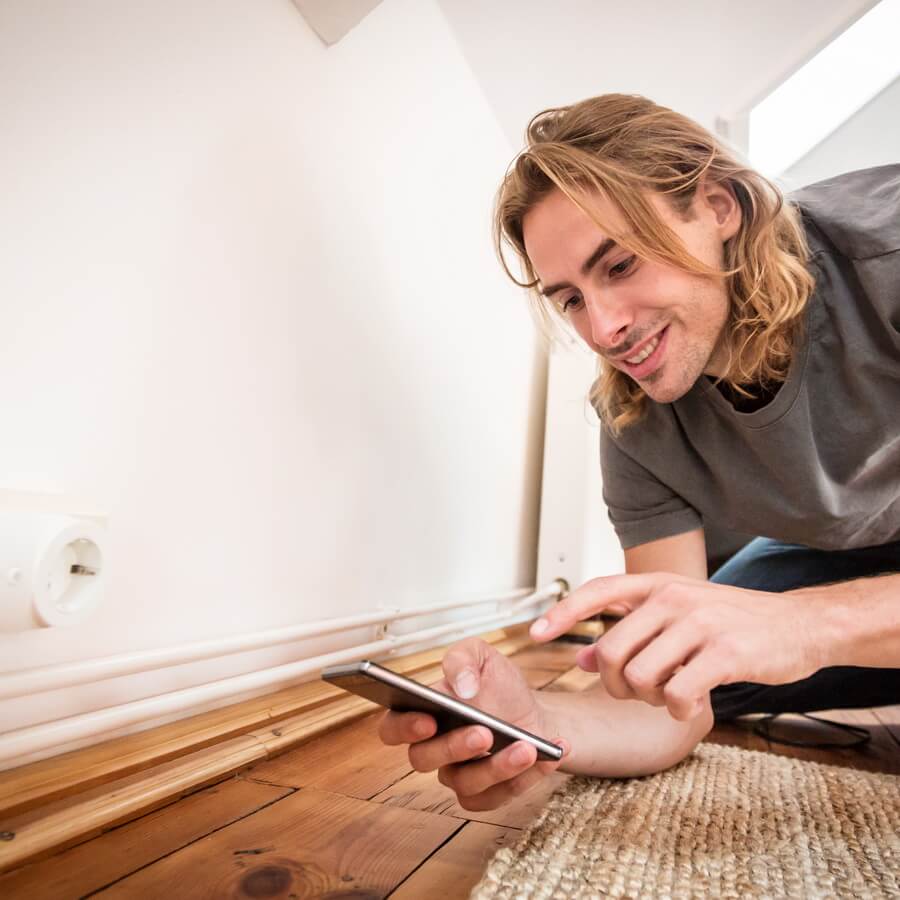 We know first-hand about IoT-based energy management software because we had a chance to build one. Our client, an established US-based company in the energy market, has set a goal to build a versatile platform for dynamic power consumption and storage management. It would provide utility companies and the household sector with:
unprecedented visibility in energy consumption, trends and cost dynamics,
effective web and mobile tools for remote energy monitoring and device control,
instruments for faster and cheaper adoption of renewables,
better control over energy storage and load,
unique data insights for effective energy conservation strategy.
The first version of the system went live in 2019, has gained recognition as a fast-growing cleantech project, and has been increasing its portfolio and scaling up ever since. Learn about this success story in our IoT energy monitoring platform case study.
Emerging environmental laws and green building codes make a huge impact on the scope of new construction and retrofit projects. At the same time, attractive incentives for carbon efficiency and the increasing availability of building management solutions make it easier for a rather conservative industry to adapt to this change. In the years to come, we will see exponential growth and proliferation of tools for energy modeling, performance analytics and management.