5 Technologies for Travel and Tourism Industry in Post-COVID Era
5 Technologies for Travel and Tourism Industry in Post-COVID
First lockdowns hit the planet over a year ago. Since then, travel restrictions have been changing, borders have opened and closed, even moving within one country has been confusing, let alone international travels.
At the same time, tourism technology has been undergoing serious changes to help the industry adjust to this hectic time. For decades, we have been leveraging digital technologies to make traveling more convenient and accessible. Today, we hope it will make traveling safer, more manageable, or even possible.
We've gathered some of the latest tech and innovation examples that are being rapidly integrated throughout travel services and transport infrastructures. These technologies keep the industry going in challenging times and will likely help it get back on track in the post-COVID era.
In this article:

How to leverage tourism technology during COVID-19.
Travel tech that is likely to stay.
Instead of conclusion.
How to leverage tourism technology during COVID-19 and beyond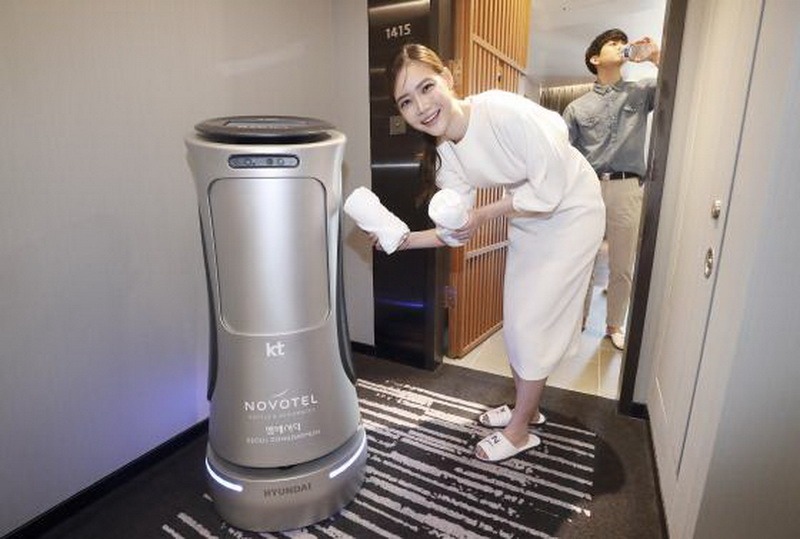 Room service robot in Novotel (Seoul). Image credit: FutureIoT
The impact of technology on the travel and tourism industry is evident. Myriad digital tools, from online booking platforms to luggage trackers, have made our traveling experience efficient and pleasant. Pandemic has made its adjustments. But it also has opened new opportunities for the technology to evolve and create safer experiences for tourists, travel hubs and the people who work in the industry.
How has technology helped tourism? Here are several benefits and real examples that show the positive impact of innovation and tech on tourism in a time of crisis.
Better safety and security
High-end tech such as IoT, robots, drones and endless applications of AI (computer vision, voice recognition, predictive analytics, etc.) made it possible to add automation and eliminate humans from many routine operations (e.g. hotel check-in, security check, cleaning). These technologies help reduce not only the risks associated with the spread of the virus but also decrease human errors and accidents.
Many applications don't qualify as new travel technology. They have been with us for years and only confirmed their value during C19. For example, self-bag-drops at the airports like the ones in Budapest or Schiphol or virtual boarding queues by Delta.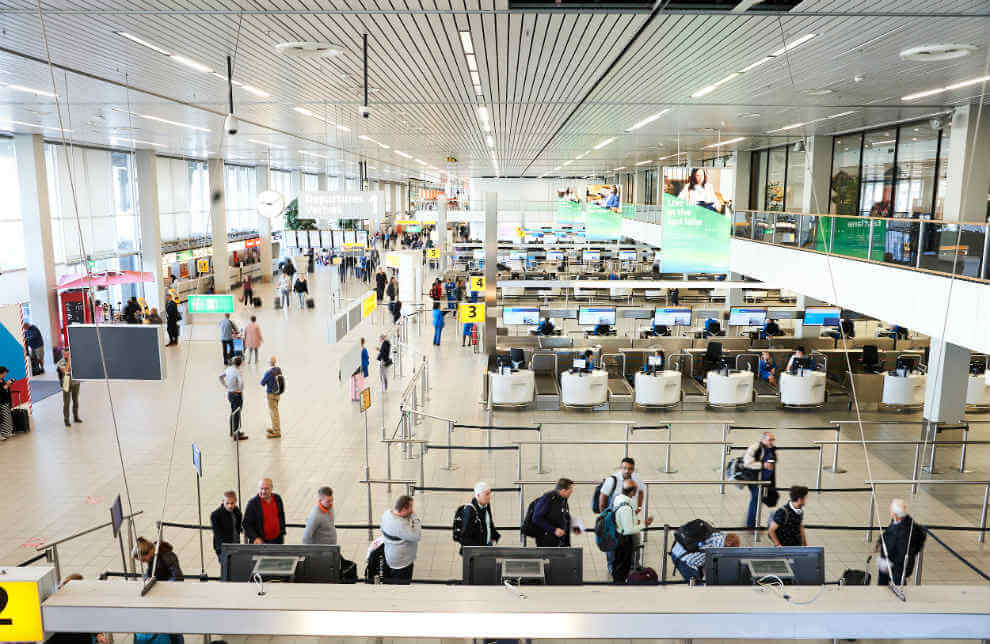 Baggage drop at Amsterdam Airport Schiphol. Image credit: Schiphol
There are, however, unique use cases such as UV-C disinfection robots at Heathrow Airport and AI-powered thermal-imaging at major Beijing railway stations that have been in high demand since the crisis of 2020.
Pandemic has brought a whole new category of digital tools (COVID tracker apps, interactive web maps). Some of them were necessary to make international travel possible for people and controllable for governments. Others allow people to stay up-to-date with promptly changing restrictions and regulations and tailor their travel plans accordingly.
Apart from standalone applications, there is a number of unique features that service providers add to their systems to address the current state of affairs. Here's a good example from the hospitality sector.
Lodgify, one of the leaders in vacation rental technology, provides property owners with a SaaS solution for all-in-one property management. To put it simply, they help owners manage all their rental deals across Booking, Expedia, Airbnb, etc. in one place and provide the whole arsenal of tools to make it easy and efficient.
Soon after the pandemic struck, booking platforms began introducing different rules for safer renting practices, such as a 24-hour buffer between bookings by Airbnb. In response to this, Lodgify added features to their system to automate scheduling and better control booking. These little details help hosts comply with the newly introduced cleaning and safety protocols without extra effort.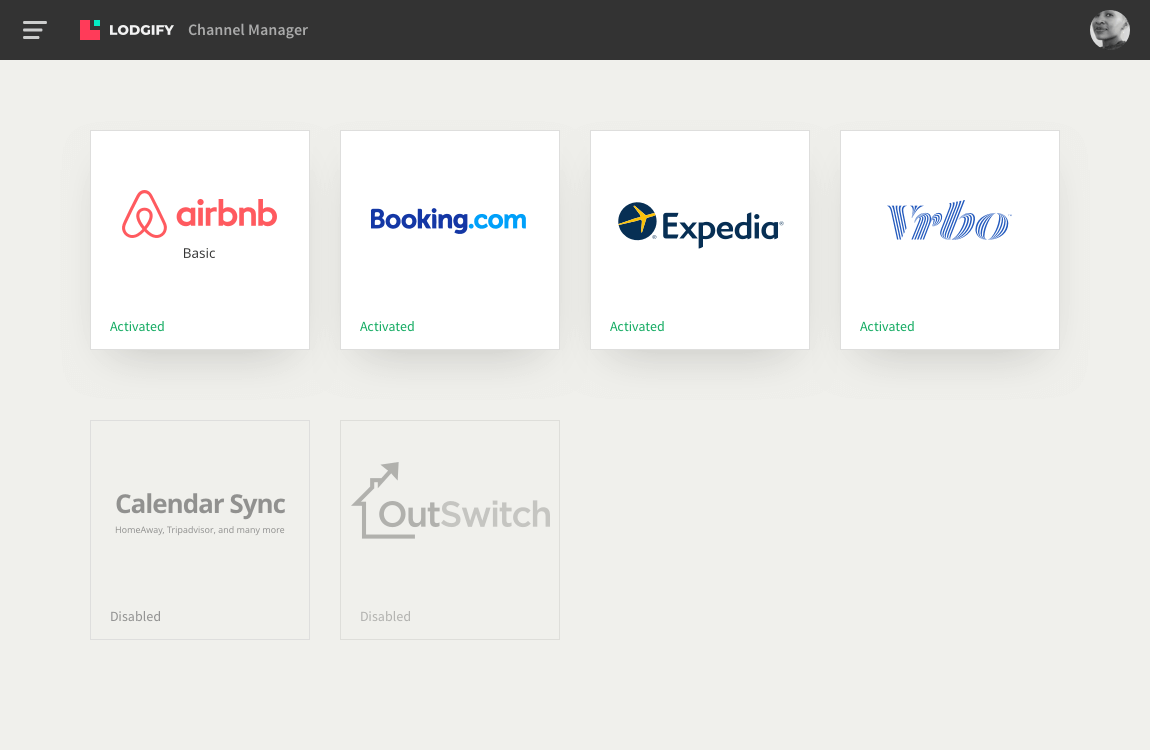 Lodgify channel manager dashboard. Image credit: Lodgify
Availability and alternative experiences
Pandemic induced the rise of alternative tourism experiences, such as video sightseeing and virtual reality tours around world-famous destinations. Thanks to VR, online streaming platforms and projects like Google Arts and Culture, many must-see attractions including the Americal Museum of Natural History and the Temple of Olympian Zeus in Sicily keep receiving guests even in the time of lockdown.
Travel technologies during COVID-19 that are likely to stay
They say that the virus is 'not going to go away,' and we will have to learn how to live with it. Therefore, it is safe to say that many emergency applications that have been developed to address the challenges of the pandemic will likely stay along with other innovative technology for travel mainly focused on proving tourists with a better experience.
Contactless services have acquired entirely new value during the C19 outbreak. Powered by a number of technologies (sensors, RFID and NFC tags, facial recognition and modern biometrics), touchless services have been adopted in airports and travel hubs to ensure better safety and control over passenger traffic.
Contactless tech plays a special role in the hospitality sector. Before the pandemic, hotels invested in voice-controlled elevators, digital keys and smart hotel rooms to provide better and more comfortable service, increase efficiency and reach sustainability goals. Today, touchless technology is also the source of confidence and security for guests, staff and management.
Pandemic has created a new context for traveling. Green zone, red zone, essential travel, immunity/vaccine passport, COVID database — some of these attributes won't be relevant in time, others are predicted to stay and bring the next wave of travel technology trends.
Immunity and vaccine passports are under consideration all across the world. Many governments as well as transport moguls like Etihad Airways have digital IDs on the agenda. The offers are already available in the market. IBM has recently launched a blockchain-based Digital Health Pass that can be customized for a variety of use cases and used as a health passport or a test result wallet.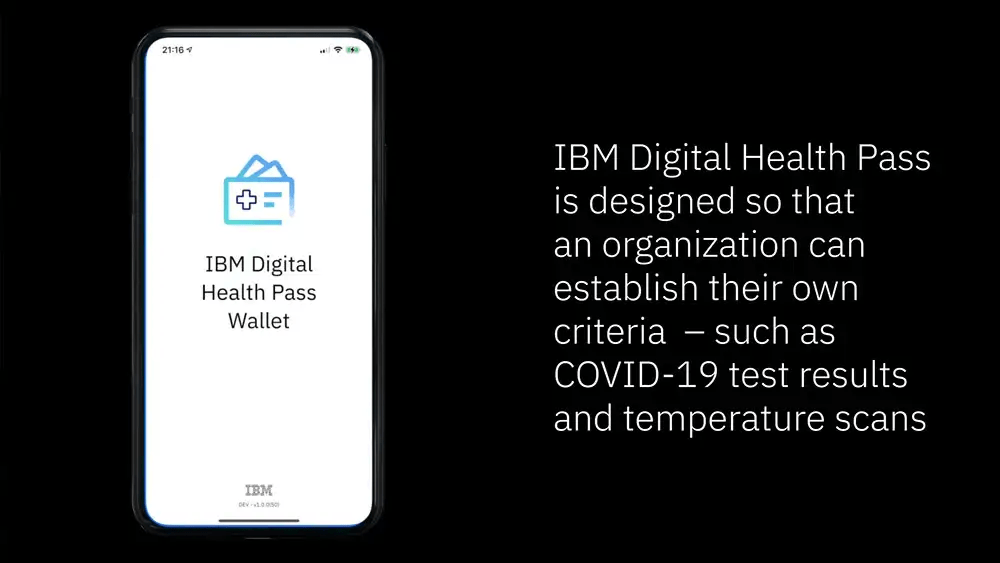 IBM Digital Health Pass. Image credit: IBM
Tour management platforms
Hopefully, sooner or later we will be able to catch up with all the holidays we've missed. No doubt the new world will require more flexible and secure travel planning and management technologies.
We were lucky to get to know the innovators in this segment — Firebird Tours — and ask around about the future of tour management. We talked to the company's CCO, Ivan Shirokov, about the strategy they have chosen to meet the upcoming demand and their vision for future travel technology.
"We were among the first to get a big hit from C19. 80-95% of all business in our domain froze. We knew we could use this as an opportunity to maximize our offer and services. After all, the world will open sooner or later. We needed to make sure we would be fully prepared for a huge wave of demand when the time comes.
First, we focused our efforts on building a brand new tour building service Triptile. The goal of this project is to meet the requirements of a growing group of travelers who prefer a certain level of autonomy in planning a trip and, at the same time, have high expectations of the result. We've built Triptile to bridge two approaches — planning a trip with a tour agency and by yourself — and provide customers with better flexibility."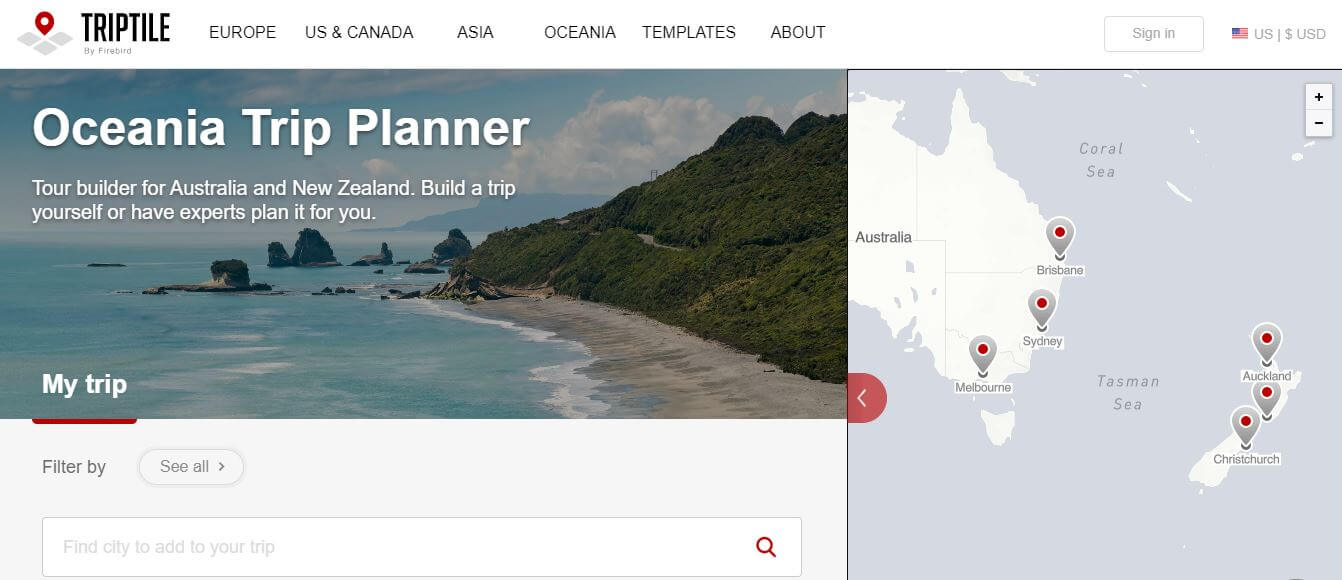 Triptile trip planner. Image credit: Triptile
The system offers customers a set of tools for fast, efficient and fully-customizable tour planning. Your trip can be as complex as you need. Triptile is incredibly resourceful and interactive when it comes to exploring destinations, routes, experiences and booking options. It has dynamic maps, drag-and-drop tools, easy-to-use forms and visualizations. Despite the seeming simplicity of the process, it's clear there are serious algorithms under the hood that make the system work smoothly. And the best part, it is designed and supported by travel experts who oversee the quality of the result and make sure the users get the best travel experience at optimal cost.
"At the same time, we have channeled our efforts to strengthen the platforms we have been working with for years. Firebird Tours has been on the market for more than a decade providing customers with unique travel services at, probably, the best prices you could get in this niche. As a direct tour operator, we leverage our capabilities and expertise to offer customers more for less money, saving them up to 30-50% on high-quality travel experiences. Rail.Ninja is our brand focused on train booking services around the globe. Both platforms are fully optimized and prepared for the new traveling requirements that have been rolled out since the beginning of the pandemic — better safety, risk mitigation, guidance from well-informed travel agents and top-grade service."
We've already mentioned the role of robotics in providing better safety and control across different travel experiences. However, one can't help but think this is only the beginning of the journey. Robotics process automation is unfolding rapidly, and it's only a matter of time before it is adopted at a larger scale in travel and hospitality. Just look at Japan or South Korea and the enormous leap they have made in integrating robotics into people's everyday life even long before C19.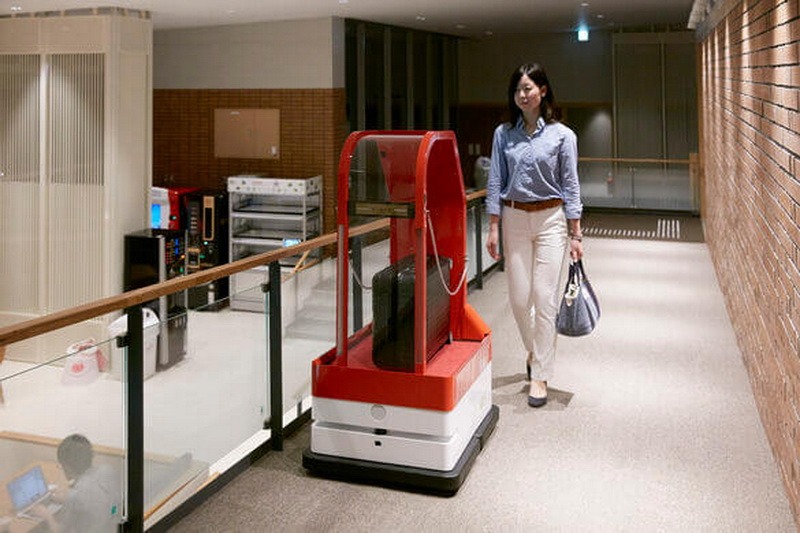 All-robot Henn-na Hotel in Sasebo, Japan. Image credit: Henn-na Hotel
IoT and big data technologies are probably the most important sources of innovations in travel so as in many other industries. Smart things and spaces, real-time data analytics and data science lie at the core of many digital strategies and initiatives to make traveling more efficient and secure.
Tracking and predicting people flow, automation of security check, sanitation control in public places, etc. are possible thanks to sensor technology and big data tools. Pandemic or not, the role of these technologies in the travel industry will increase along with our demand for more connected and intelligent experiences.
Many industry experts predict an unprecedented travel boom in the next several years. It already shows in the growing number of bookings for 2022-2023 and the recovering interest of venture capital investors in the most resilient and emerging travel startups.
If everything goes as predicted, we will see a tremendous rise after a lull in this sector. Moreover, we will be able to witness technology's impact on travel post COVID-19 firsthand as we happily clock out, grab a suitcase and hit the road.
Exploring the opportunities at the cross of travel and technology? We could have just the right tech expertise you need. Check our services or contact our team to talk about your needs.
Let's discuss your project