Digiteum Talks about Workation
Like Work. Unlike Any Other Work.
Vacation season is about to end, but it doesn't mean that you have to ditch the plan to visit that dream destination of yours. Because last time we checked workation was on the rise.
Much like any other remote-friendly team, we have a bunch of workation aficionados in da house who wouldn't miss a chance to swap a boring 9-to-5 to a much more adventurous 9-to-5 (or whatever office hours they do). So we asked around and gathered a few true workation stories from our team.
Michael (Founder) – Practices workation as a lifestyle in Cyprus.
Pavel (Senior Engineer) – Bears the title of workation legend with the longest track record in an exotic workspace (6 months in Thailand).
Olga (Project Manager) – Slays workation in Italy thanks to pro organizational skills and natural gift to work from anywhere.
Alexandra (Content Manager) – Shares about an accidental workation trip to Iceland.
And here are their stories.
Why did you decide to try workation in the first place?
Michael: Workation is just a new normal for me for several reasons. The first and most important reason is the move my family undertook last year. We have planned to move to Cyprus for a few years and made it in November 2021. Everything we dreamed of came true: plenty of sun, very nice people, the sea, stunning views and warm winters.
From a business perspective, this change added some challenges we had to adapt to. The absence of office space was no longer a challenge. But after the move, we didn't have a familiar infrastructure to use as a home office either. And I miss my chair. It was a very good chair.
But Cyprus is a special place. It has some magic. When you used to spend most of your life under the clouds, and now you are in a place where it's sunny 365 days a year, you have the hell more energy to find solutions for everything.
We worked everywhere in Cyprus. We found some places that either boost productivity or help us concentrate. Or just nice spots to work from. And 5G/4G is almost everywhere. I can definitely say that Cyprus is my new workplace, and I like it.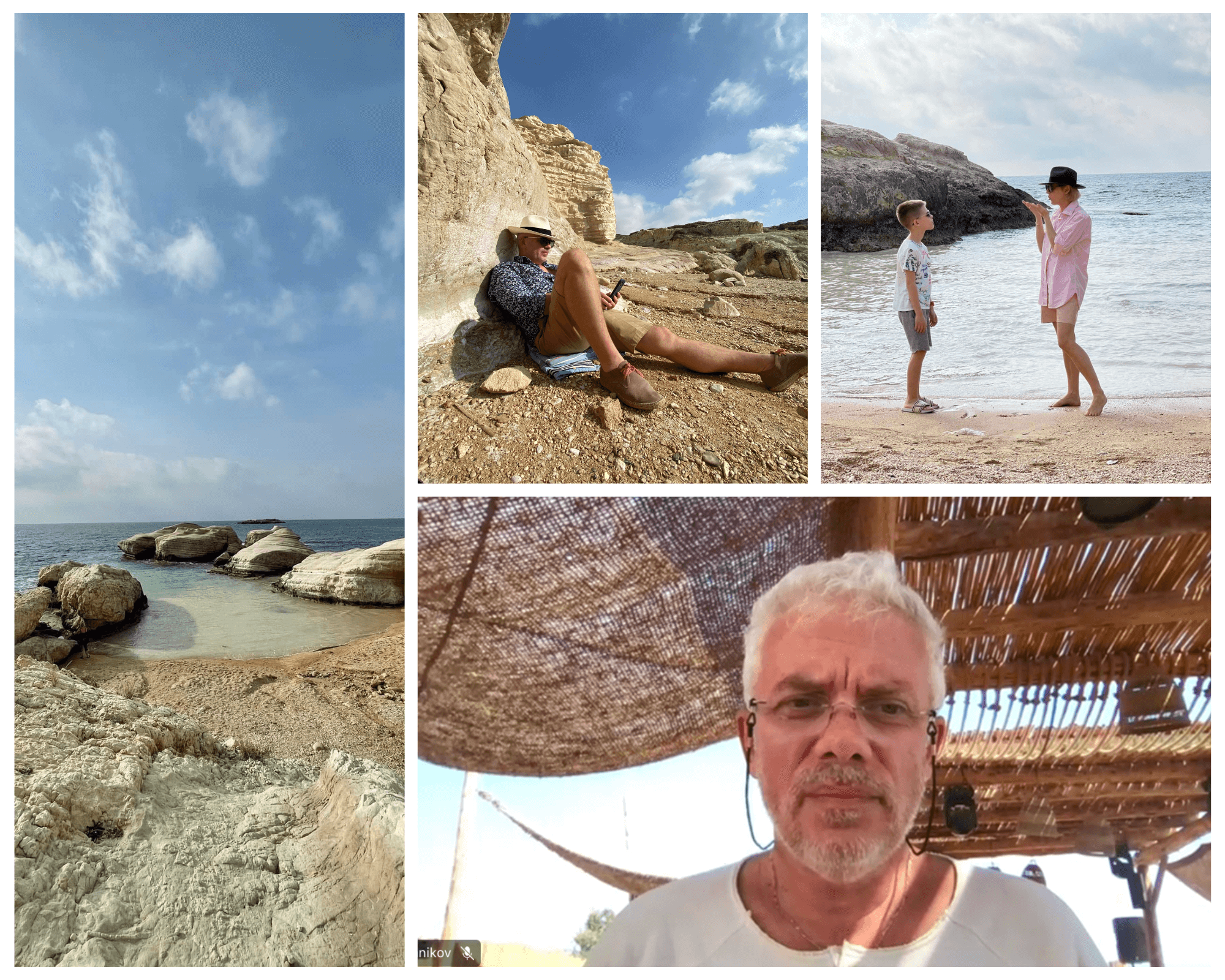 Pavel: I tried workation twice. First in winter when we visited Egypt for two weeks. The second time lasted almost half a year when we went to Thailand from November to May.
I chose workation to get more vacation time for my family and myself. Even though you need to work, workation does feel like a real holiday. You can change the scene, rest in full outside your working hours, soak up in the sun and swim in the sea. I felt zero burnout. When combined, regular vacation and workation help freshen up, escape the routine and even find a solution to some challenge.
Olga: I first tried workation after two years of home office and lockdown. I felt I could use a change of air, for obvious reasons. Some people need a long sabbatical to recharge. I figured that it was not my case. I usually don't stress out about work when I'm on a regular vacation. And as I learned from experience, workation helps me recharge just as well. Moreover, if you manage to set up a good routine, you can have a fairly productive time while on workation.
Alexandra: I had an accidental workation experience. I didn't really pick it, it picked me. I once got a chance to join my husband on his work trip to Reykjavik for 5 days. I always wanted to visit Iceland, and since I have already been working remotely for quite some time, I thought what the hell? I mean, wouldn't you? So I bought the ticket and boom! We're in Iceland. In November. -5 and slush outside. Splendid.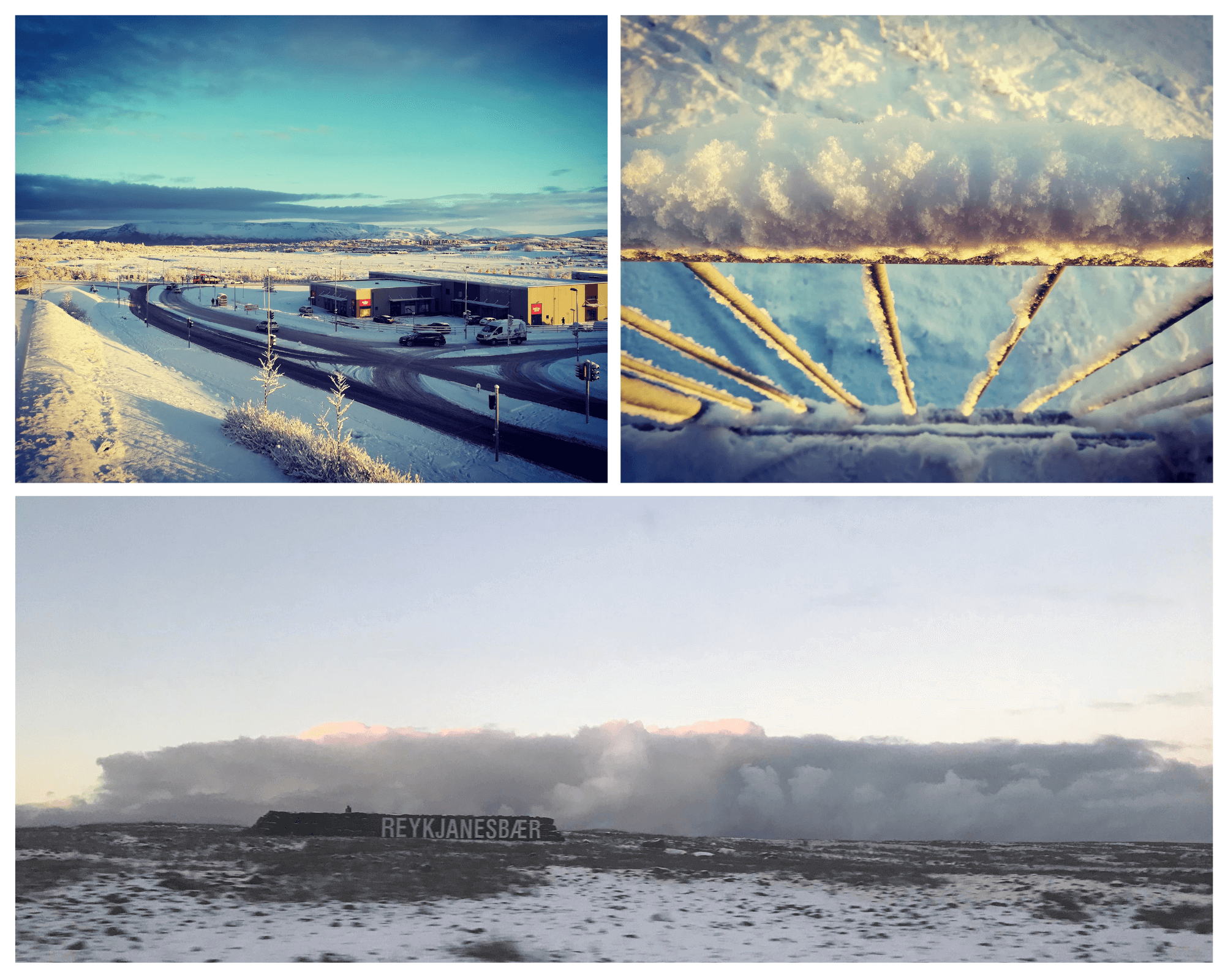 What is the biggest pro of workation for you?
Michael: I can work from a beach bar, a café in the mountains, or sit in the wild with no people around. It relaxes you. Now everything that used to raise my blood pressure looks like just another task to do.
People ask me if the sound of the sea is a problem when I make calls from a beach bar. Not at all. Quite the opposite, actually. Clients ask to put the sound up and turn the camera to get the sea view. 🙂
Pavel: It's a perfect chance to travel, rest and gain new experiences for a long time ahead.
Alexandra: It gives you the freedom to move, and this is a kind of thing I would trade comfort for without a blink.
Is there a downside? There has got to be a downside, a challenge of some sort.
Michael: I still hate working from hotels.
Pavel: The biggest challenge I had to deal with was finding an adequate network connection in Egypt. I had to buy three different SIM cards from three different providers to always have access to fast Internet. And VPN. For some reason, they blocked most websites in 2019.
Olga: I suppose the biggest challenges are one way or another connected to managing work time. Especially when you need to find quiet alone time for meetings. So if you are on workation with someone, you have to figure out how to arrange time and space not to mess up each other's calls. Or not to have housekeeping mess with your calls. This is something you can take care of in advance, but it doesn't always work out as planned.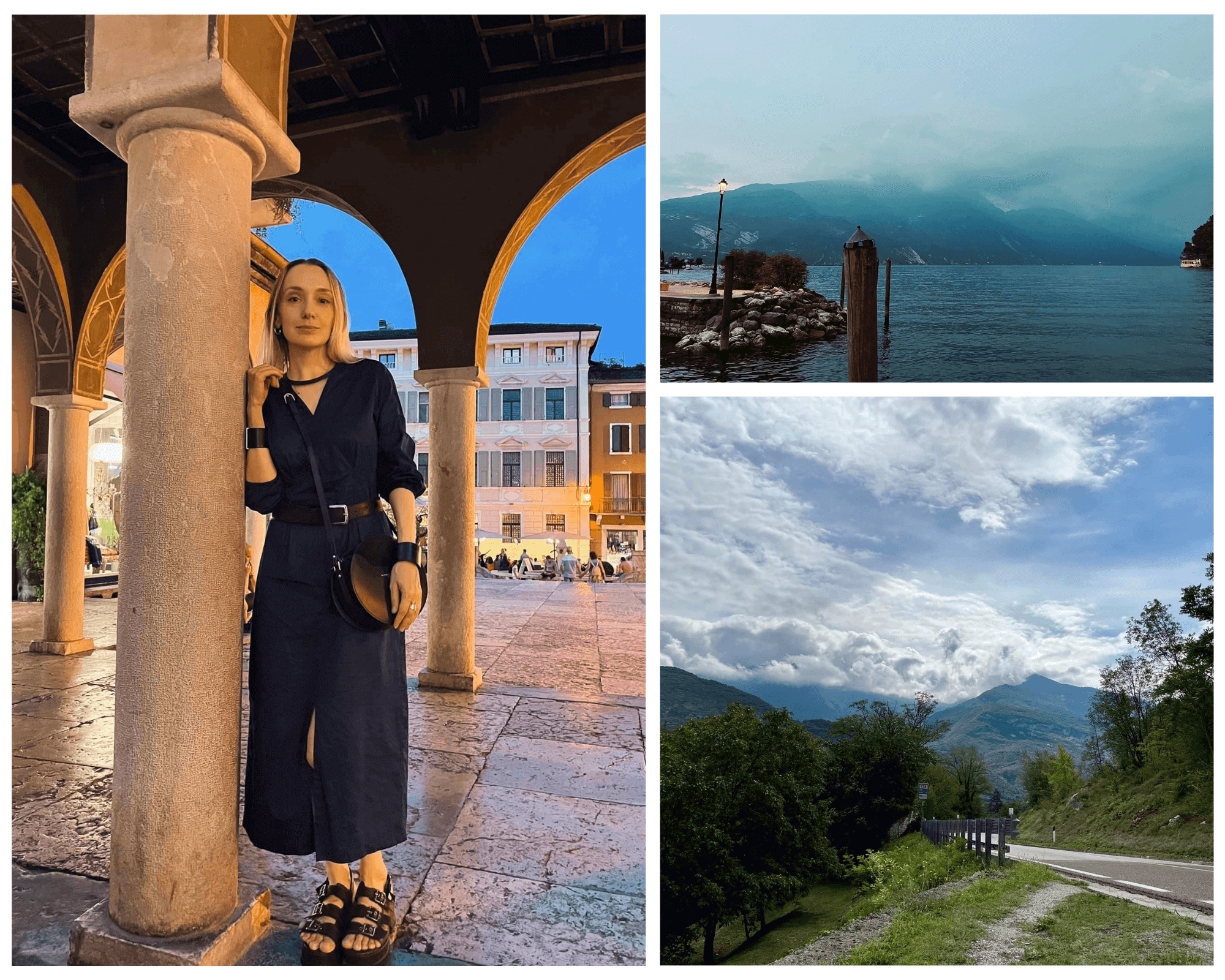 Alexandra: Oddly, working hours. I'm used to living and working with a 1-2 hour difference. But when the difference stretches to 3 hours or more, it means you need to start working from sixish to match 9 o'clock back home. Which is, well, you can imagine.
What is the craziest space you have ever worked at?
Michael: Work is still work. The place to work should allow some level of concentration, Internet, and access to a coffee machine. If you can have all three together, you can't call this place a "crazy place." 🙂
Pavel: To be honest, I have never had to work in a place I would call crazy. I can easily work at a kitchen table, on a sofa, or laying in bed. I once tried to go up to the jungle to work there, but it appeared too uncomfortable so I got back to the house. Wherever I go, I first try to set up a neat workspace. Usually, a good chair or sofa, and a foldable IKEA (or similar) table do the trick.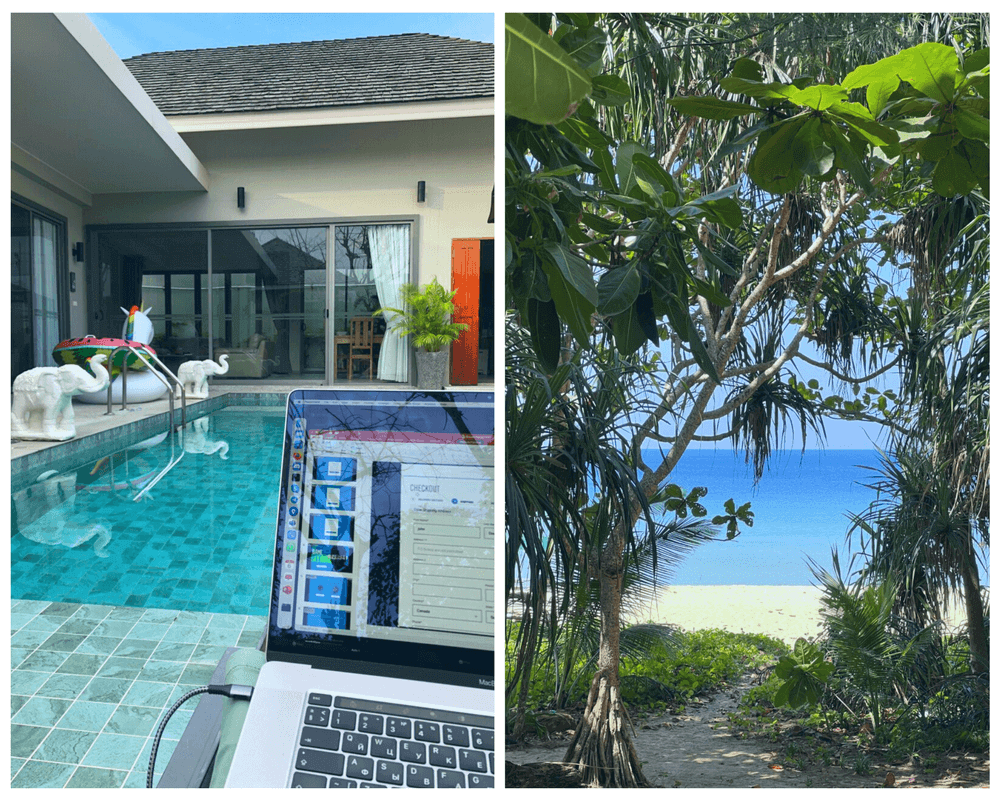 Olga: Amusement park in Italy. We were celebrating my nephew's birthday which I couldn't miss. And so I was, sitting on a bench under the tree, in the most peaceful spot of the craziest place, with balloons tied to me. I remember I had a very productive workday.
Would you recommend workation? Should it be a regular thing?
Michael: It depends. Different people have different needs for concentration and productivity. But I would recommend at least trying it.
Pavel: I highly recommend trying workation to everyone who has this option. Now I realize that as soon as my kid goes to school, I will hardly have many chances to do something like this again. It would be awesome to get away for a month or two every year. Even more so if friends and colleagues could join because it can be a bit boring without good company. I will do my best to get more workation time in the future.
Olga: I'll refrain from general recommendations. We are all different, and we have different work routines. I guess some people are more sensitive to their work rituals. I'm not speaking about the ones who need a sleeping cat nearby or a certain order on their desks to get focused. Although these things can also be very important. I am the lucky one. I will always find a spot to work with my laptop. Just like a baby who will always find a good time and space for a nap. It's more about organizing your work schedule, and your routine, especially if your family members are involved.
Alexandra: Definitely. If you are not tied to your kids' school, ballet, hockey, or any other schedule you can't change, try workation at least once. It might open a whole new side of your professional self you didn't even know you had.
Looks like we have 'Yea' Majority for workation here. Take it as good advice and start looking for tickets, folks! And if your current workplace does not allow this kind of flexibility, always remember that there are trusting people-first teams (like ourselves) that do.
Check our career page to see what we are offering to skilled and talented IT specialists and hit I'M INTERESTED when you find a good match (you will know when you get there).