Portal vs Website: What Is the Difference and When to Use Each
There is a big difference between a web portal and a website. Even though they may have a lot in common – both are available in browsers and may have similar functionality – a web portal is fundamentally a more complex web system than a website.
Understanding their differences will help you decide what would work best for your company and your audience.
In this article, we will answer the following questions:
What is a website and what is a web portal?
What is the difference between portal and website functionality?
How to choose what's best for your company: web portal vs website?
How to start a web portal development project with a tech provider?
You probably use websites and web portals every day in different scenarios. Yet it can be confusing to differentiate the two.
A website is a collection of hyperlinked web pages gathered under one top-level domain. It is usually available to the general public and can be easily accessed in a browser.
A web portal is a web-based system that acts as a point of access to diverse content, web pages, applications, services, etc., and in most cases requires prior sign-in/log-in. A web portal is focused on a specific target audience. Like websites, web portals are normally available via the Internet, though there are types of web portals that can only be accessed from a private network.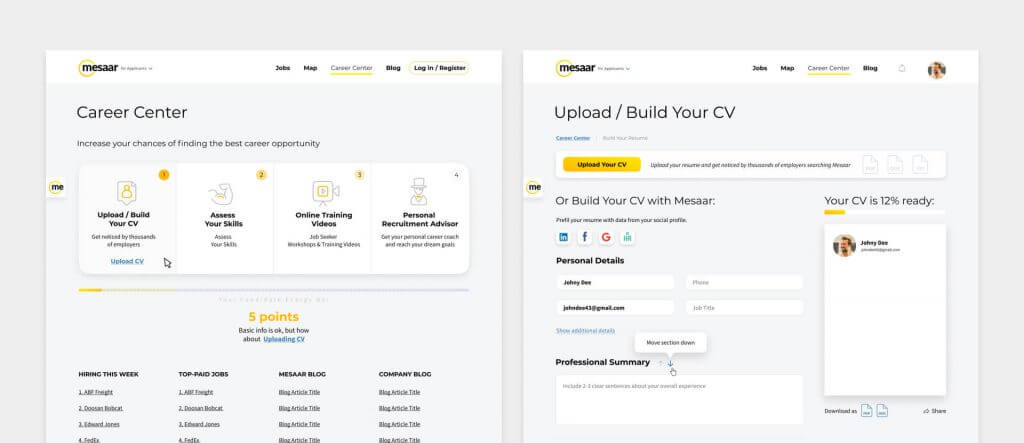 Example of a feature-rich web portal for recruitment and job search
Here's a simple example to show a typical website and web portal.
Imagine you are looking for a place to dine out and hit the webpage of a new restaurant. The webpage has the restaurant's menu, takeout options, gallery, contact, and perhaps some information about the upcoming events and special offers. There, you just landed on a website.
Now imagine you are checking your online banking account in a browser. You log in to your bank's web portal that gives you authorized access to your account, a range of banking services and products, as well as comprehensive information on current rates, financial and business news.
Both a website and a web portal may have similar features (content, contact forms, product pages, etc.) and goals (connect with customers, provide information, advertise, educate, etc.).
So, what's the difference between a website and a web portal? Let's find out in the next part of the article.
Functionality largely depends on the purpose and category of the system. In fact, as we have mentioned already, the functionality of web portals and websites may overlap, especially if they serve the same category of users (e.g. eCommerce customers).
However, web portals typically provide users with a much wider range of features and interactive tools that may vary depending on user role and category. Some of the most popular features of a web portal are user login, account, analytics dashboards, navigation, custom feed and content, chat, history as well as industry-specific features (e.g. order management for eCommerce portals, online application forms for student portals).
Websites, in contrast, are focused on providing the same experience to all users and therefore normally have only a limited number of interactive features (content filters, contact forms, live chat). This is an important difference between a web portal and a website that makes it easy to tell them apart.

User authentication and personalization
One of the key goals of a web portal is to provide a personalized experience to a specific target audience. This is why user authentication and personalization features are essential on a web portal and may be unnecessary on a website.
Depending on the type of portal, it may have an additional layer of security for user authentication or social sign-in for fast and easy access. A web portal may have custom workflow and personalized content for different roles/user categories and even entire modules designed and built for specific end-users. Think of an eHealth portal that has two interfaces, different features and content for doctors and patients.
As a rule, a web portal consists of several modules and is integrated with multiple 3rd party services and/or custom in-house systems used in an organization that runs a portal. The modular structure provides scalability, reliability, and high performance which are all important factors for providing good user experience.
For instance, a typical eCommerce portal consists of several modules – product data management, order management, checkout and payment, shipping, pricing and promotions, customer account, customer support, etc. – and each of these modules can change and evolve independently from each other.
Website, on the other hand, is usually integrated with no or only a few services (CRM, analytics, customer support, etc.) and typically has a simpler structure, which is another big difference between a website and a portal.
The number and complexity of features, integrations, security and scalability requirements directly affect the time and resources needed to design and develop a custom web portal or website. This is why it's important to first understand what would work best for your organization based on your requirements and goals.
Let's go through the list of reasons to consider either a website or a web portal.
Both a website and a web portal allows you to communicate with your audience (customers, clients, partners, employees), provide content, offer products and services online. The choice between website vs web portal will depend primarily on your objectives, existing technical infrastructure, as well as resources you can put into developing a web-based system.
Consider website development if
You need only to provide content/information to a wide audience, present your product/services, or describe your mission (business card, blog, corporate website);
Your goal is to attract new customers/audiences, drive traffic, build up brand awareness;
You need a web system that can operate separately from your business processes and won't integrate into your business and digital infrastructure (e.g. ERP, CRM, HR and people management system, asset management system);
Your business operations run offline and cannot be adapted to online space;
You have limited resources and timeframe to develop, manage and support your web system.

Consider web portal development if
You need to collect fragmented experiences, business applications and services in one space and develop a unified workflow/workflows that can be managed online;
You have multiple data sources and need to create a unified web interface that will allow end-users to effectively pull and access data from these sources based on permissions and roles;
You need to provide a specific audience or audiences with personalized content/services/products/tools;
Your goal is to improve customer/client/employee experience and develop continuous relationships with your audience;
You need a space where you can communicate and collaborate with your target audience;
Your web system should be seamlessly integrated into your operations and technical infrastructure;
You have a strong focus on business process automation.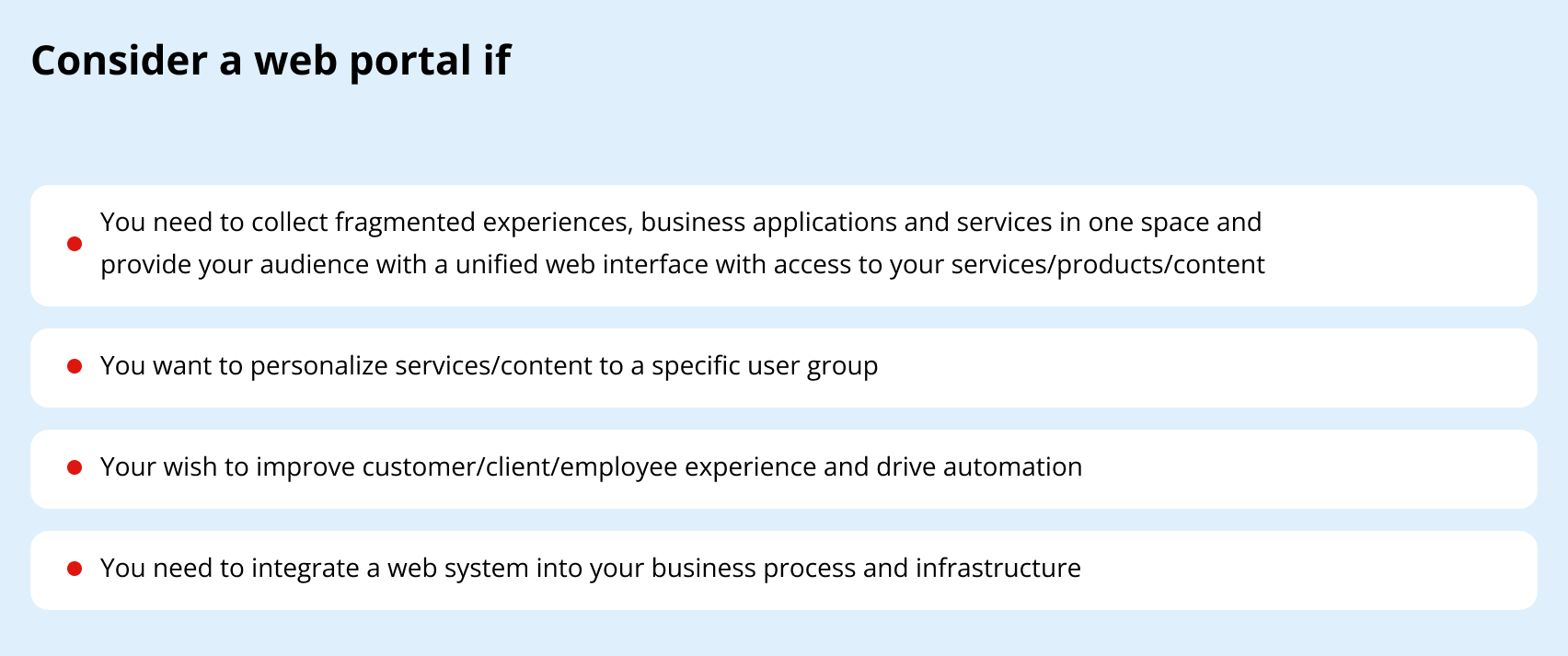 Still have questions about web portal vs website differences? We will help you figure out which approach will better address your business goals and develop an effective development roadmap for your project implementation.
Web portal development is one of our key web software development services. During over 12 years in custom web development, we have designed and engineered a wide range of B2B and B2C portals for healthcare, education, eCommerce, and technology companies. Here are just a few examples from our portfolio:
Our dedicated team continuously works on a user-centric web project for a US photo lab. We design, develop and support a large web system that is seamlessly integrated into the client's entire operations and production process and acts as a key source of revenue from online services.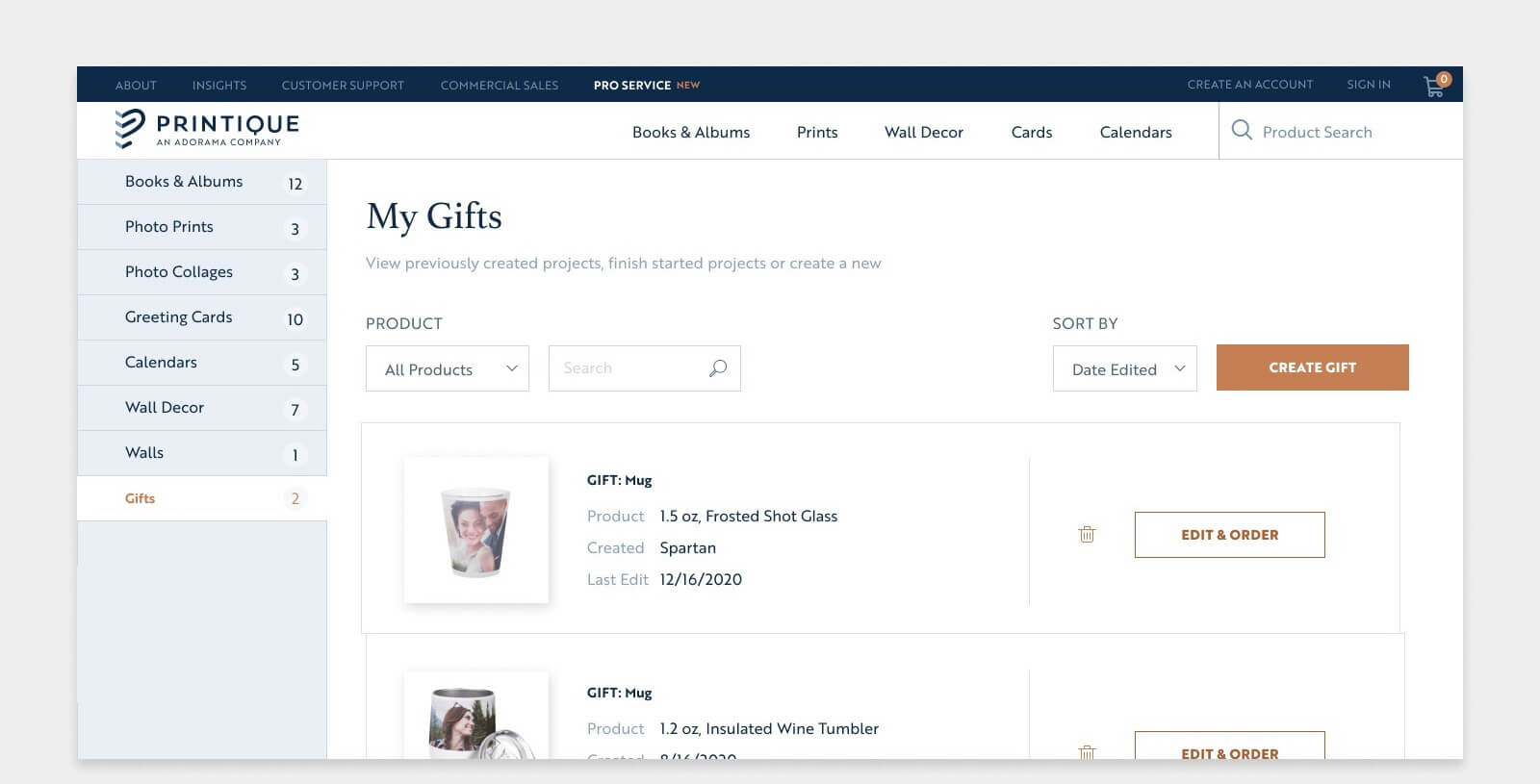 Out design team created a flexible user-focused UX for an EHR data quality manager that can be seamlessly integrated into a hospital portal to provide managers and doctors with quality patient data.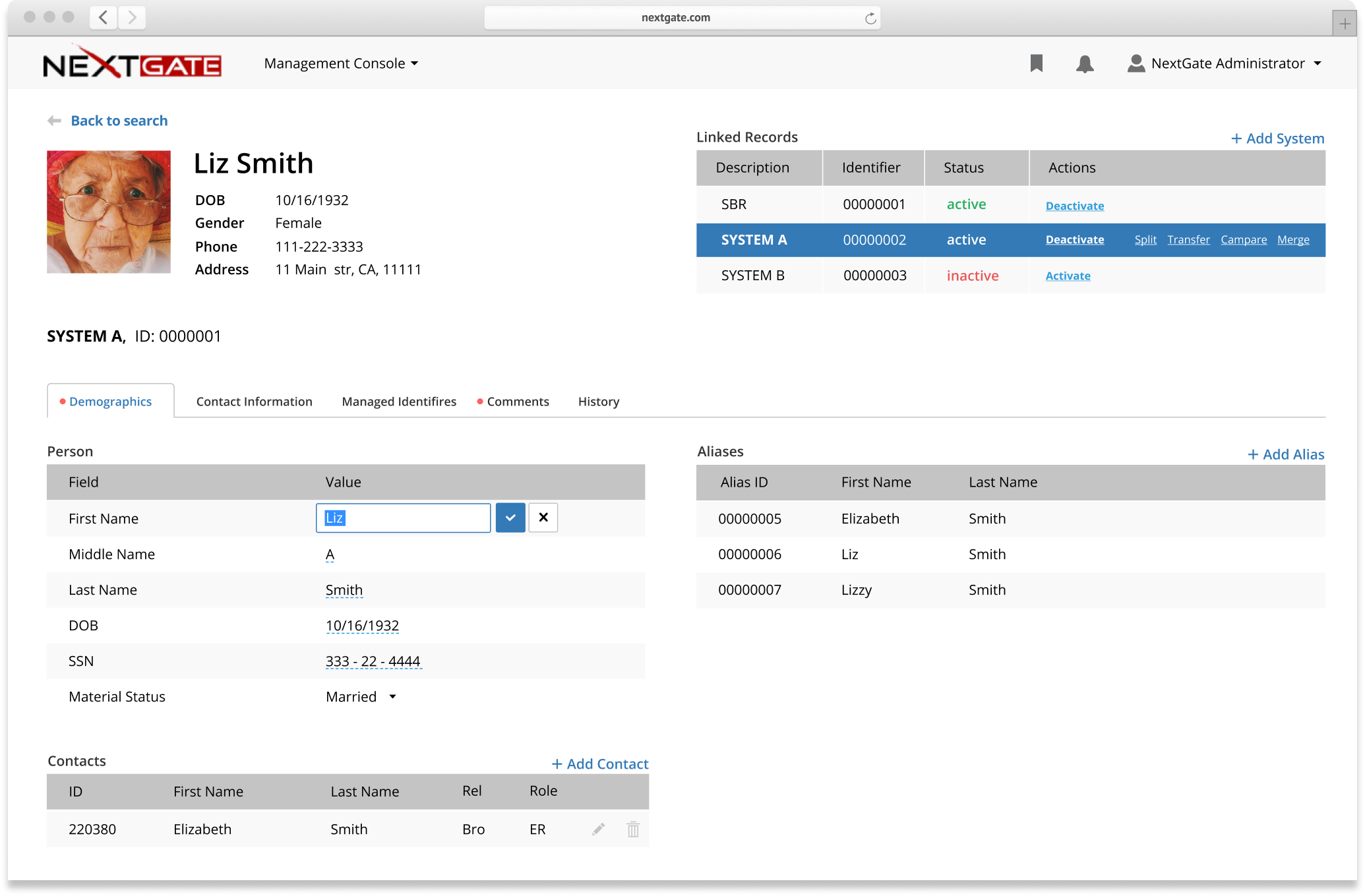 We offer a wide range of custom web portal development services:
Business analysis and Discovery
Project planning and management
UX/UI design and development
Web portal development and testing
System support and optimization
Web portal redesign and modernization
Migration from monolith to microservices
Our engineers work with modern frontend frameworks (see React.js web development services, Angular web development services), backend and cloud technologies to develop scalable high-performing web solutions. Check our core tech stack (.NET development, Java development) and contact our experts to start your project.
Web portals and websites may have similar features and target the same audience. However, these are two fundamentally different web systems. Understanding the difference between a portal and a website is important to choose the right solution for business and estimate the time and resources for its implementation.
Are you up for learning more about different types of web systems? Check also a side-by-side comparison where we list every major difference between website and web application and reasons to choose each option.
FAQ
What is the difference between portal and website?
Web portal is a multifunctional web system that targets at a specific audience, whereas a website is focused on the general public. It normally doesn't require user registration and has a limited amount of interactive features and personalization capabilities.
How to choose: website vs web portal?
The choice between a website or a web portal will depend on your business goals, functional requirements, technical infrastructure as well as available resources for system development and support.
When to choose a web portal over a website?
Choose a web portal for your company when:
You need to provide the audience with a unified web interface with access to your services, products and content;
You want to personalize services/content to a specific user group;
Your wish to improve customer/client/employee experience and drive automation;
You need to integrate a web system into your business process and infrastructure.