Smart Home Technology Trends
Smart home is a fast-growing market. According to Statista, its revenue in the U.S. amounts to almost US$28 billion in 2019 and shows a steady increase of 12% every year.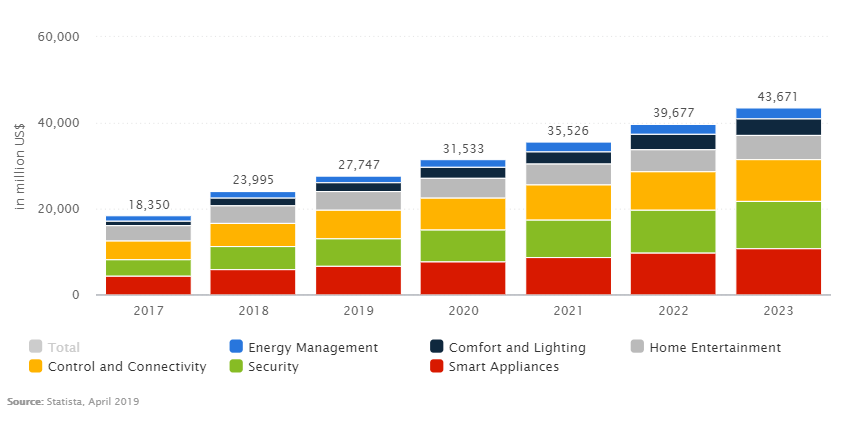 The penetration rate of smart home technology is also on the rise in each segment (check the image below). As you can see, the control, comfort and security are in the top among the most widely adopted applications. This data fully reflects the smart home trends which dominate the market today and will most probably shape it in the next years.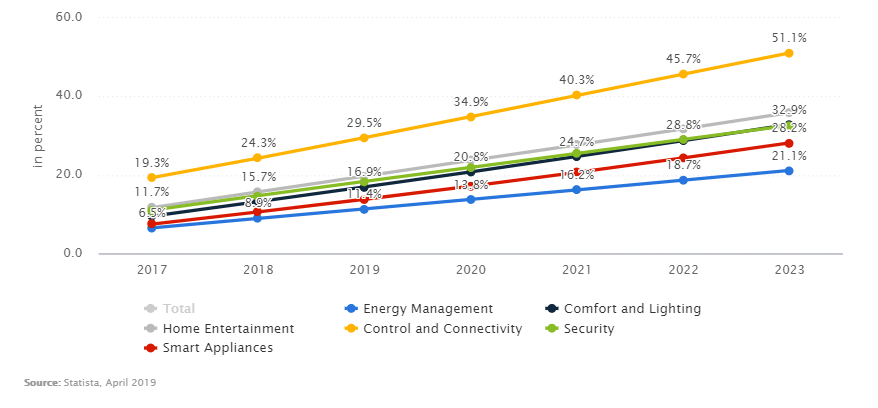 In this article, we'll outline these trends, show how the adoption of particular IoT smart home solutions propel the development of various segments and name some players in each segment.
You will learn about:
The latest smart home technology trends.
Great products and services which have already caught the trend.
The future of the smart home market and what it brings to the adopters.
Digiteum offer for smart home market players.
7 smart home trends that shape the market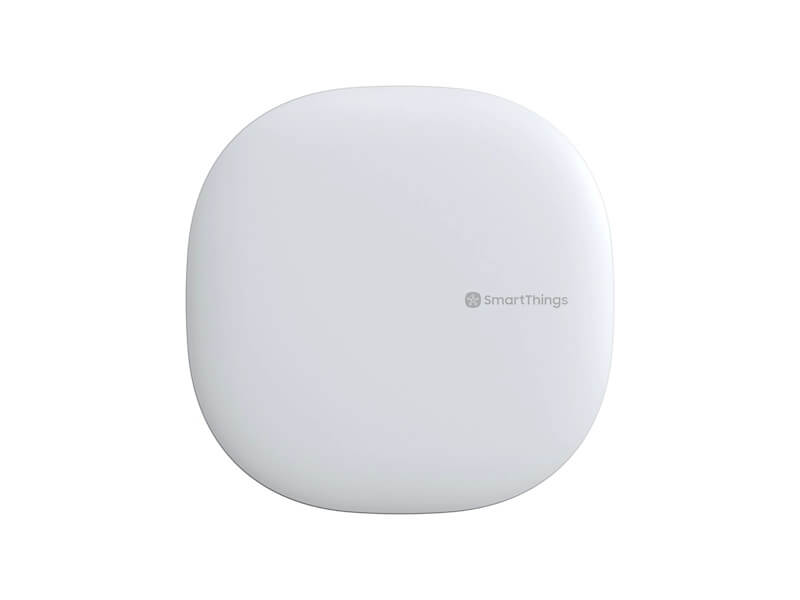 Fragmentation of smart home technologies and the lack of connectivity between different intelligent devices and systems is a standing problem. It directly influences user experience and, as a result, hampers adoption.
The companies that design and build IoT-based home automation systems implement different approaches to solve this challenge. One of the home automation trends is to offer a hub for connected devices that enables centralized control and management.
Both new and well-established companies already sell versatile hubs which support different protocols, including Zigbee, Z-Wave, Wi-Fi, Bluetooth and other IoT connectivity technologies. IoT Among the most popular ones are Samsung SmartThings Hub, Hubitat Elevation, Wink Hub 2 and, of course, Amazon Echo, Apple HomePod and Google Home.
2. Integration with voice assistants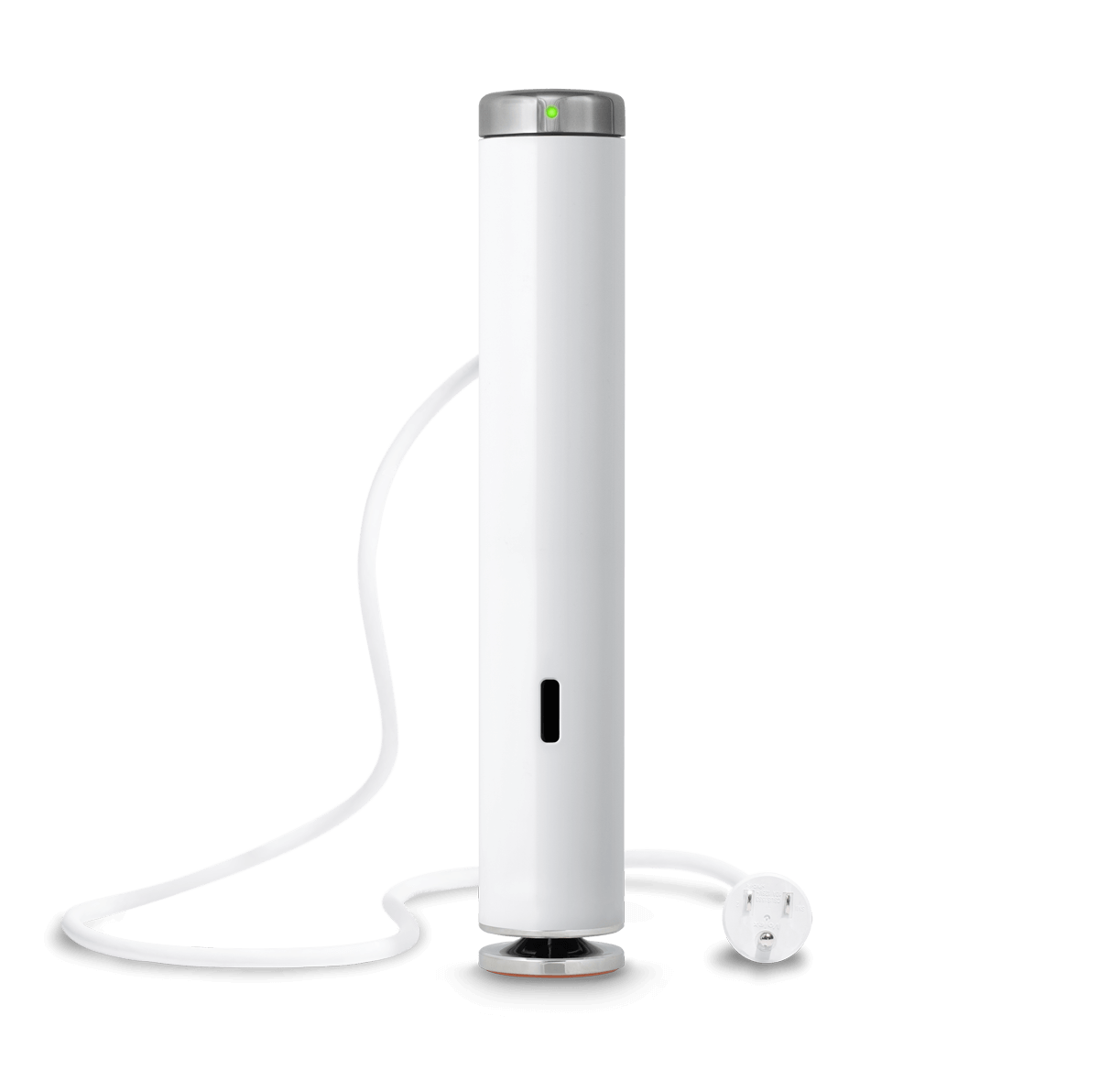 Integration with voice assistants is another efficient way to solve the connectivity problem and add voice control feature to any smart home gadget. Enabling Amazon Alexa or Google Assistant control is not among the new trends in smart home domain, but it has started unfolding at an unprecedented rate in recent years. In fact, now it's hard to find a connected appliance or system which cannot be controlled by Alexa.
The list of adopters includes smart lighting like Philips Hue family, thermostats like Ecobee, furniture like coffee tables by 37°C Smart Home, kitchen appliances like ChefSteps Joule, security systems like Logitech cameras and Yale locks, and even vehicles like Audi and Lexus.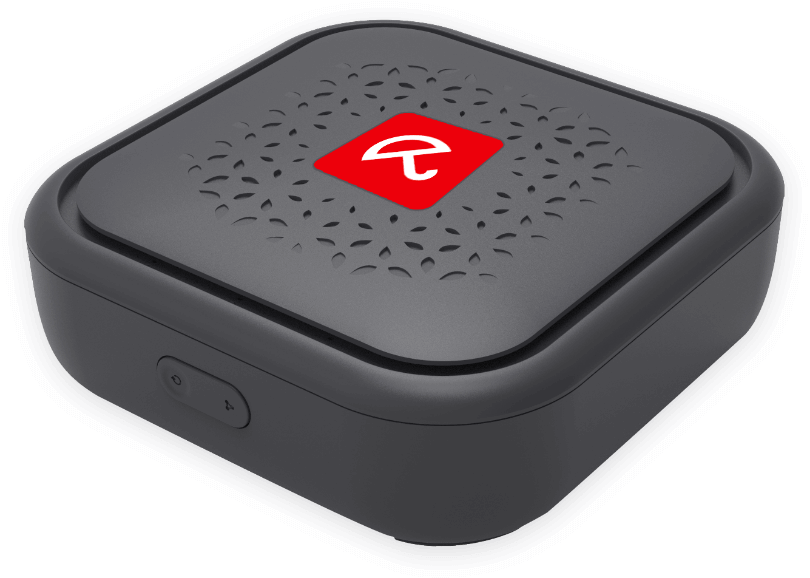 According to Statista, security will be one of the most rapidly developing sectors in the smart home market, and the one with the fastest adoption rate. This explains the boom among connected security devices, including smart locks, doorbells and cameras.
The future of smart homes, where every second device is listening, recording or watching, also creates the conditions for the urgent need of an additional level of security — security for the security devices.
For this purpose, the designers and developers of connected systems add advanced authentification. AI-based biometrical authentification for August locks is a good example. Other companies develop special hubs to secure connected things. For example, Avira offers SafeThings router which enables the security for household's smart systems from cyber attacks, spies or other intrusions.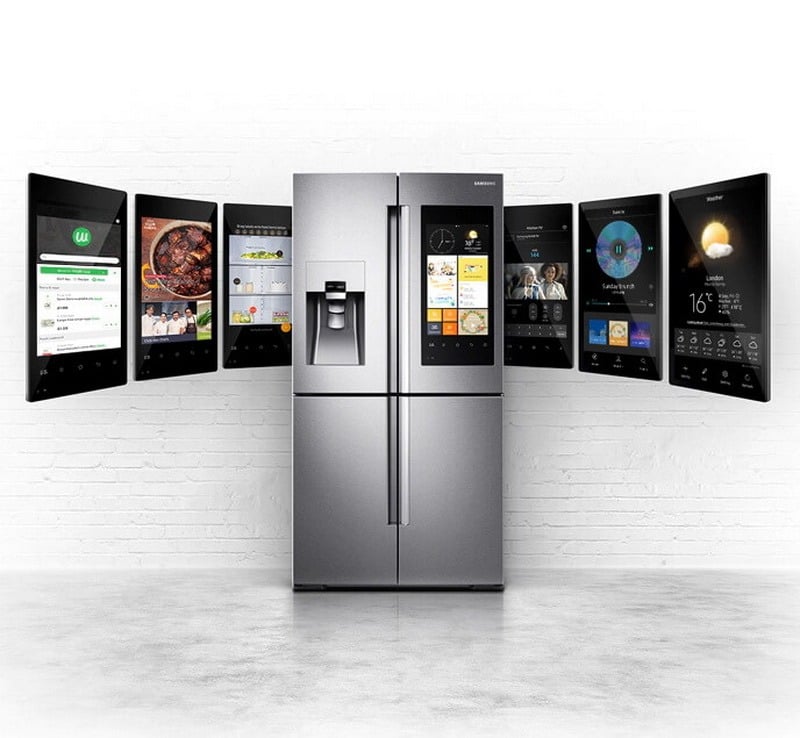 Advanced authentification is one of many applications of AI technologies in a smart home. In fact, some believe that not adding machine intelligence to modern systems is a major miss-out which may cost a company its position in the market or business in general.
It is particularly relevant for the Internet of Things systems used in smart home. The operation of IoT is largely based on the analysis of sensor data, and in many cases, the application of machine learning is the best way to deal with it.
Therefore, one of the major smart home technology trends is the increasing use of AI technology, both at the front and back end. Either it's the computer vision that allows a Samsung Family Hub to identify the products in the fridge and build a shopping list, or voice-controlled smart devices using NLP engines to understand speech — all these systems use AI to create a better user experience for smart home residents.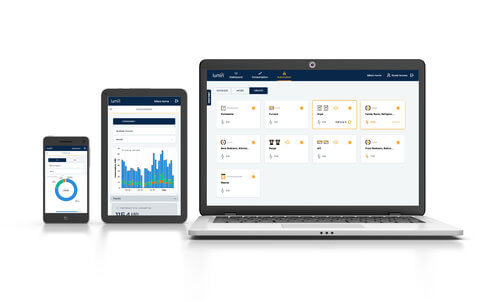 Smart grid technology and applications are getting more and more popular. Going off-grid is one of important smart home future trends that promise to last. In fact, leading a more sustainable and responsible life is one of the reasons why people go for smart home technology in the first place. Off-grid solutions like Tesla Powerwall and Schneider Electric's residential solar power become more popular and available, so as the smart home offers to support these systems.
Lumin Energy Management Platform which includes a smart panel and data analytics and management system is a good example. The system provides a wide range of benefits for households as is — energy consumption monitoring, controlled power storage, remote control of electric appliances among others.
Using Lumin's storage, the household can safely operate in the off-grid mode and have all electricity needs covered, for example, in the case of an outage. Paired with a residential solar system, the system enables a household to constantly operate off-grid and significantly reduce its carbon footprint.
6. Enhanced functionality
Among other smart home industry trends, enhanced functionality plays an important role because it provides higher adoption of the new technology.
Remember the old story about Roomba and the dog's poo spread over the room? Cases like this usually don't encourage people to buy a gadget in question. On the other side, they help producers learn the lesson, enhance functionality and openly use it in the next offer. This is why today robot vacuums have object recognition system installed to identify obstacles and space-mapping feature to recognize no-entry locations where the vacuum can get stuck, for example.
Similarly, doorbells like Answer by Maximus today have two cameras to see both people and packages left at the door and ovens have built-in cameras to watch the food cooking from the app.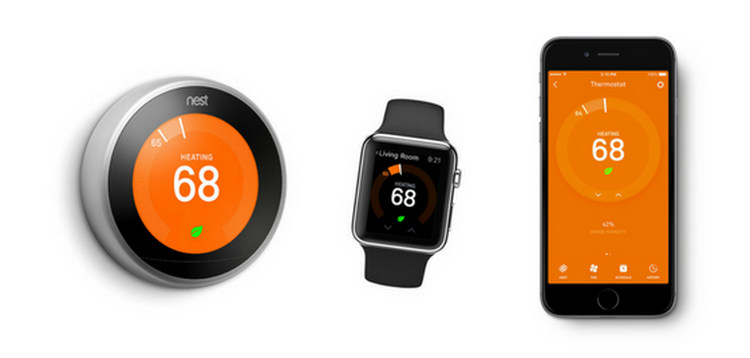 Trends in smart home technology may change, but this one will, probably, only expand. At the very beginning of smart home development, residents were given a basic level of control over their connected appliances. Back then, we could dim the light using an app or raise the temperature asking an Alexa-enabled thermostat.
Today, appliances get a new level of management and a wide range of home automation features. Now, a smart lighting system can 'talk' to blinders and create the perfect balance of natural and artificial light by itself. And thermostats like Nest use AI to learn residents' habits and preferences. It zones the environment and adjusts the temperature just the way it's needed reducing wasted energy and unnecessary spending.
The future of smart home technology
If we combine all the trends, we get a good picture of the future of smart home technology. Not long from now, connected devices will become more autonomous and capable. They will rely more often on their own 'assumptions' and predictions rather than human commands. And by and by, they will learn how to communicate and share data with each other to provide seamless user experience to household residents.
Samsung has recently drawn a picture of a smart home as the company sees it. Moreover, according to the video on Bloomberg, they plan to implement the idea by August 2022.
Smart home technology solutions at Digiteum
At Digiteum, we are always excited to get down to the projects in home automation and smart building technology.
For starters, we have good experience in this area and a deep understanding of this market. We have designed and developed cross-platform web and mobile applications and data ecosystem on a smart home energy project and continue enhancing this system.
Apart from the experience in green energy and smart home sectors, we offer a wide range of software and middleware development services which include:
Designing and developing embedded software for smart devices and spaces;
Integrating smart home/smart city and Internet of Things software into existing ecosystems;
Leveraging big data technologies and smart algorithms for monitoring, analytics, remote control and management of smart spaces.