Parking IoT Technologies: About Smart Parking Systems
Due to the increase in car ownership, it's getting harder to find parking spots in densely populated areas. Searching for an available lot takes up potentially productive time, increases the number of cars circulating the roads, and introduces new challenges to the infrastructure.
To help city residents drive around and park comfortably, assistive technology like IoT in facility management is actively brought to the industry. In this post, you will find out how IoT is used to reduce parking-related road accidents, shorten the search time, and increase the level of drivers' comfort.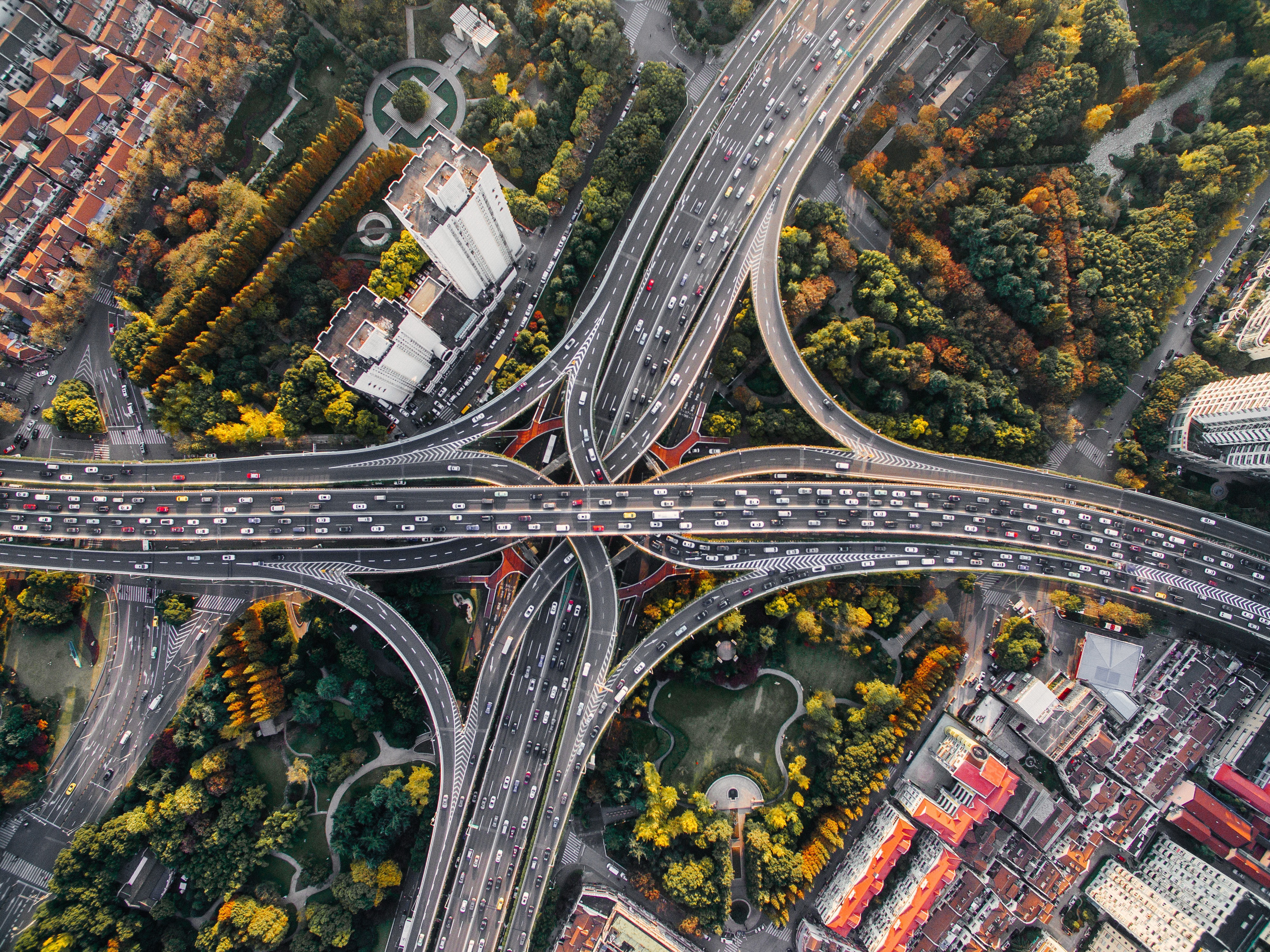 Table of Contents
Car Parking Problems
Innovations in Smart Parking Solutions
The Role of IoT in Parking Software Technologies
IoT Parking Management Software
Benefits of Smart Parking Systems
Examples of Smart Parking Devices
IoT Parking Software Development with Digiteum
The surge of demand for parking spaces stems predominantly from two major trends — the increase of car ownership and increasing urbanization. To understand the magnitude of parking lot problems municipal communities face when it comes to parking, take a look at the following statistics:
According to the World Bank, over four billion people on Earth are city residents — that's more than half of the entire population. By 2030, the value will reach 60% of the overall population. The growing scale of urbanization brings more challenges in terms of infrastructure planning and transportation network — including the rising demand for comfortable parking.
Searching for parking results in considerable losses in productive time and money. 35% of the overall commute time is dedicated to finding a parking spot. The financial losses the economy sustains are tremendous — according to USAToday, the cost of wasted time and fuel per driver is $345.
Autonomous vehicles will likely present new demands to parking that have to be foreseen and analyzed. These may include the rising need for charging stations since most AVs are electric, ensuring that a vehicle can abide by the rules of parking which vary among different spots.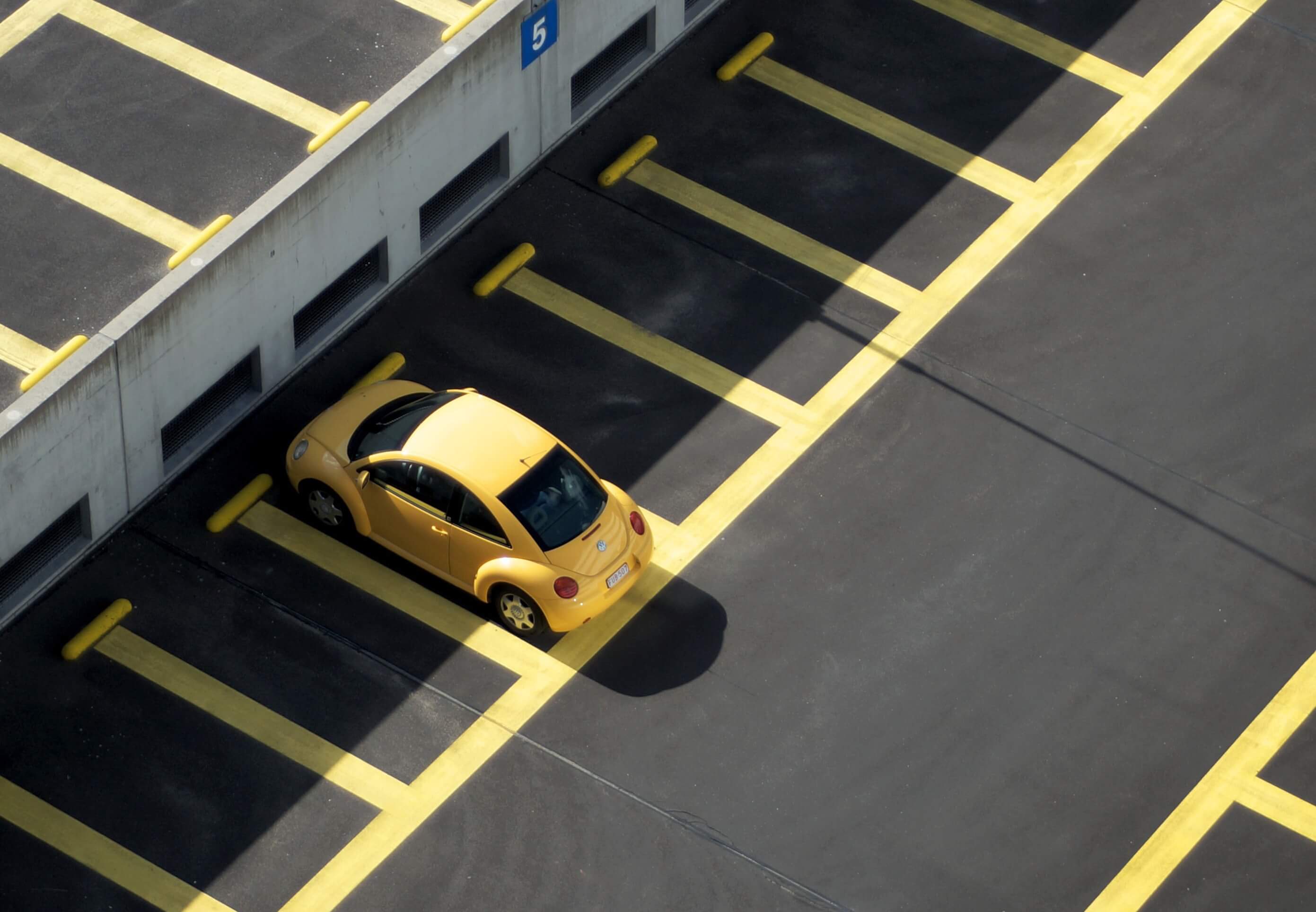 Innovations in Smart Parking Solutions
According to a Smart Parking Institute survey, 42% of respondents voted in favor of the necessity of parking systems. The good news is, thanks to a parking lot sensor system, connected platforms, and other IoT applications, drivers can find out where the nearest parking spot is located, if it's occupied. In the future, real-time parking maps will likely be commonplace.
As to the innovations that are already implemented in the field, here are the top smart parking applications that have already been or are set to be released in the near future.
1. Tracking cars with sensor systems
IoT is the technology at the core of vehicle tracking platforms. Tools like GPS or OBD sensors help collect location data on a car or a fleet and monitor the occupancy of parking spaces. This information is transferred to the cloud gateway, processed and sent to the network server. The data will be presented to drivers and car company managers in the form of understandable, clear insights.
As for now, IoT-based vehicle trackers are mainly used by large-scale corporate organizations for fleet management. In the future, when the release of 5G makes the Internet of Things more accessible, parking lot technology will spread among car drivers and will be used to manage daily commutes and mitigate parking challenges.
A connected counting system can detect when a vehicle enters and leaves the parking facility. This way, IoT-based platforms will be able to offer drivers a real-time counter of available spots.
Facility managers can use counter systems to increase the efficiency of the parking facility, determine trends and patterns regarding the customer flow, and be able to predict future vehicle surges.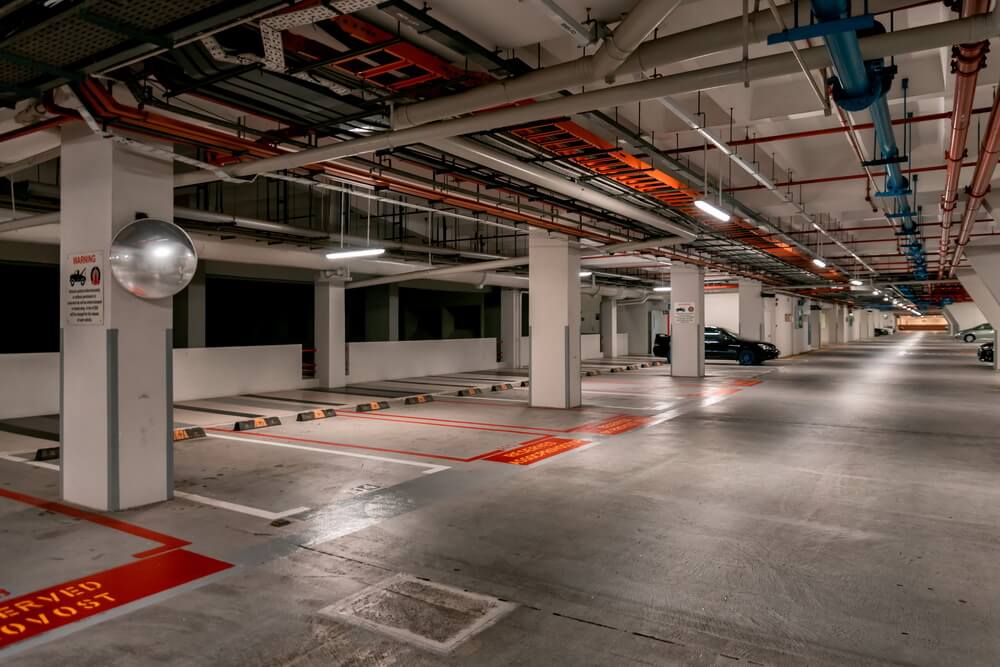 3. Automated parking systems
Automatic parking systems help reduce the land use for parking and maximize the efficiency of space usage. An automated system is used to move cars up and down to the upper levels of the facility.
Since APS facilities are fully automated and have restricted access, parking a vehicle there is more secure. Automatic parking systems help reduce the parking search time, along with engine emissions that accumulate due to the increase in driving time.
The resource usage within such a facility is minimized as there is little light and ventilation needed to maintain an automated parking system.
IoT contributes to urban safety and order by acting as a powerful traffic compliance reinforcer.
Thanks to a network of sensors and fast data processing algorithms, parking control systems can detect parking rules violations, register them, collect and store the needed evidence, issue a ticket, and notify the violating party in a matter of seconds.
The Role of IoT in Parking Software Technologies
Smart parking will have an outstanding impact on all stakeholders involved in the process. Drivers will be able to book parking spaces beforehand, plan trips and commutes with the lot occupancy in mind. Reinforcement agencies will be able to detect and evaluate the gravity of parking rules violations in split seconds.
Parking facility managers will be able to optimize the use of space and resources within their parking lots, efficiently strategize and plan future development. Community leaders will increase the comfort of city residents by implementing IoT parking solutions.
Here are a few additional benefits IoT offers in the parking sector:
Sponsored meter time extension. Connected platforms will notify drivers when the parking meter is about to expire. Such tools will help extend the parking time duration in one click as soon as the driver paid for an extension. Automated parking meter extension systems will reduce the number of traffic law violation cases and increase the revenue of the facility.
Innovative parking solutions that identify the safety of parking spots. The 'red' zones like bus stops, passenger loading-unloading areas, and parking spots for handicapped people will be identified by the platform and alerted to the driver. This way, the number of parking violations by negligence will be reduced. If a driver still parked a vehicle in a no-parking zone, a connected platform will instantly notify a reinforcement department about the violator, increasing the odds of penalizing the violation successfully.
Efficient citywide parking space utilization — automated parking planners can collect occupancy data for all parking venues thanks to a network of connected sensors. To disperse the number of parked cars equally throughout the city, municipal communities can adjust meter rates and allowed parking times using the data provided by IoT platforms in the decision-making process.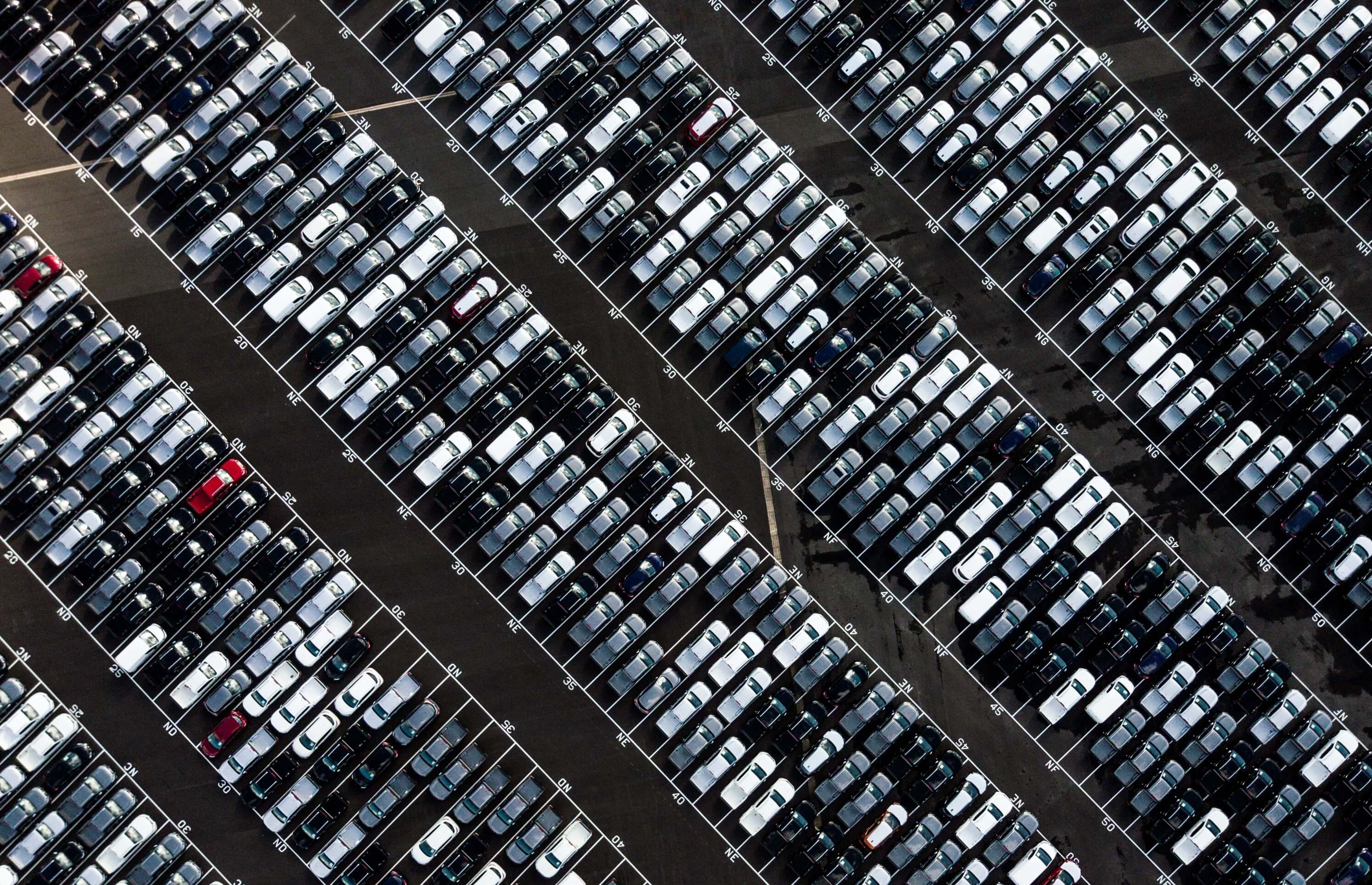 IoT Parking Management Software
A parking loT management system can be a one-stop-shop that unites drivers, law reinforcement organs, parking facility managers, and other stakeholders into a connected network. All the parties impacted by the transformation of parking management will be able to connect, ask and answer questions, and contribute to the overall well-being of the urban community.
To perform properly, an IoT-based parking management system has to make the most out of what smart parking technology offers. Here are the features a smart platform in the parking industry should leverage upon:
Interface showing free and occupied parking spaces — an IoT platform (ideally, a cloud-based one) should aggregate sensor data and transform it into concise legible insights regarding the occupancy of parking spaces in the facility.
Real-time monitoring of parking occupancy situation from any PC or smartphone. A driver should be able to see how many free slots all parking facilities around town offer in real time. An interactive occupancy map is a must-have for an efficient, connected parking management tool.
API for end-user and management applications. Since the impact of parking management tools is vital to the well-being of community members, program developers need to ensure the tool offers third-party integrations and can be implemented into other management and parking lot monitoring tools.
User-friendly interface, access permissions for different user groups. Not every driver is tech-savvy and experienced in navigating complex platforms. To make the process of finding or checking the availability of a parking lot as effortless as possible, app developers should stick to a minimalist interface, use guiding elements — arrows, icons, etc. — to help users move around the application. An app developer should target different user groups — visually impaired people, drivers who are over 50 years old, and so forth.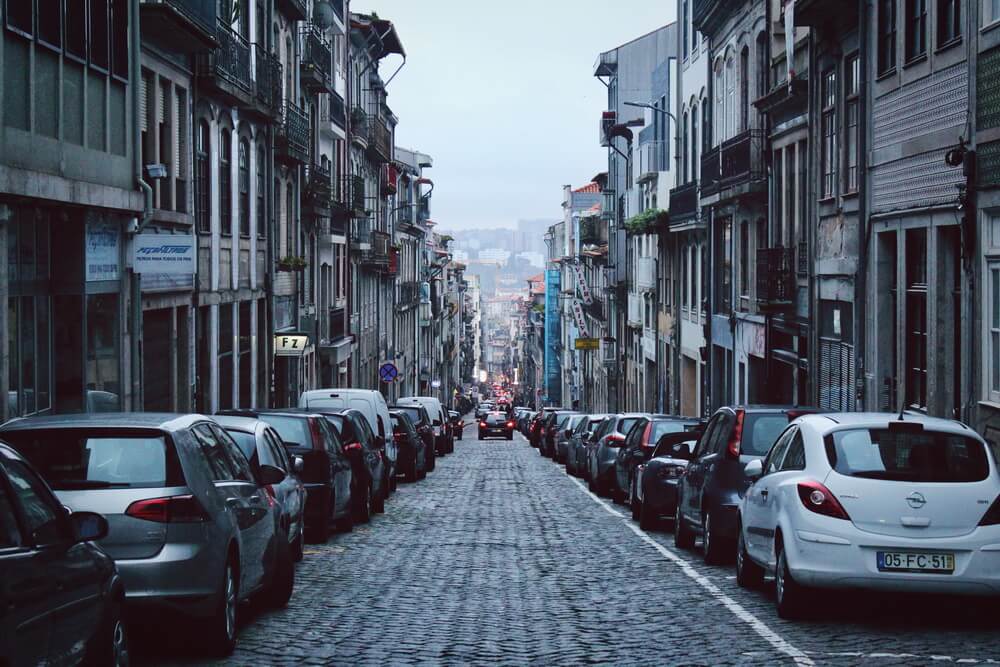 Benefits of Smart Parking Systems
With the increase of the urban population, the need for living and infrastructure space is higher than ever before. On the other hand, the growing number of car owners — it's estimated there will be over two billion cars on the road by 2035 — creates a high demand for parking spaces.
Parking management systems help fulfill drivers' needs without compromising on living and recreation space. Here are the benefits parking lot management software offers to urban communities:
1. Real-time monitoring of parking space
It helps simplify search and speed up the parking process which results in less guesswork and reduced unpredictability of looking for an available parking spot.
Parking IoT solutions help find a space in a new town and track the occupancy of the facility in real time to ensure a driver's time is not wasted driving around jam-packed parking lots.
2. Providing better control for consumers, businesses, and law enforcement representatives
Smart parking solutions promote safety by notifying drivers when they are about to leave a vehicle in a no-parking area.
Traffic law reinforcement structures will be able to create an efficient framework of parking violation monitoring since connected systems will offer relevant data on how the areas with the highest violation density, the peak timing for parking violations, and real-time alerts for when a driver parked a vehicle in a non-designated spot.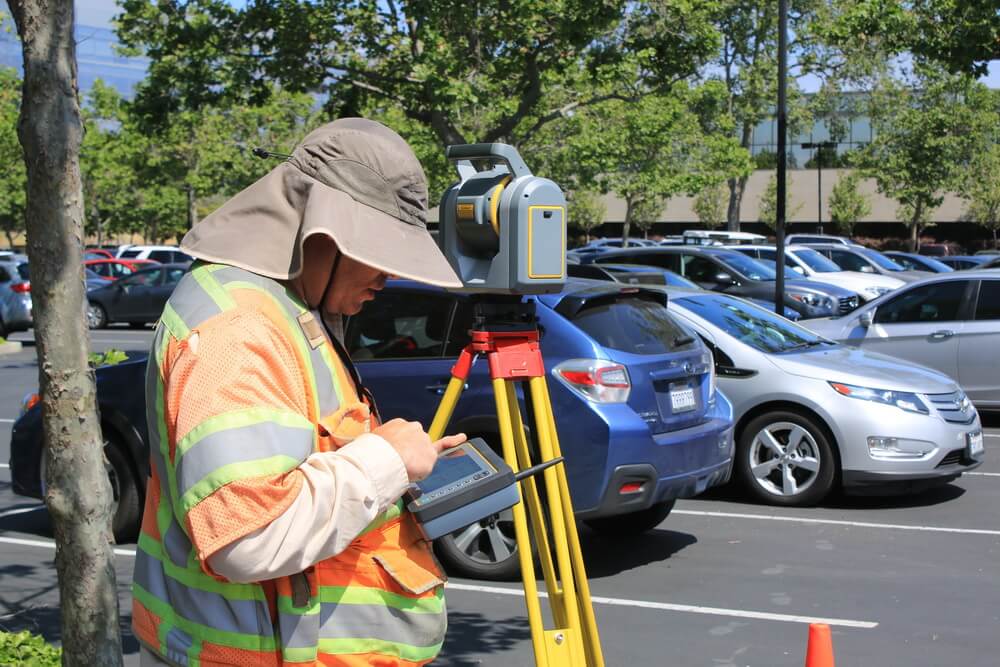 3. Optimizing space and time in a tight and busy urban environment
As smart parking systems make finding an available spot more manageable, there will be less search traffic in the street. As a result, the traffic jam problem can be mitigated, allowing city residents to save potentially productive time.
IoT-based parking facility management tools will help business owners make the most out of the space available. For instance, a parking management system automatically adjusts the meter fares based on the current occupancy of the facility. Also, automated meter renewal tools will help parking facilities generate more revenue and attract new visitors.
4. Foresee the flow of vehicles by analyzing parking routines in malls, business stores, airports
Connected parking management software is a missing variable in the decision-making process that brings additional clarity and insight to parking optimization. By collecting real-time driver data every day of the year, smart platforms can determine complex seasonal patterns and trends.
Thanks to a wide range of behavioral and environmental insights, parking facility managers will have a big-picture view of how the flow of vehicles changes throughout the year, what are the causes for growing parking demand in given time frames and optimize the use of parking spots accordingly.
Examples of Smart Parking Devices
In case you think that smart parking technology will not go commonplace earlier than 10-15 years, the growing number of successful connected applications that have already been brought to the market will make you change your mind. Here's a brief overview of the most prominent IoT applications in the parking field.
Back in 2017, Huawei partnered with China Unicorn to work on a joint NB-IoT system for smart street parking. The parking lot control system uses vehicle detectors, chips, IoT modules, and network devices to aggregate, process, and display data in a concise and helpful way.
The tool offers remote parking space booking and fee payment, has a built-in interactive parking availability map, and helps communities reallocate the workforce that was engaged in toll collection and parking supervision to handle more challenging, non-automatable tasks
SmartParking is an IoT-integrated parking management system that offers drivers visibility into the availability of parking lots, connects city councils and helps build a single parking management framework, valid across multiple communities.
The tool employs a range of environmental sensors, a cloud-based web platform with a dashboard that contains relevant parking-related data. Live gateway enables automated parking meter payment, with zero human supervision.
PlacePod is a surface-mounted or in-ground sensor system for vehicle detection and parking spaces availability monitoring. The tool sources real-time lot occupancy data via a Low Power Wide Area Network communication protocol.
The tool has up to 10 years of battery life, is resistant to temperature changes, and provides an error-free performance in harsh natural environments.
Siemens' smart parking system uses in-pavement and overhead vehicle detectors for parking space availability monitoring. These sensors use advanced algorithms for vehicle tracking and determine if the location of a non-movable car corresponds to that of a parking facility.
The data, gathered by sensors, is displayed as a real-time occupancy overview. Law enforcement bodies can use the service to get street data on parking violations — the platform detects if a car is parked on a lane reserved for emergency vehicles or a cycle path.
IoT Parking Software Development with Digiteum
We offer custom IoT software design and development services for the companies, organizations and communities who decided to integrate smart parking technologies and need a skilled team to implement their ideas. We stand for a proactive approach and guarantee the software we design and develop is efficient, consistent, scalable and secure and fully addresses industry standards.
We have robust experience and a rich tech stack to design and develop IoT applications of any complexity:
Programming languages: GoLang, C/C++, C#, Scala, etc.
Hardware platforms: Arduino, CHIP, BeagleBone, Raspberry Pi, etc.
Read: Choosing between Raspberry Pi or Arduino for IoT projects
Big data processing tools — Apache Hadoop and Kafka, ElasticSearch, OpenTSDB, etc.
Machine learning and big data analysis — Spark ML, Grafana, PyTorch, SciPy, etc.
Contact our team to get a quote for a custom IoT application or consult on your project idea.
Getting real-time access to data is a primary driver of innovation in the parking field. Being able to capture insights, process them, and derive data-driven patterns from them is a major benefit the Internet of Things offers.
If you're interested in Internet of Things web development for parking management and IoT infrastructure monitoring software contact Digiteum. We are a team of experienced engineers, designers and data scientists. Check out our portfolio to see the projects and companies out team has made an impact on. To discuss your project and get a quote, leave us a message.