Digiteum among Top B2B Developers on Clutch.co
Last week Clutch.co announced the top B2B Companies rated by regions. Digiteum got into the list for the second consecutive year, together with other B2B software development companies in the market.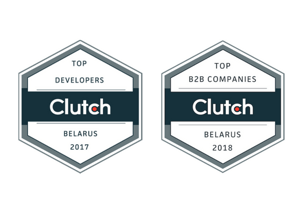 According to the official press release, an independent B2B research, ratings, and reviews firm Clutch.co chose 225 service providers in the Russian and Belarusian markets and identified the leaders in IT design, development and marketing in 2018. These results are based on client feedback and the market presence of each company, and therefore, provide an unbiased view on the IT ecosystem in the region.
According to Clutch Business Analyst Alaina Stevenson, "Being named a leading business services provider on the national level is quite the accomplishment, especially considering that each company featured today had to prove its ability to deliver. Clutch believes client feedback is a true indicator of performance, and we look forward to seeing what projects these companies tackle for their clients in the future."
Digiteum has been on Clutch.co since 2015. The company lists a wide range of IT services on its profile, including:
Digital strategy and technology consulting;
Web, mobile, voice and chat UX/UI design;
Custom web, mobile and IoT development;
Cloud-based systems;
AI and chatbot technology;
ML and computer vision;
NLP and computer linguistics;
Big data and ELT solutions;
Hardware and data integration;
Data visualization and analytics;
Quality Assurance and optimization;
Tech staff augmentation and dedicated teams.
Find out more about Digiteum capabilities and software development expertise.
Congratulation to all B2B software development companies who got into Clutch Top 2018 across all researched regions!