Oxford University Press with an Official Visit to Minsk
Earlier on September 10th, the executives from the Dictionaries division at Oxford University Press (OUP) paid an official two-day visit to Minsk. A small, but strong team was represented by Judy Pearsall, the Director of Oxford Dictionaries division and Daniel Paxton-Boyd, the Senior Operations Manager at Oxford University Press.
This visit had a dual purpose:
to make new connections in the local academic research community for language technologies and linguistics and share the highlights of OUP's work in the language technology domain.
to visit the head office of Digiteum, Oxford partner, and conduct a series of meetings with the teams and management.
In order to implement the first goal, the OUP team accompanied by the Digiteum's co-founder Michael Grebennikov attended the meetings with the management, scholars and students of Minsk State Linguistic University (MSLU).
The team held a brief meeting with the university's management and academics and a Q&A session with the students and shared the successful results and plans on their work in language data creation and extraction, corpora creation, content enrichment and described the objectives of Oxford Global Languages initiative and custom lexical software development projects for this initiative.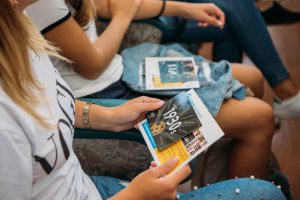 Students at the briefing with the OUP team
The second part of the visit was less official, but especially productive. Judy Pearsall and Daniel Paxton-Boyd spent two days at Digiteum headquarters and held a series of meetings, attended presentations and took part in the collaborative workshops that demonstrate the progress and results of Digiteum-OUP partnership.
During this highly effective day, the OUP team had a chance to observe the dictionaries conversion process in real-time, check out test automation, communicate with the team on Digiteum end, discuss the future plans and negotiate the next steps to develop a digital product strategy for Dictionaries Conversion Framework.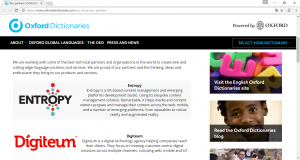 Digiteum - official technology partner of Oxford University Press
This short, but efficient visit allowed the sides to achieve the desired results and enabled the OUP representatives put the foundation for the future contact between language technology professionals in the United Kingdom and Belarus.
We hope to see more events like this in the future and are always happy to host our partners and clients from different parts of the world.