How to Choose and Hire Nearshore Software Developers
Nearshoring is the most balanced outsourcing strategy for web projects. It's cheaper to hire nearshore web developers than to outsource to an onshore agency. And it poses much fewer risks and communication issues compared to offshoring.
But finding a reliable nearshore partner in today's swarming market can be a real challenge. You have to sort through dozens or even hundreds of companies, and that's only in one country. Without a proper framework, it may take ages.
This is why we prepared this 5-minute guide on how to choose a partner for nearshore software outsourcing. So If you consider outsourcing your web project to a lower-cost nearshore location or plan to diversify your tech vendor portfolio, this read is for you.
Nearshore, onshore and offshore outsourcing are popular strategies that can help you significantly reduce software development costs (40%-70%) by both supporting your in-house tech team or delegating entire projects to a tech vendor. The difference between these strategies lies primarily in the location where you outsource from. But not only.
To hire a nearshore web development team you will be looking for a tech vendor in a neighboring country, usually within one to three time zones from your location. Poland, for instance, is one of the most popular nearshoring markets for the Nordic countries, while Mexico is a key nearshoring location for the United States.
Offshoring implies outsourcing to a geographically distant location, often overseas. You get to choose from a much wider pool of vendors (e.g., Eastern and Central Europe, South and Southeast Asia, Africa for the US and Canada) and rates. But at the same time, have to face challenges associated with the larger time difference and legal and business specifics.
Onshoring poses no such risks because you will be outsourcing to a third-party provider in your country (e.g., a New York company using the services of a Virginia-based tech agency). This means you will be working in the same legal and business environment and have little or no cultural, language, or time zone differences. The biggest downside of this approach is smaller cost savings compared to nearshoring and offshoring.

There are several reasons to hire a nearshore outsourcing web development firm.
Slash development costs (but not quality)
Nearshoring allows you to find affordable tech talent in the same area without risking the quality and control over your project. For example, a yearly salary of a senior .NET engineer in Germany is around 104,000 EURO per year, compared to 46,000 EURO in Poland for the same role (source: Salary Expert, 2023). So on average, you can expect up to a 30-50% reduction in development costs while keeping operations close to your market.
Adapt to increasing rates and changing market
Demand swings and market uncertainty in the last couple of years have affected the rates and costs of software development.
US and Canada saw an average 23% increase in hourly rates for software development services in 2022.
Hiring a nearshore development team brings flexibility and resilience helping you effectively maneuver in the changing market and adapt headcount to current needs. You can quickly bring in specialists and expertise without lengthy and costly recruiting and reskilling efforts. Or, on the contrary, adjust teams when projects scale down.
Find and hire skilled specialists
Nearshoring is a cost-effective solution to the tech staff shortage. Lack of specific skills in the in-house teams prevents companies from meeting their delivery and business goals. As a result, they fail to compete and scale as fast as they could.
The top challenges in software development are recruiting developers with the right skills (53%) and retaining developers (46%), according to Reveal Survey Report (2022).
Nearshoring solves this problem by providing a rich talent pool of experienced specialists in a nearby region. So you can find experts for a specific role or task much faster. For example, find a nearshore testing team or set up a dedicated development center with a nearshoring partner.
Minimize outsourcing risks
Nearshoring is often more expensive than hiring an offshore development team. But thanks to physical proximity, it offers a range of benefits that offshore can't beat:
Few or no cultural differences, no language barrier (no communication friction).
Similar or same time zone (workday overlap, frequent on-site meetings, no need for time zone converters).
Similar legal and business environment (quick setup and smooth collaboration).
In fact, proximity is the game-changing benefit that makes companies choose hiring a nearshore software development team.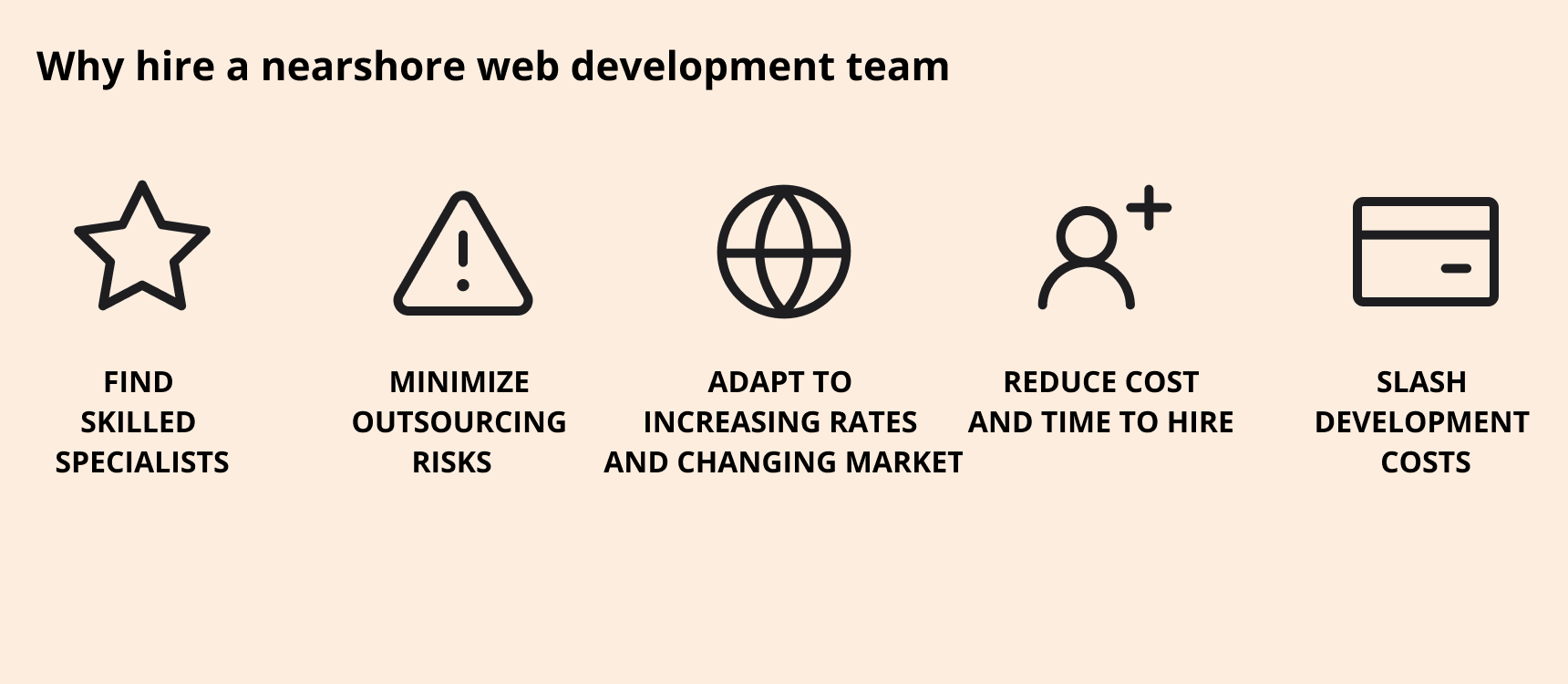 Reduce cost and time to hire
As with any other outsourcing strategy, nearshoring helps you save money and time and frees you from troubles associated with recruiting, employment, and retention. Your vendor takes care of all time-dragging processes and administrative costs.
Get a reliable nearshoring partner
Hit your outsourcing goals with maximum flexibility and minimum constraints.
HIRE DEVELOPERS
There are two questions here, actually. First, what location to choose? And second, where to look for a reputable nearshoring partner in this location. To answer these questions, let's look into the most popular nearshoring destinations for Europe, North America, and Australia and major channels to search for a reliable vendor.
Turbulent events in Europe in the last couple of years have drastically affected the European nearshoring market. There are, however, several tech hubs that have been stable and only grown since 2022, such as Poland, Chezh Republic, and Bulgaria.
| Country | Hourly rate for software development services (USD) | Number of IT specialists |
| --- | --- | --- |
| Poland | 40-60 | 400,000 |
| Czech Republic | 35-55 | 145,000 |
| Hungary | 30-55 | 120,000 |
| Bulgaria | 20-45 | 60,000 |
US is located close to the huge outsourcing markets of Central and South America. High workday overlap and strong English language proficiency made Mexico, Costa Rica, Chile, and Argentina the top spots to choose a nearshore software development team.
| Country | Hourly rate for software development services (USD) | Number of IT specialists |
| --- | --- | --- |
| Mexico | 30-50 | 1,500,000 |
| Argentina | 35-55 | 120,000 |
| Chile | 35-55 | 87,000 |
| Costa Rica | 25-60 | 70,000 |
You are in Australia or New Zealands
The closest nearshoring markets for Australia and New Zealand are South and Southeast Asia which provide the lowest rates and offer a huge talent pool.
| Country | Hourly rate for software development services (USD) | Number of IT specialists |
| --- | --- | --- |
| Philippines | 25-45 | 1,300,000 |
| Indonesia | 20-40 | 810,000 |
| Malaysia | 30-50 | 210,000 |
| Vietnam | 20-40 | 235,000 |
Now that you know what locations to look into, you can use several time-tested channels to search for a vendor. First, use referrals from partners and colleagues who have had successful nearshoring experiences. Second, go through credible ratings and review companies (Clutch, GoodFirms) that list major players in your market and share essentials (tech stack, ave. rates, clients, etc.). And finally, if you are looking for specific skills or expertise, e.g. to find .NET developers with experience in energy projects, search for relevant resources (case studies, industry-focused services, etc.) from potential vendors.
You will have to make some tradeoffs before you hire a tech partner:
Focus on the lowest cost usually comes with increased quality risks.
Longer collaboration helps you bargain lower rates but comes with a stronger commitment on your end.
Working with senior IT professionals will increase rates but also will provide better expertise, faster development, and less friction.
Trying newly discovered markets gives you a chance to benefit from lower rates but comes with more risks compared to working with tried-and-true outsourcing locations.
The choice will depend on your goals of outsourcing. The key to hiring quality nearshore developers is finding the right balance to help you hit your financial and productivity goals while keeping the quality high.
Choose your pricing model
Fixed-price, time and materials, cost-plus, dedicated resource, and other outsourcing contracts suit different projects depending on size, length, cost, and risks. For instance, fixed-price works only for short to medium projects with very clear and finite scope (e.g., MVP for startups). Dedicated resource is the best for long-term tech partnerships. And times and materials is known to be the most flexible model to balance the risks of frequently changing requirements.
A thorough analysis of various pricing models will help you understand how to hire nearshore developers while meeting your budget goals and gaining control over your spending.
What to look into when assessing potential vendors? Location, headcount, tech stack, rates, experience in the market, etc. These are essentials but by far not the only things to take into account. When you think about how to hire nearshore software developers with minimum risks, consider also the following factors:
Risk mitigation and business continuity strategy that the company adopts to maintain stability.
Solid HR and hiring practices for effective recruiting and employee retention.
Policies and compliance with regulations in your region.
International certifications.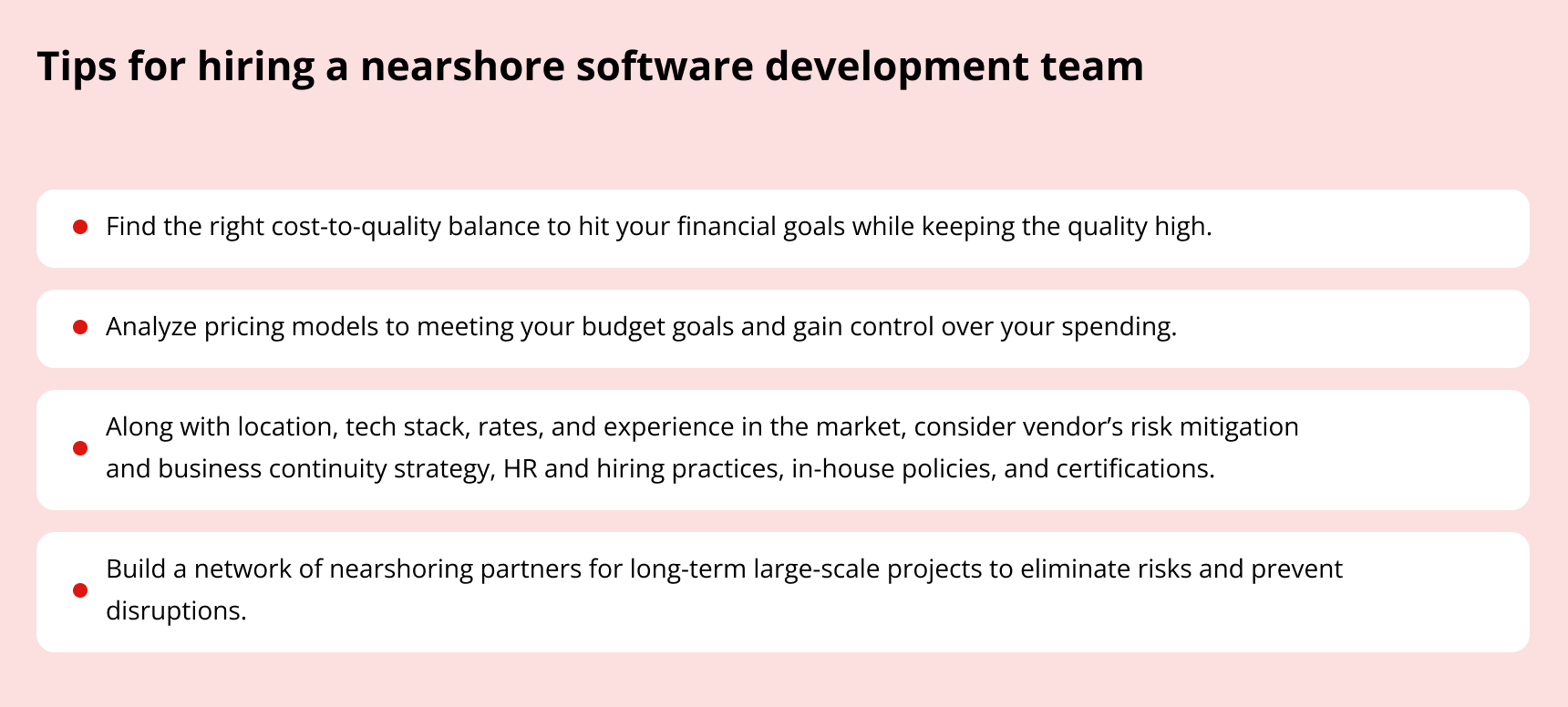 Build a network of partners
Multipartner sourcing is a general trend and a smart strategy to eliminate risks on medium and large projects. Working with different partners in one or several nearshoring regions will help you prevent disruptions caused by sudden events (e.g., economic or political crises) and keep your project on track despite losing one partner. It can also help you benefit from flexible cost resourcing — hire nearshore web design developers at lower cost in a distant location and set up a dedicated development center closer to your office.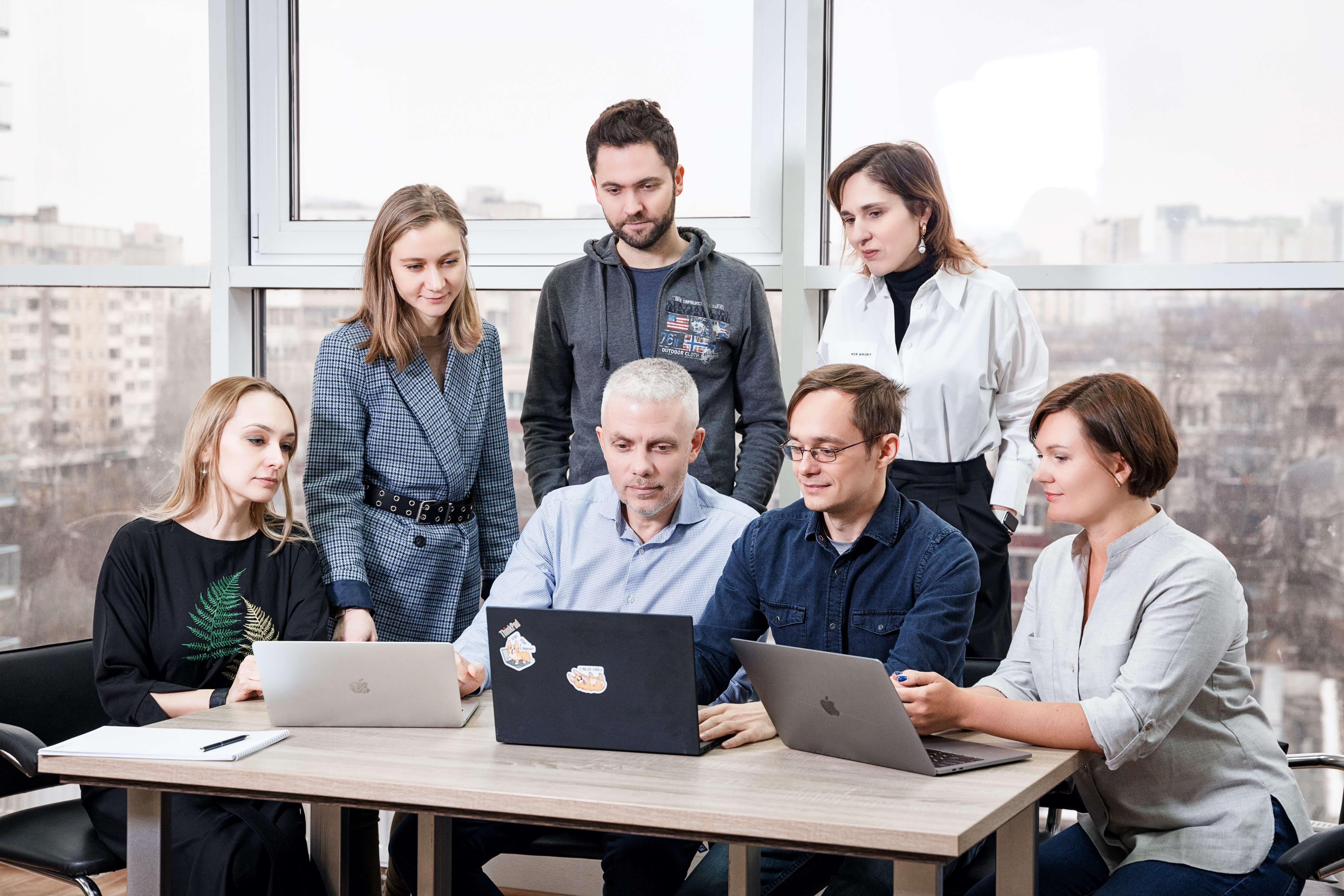 Set up a communication framework that you and your team are comfortable with from day one (channels, practices, tools for project managers and teams). It will help you create transparency and avoid any delays and misunderstandings on a project. And effective communication is one of the keys to successful project delivery.
Transfer domain knowledge
If you want your nearshoring partner to be fully invested in your business success, organize effective domain knowledge transfer and keep your team in the loop of your progress and goals. It will help to get your team up and running faster, too. For example, when you hire a dedicated nearshore web design team to revamp a web application for your company, connect them to your marketing to provide relevant data about your target audience and competitors and brand materials for quick setup.
Agile methodology provides a wide range of practices, tools, rituals, and roles for effective project management and communication. Aside from endless business benefits (fast time-to-market, flexibility, etc.), it helps teams deliver frequently, quickly adjust to changes and keep everyone up to date. So look for Agile skills and roles when you choose a nearshore web development company.
Take off the pressure of searching and hiring top-tier engineers. As a mature software development company with over a decade-long experience in outsourcing, we can help you hire a nearshore web development team to scale your resources or deliver your project on time and on budget.
70+ senior IT specialists on board.
Quickly scalable cross-functional teams.
Modern tech stack and custom web development service for every need.
Long-term collaboration (10+ years) with clients in the EU, UK, and US.
Proven track record of successful deliveries for such clients as Oxford University Press, Oracle, Lodgify, Diaceutics, Origin Digital, and more.
Hire a nearshore web development team

Onboard seasoned engineers and get much-needed expertise to meet your delivery goals without burning your budget.
HIRE DEVELOPERS
Nearshoring beats other outsourcing models by providing excellent conditions for effective collaboration — minimal time zone and cultural differences, similar business and legal environment, and significant cost savings. The choice of a nearshoring provider depends on the unique requirements of your outsourcing and business goals.
FAQ
Why should I hire a nearshore outsourcing web development firm?
If you are looking for cost-saving opportunities on your web project but don't want to expose to the risks of offshoring (language barrier, communication delays, etc.) consider hiring a nearshore team in a nearby region. It works equally well for staff augmentation as well as project-based development.
What should I determine before hiring a nearshore development team?
Clarify your outsourcing goals and requirements to determine cost-to-value balance and spot locations that best fit your project and budget. You should also consider a pricing model and expectations from your tech vendor.
How to outsource to a nearshore web development team without risks?
SaaS MVP development consists of several steps:
Choose a reputable provider with a proven track record and experience in your market.
Consider various factors when choosing a provider, including their stability and business continuity plans, compliance with relevant regulations, and HR and recruiting practices.
If you work on a large-scale project, create a network of nearshoring partners to secure your project from economic turbulence in various regions.
Create an effective communication framework from the start.
Organize domain knowledge transfer to quickly set up and integrate your team.