Digiteum Talks: About Engineering Career, Lifestyle and Goals
This curious story draws a picture of a very dynamic and inspiring career journey. Dmitry Gankevich is a brilliant Lead Engineer known for his eclectic skillset, can-do attitude and what seems to be an unlimited potential for growth and development.
During his time with Digiteum, Dmitry took part in some of the most exciting and innovative projects across IoT, cleantech and big data technologies. It happened so that he switched from one cutting-edge tech to the other, had to deal with incredibly complex domains, and yet, not a single challenge seemed to be out of his depth.
How do you forge an engineering talent of this sort? We decided to get this information firsthand and ask Dmitry about his career path at Digiteum and his approach to engineering as a profession and a lifestyle.
Dima, what is your background story and how did you begin your career journey at Digiteum?
I started as an engineer when I was still a university student. I got on an industrial automation project led by an R&D center at BSTU. Our job was mainly focused on developing DOS-based software for automating and managing heating pipeline networks and urban heat supply systems. We worked with industrial-grade computers and sensor-based Windows screens. You can compare it to what we now know as IoT, though we didn't use this term back then.
I began with developing UI and soon was cleared to write my own algorithms, which was way more interesting than developing interfaces.
That was about the same time mobile technologies were emerging. I already had my first iPhone and was very keen on starting to build software for mobile. I took mobile development training and soon landed a job at an IT company where I grew from junior to lead developer in just a few years. And this is when I got a call from Digiteum.
To be honest, I did not plan to switch jobs. I had a job interview with Kate (Katherine Lazarevich, Digiteum co-founder and co-CEO), and quickly got an offer. Basically, at Digiteum, I started off with what I did before – mobile development was on the rise and there was no lack of interesting and fresh projects. We had a strong senior team of mobile developers and could work on basically any type of apps. We even developed a publishing platform that was showcased to Bill Gates.
Soon, I felt I was ready to try something new. I started exploring cross-platform technologies and learned React Native. The idea that you can create one code and reuse it on different platforms was striking. The technologies were still raw but the opportunities were big.
At some point, we onboarded a client with a very progressive project. This is when I made a leap and got on an IoT project for smart home energy management.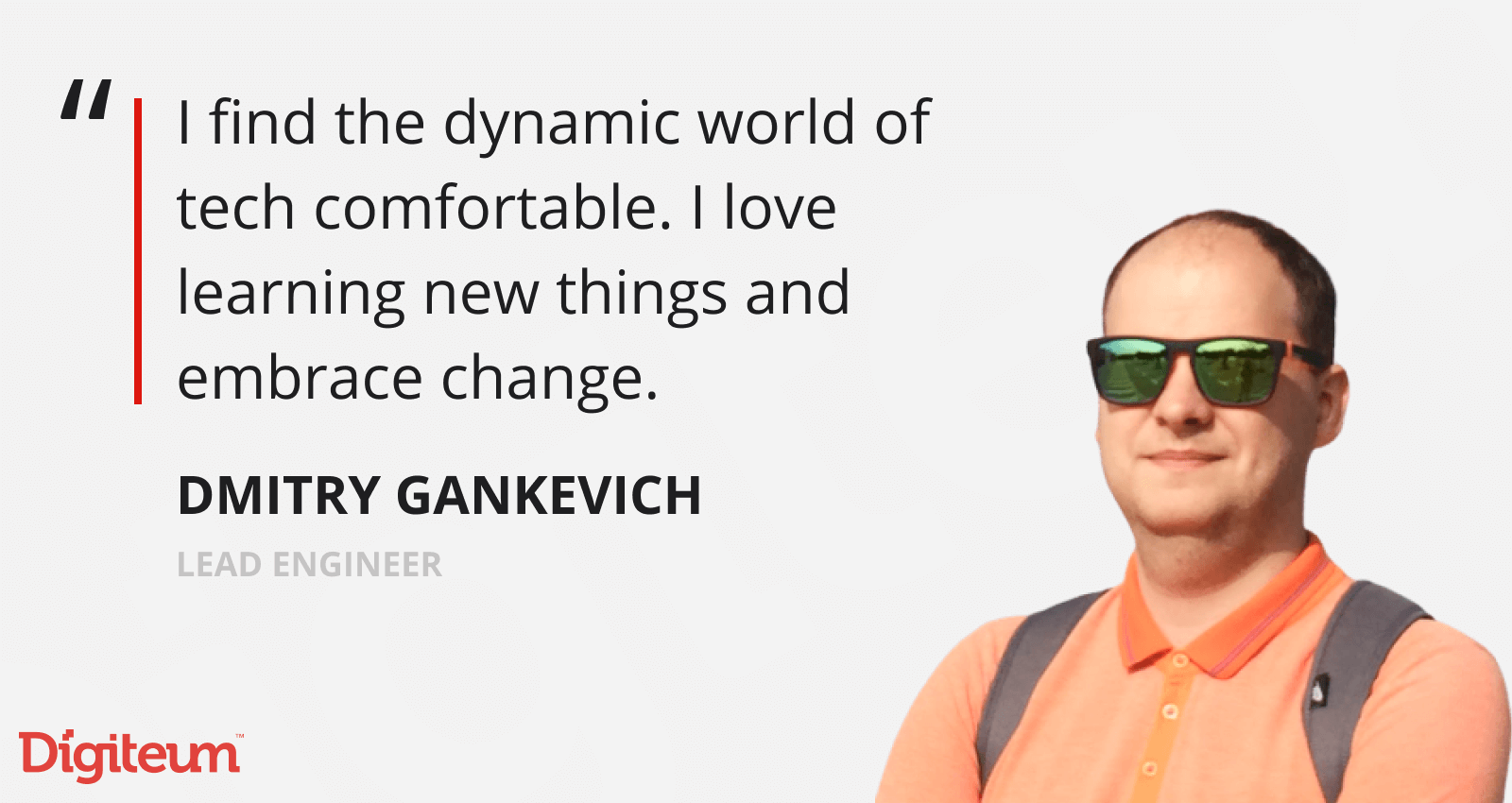 Was it a spontaneous change? Or was it a part of your career plan?
It was an absolutely spontaneous move, I can't say I planned it. I quickly switched my focus and from that moment started working primarily with the backend. We had to dive into DevOps sorcery, learn AWS, CI/CD configuration, IaaS, and on, and on, and on.
This was a fulfilling journey and a valuable experience from an engineering standpoint. We worked with microcontrollers, delved into big data and data engineering. Many things were new to us, so we had to learn on the go. We worked with DevOps engineers who helped us set up AWS-based big data infrastructure and acquire the necessary knowledge on how to work with data tools like Databricks, Hadoop, Cloudbreak, and so on.
We integrated many efficient tools into the project and had a chance to work with the top embedded and data engineering technologies. In time, the engineering team on the client side grew significantly. And when our part on this project was over, I moved on to a new and no less exciting project.
What are you working on right now and what technologies do you specialize in?
I work on a network solution for Diaceutics. It's a Java project: we work with Angular and Hadoop, modern microservices-based architecture for data pipelines. Everything is very high-end.
Originally, I was one of the lead developers and then moved to data engineering. I no longer deal with frontend or backend but work primarily with data. I create custom data products for the platform's clients using Databricks tools.
You have quite a track record: big data, IoT, the latest frameworks and technologies. Do you have any particular direction you would like to take as a specialist?
I would love to get a more comprehensive view of data science and combine it with machine learning. IoT is my personal favorite, of course. It is yet the best technology I had a chance to work with. I would love to work more in this direction and leverage ML on IoT projects. These two technologies are tightly connected because IoT always brings in big data and telemetry, which is ideal for machine learning.
Right now, I work on a very advanced big data project, and if I get a chance to go on with modern big data technologies, I'm all up for it.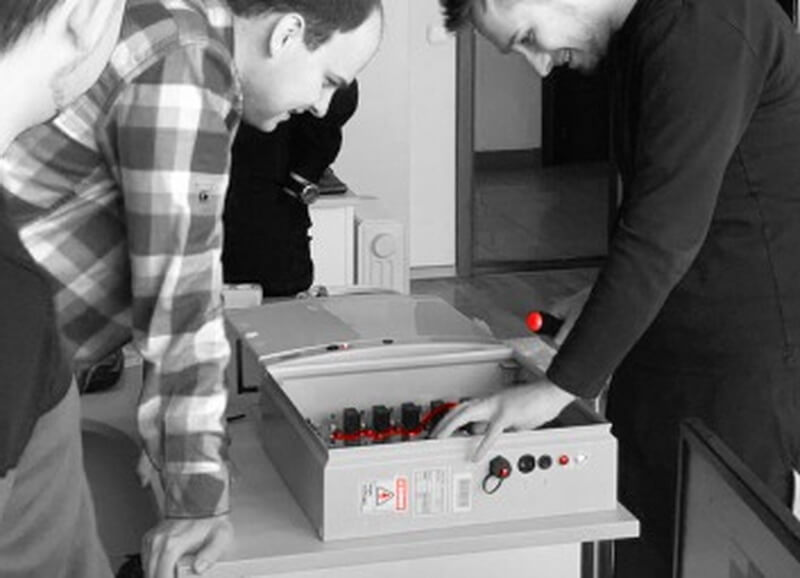 How do you keep yourself in shape as an engineer? What do you read, how do you train?
Generally, I try to stay on top of everything that is happening in the tech field – read, study, keep informed. This is why before a new project begins, I already have an idea of what we will be dealing with.
Basically, everything we worked on so far was very trendy, and there's no lack of information about big data, IoT. Plus, we can participate in training courses, attend online conferences and workshops within the framework of the current project. In other words, if you wish to get new knowledge, you have no problem accessing it. When we started working with Databricks, for instance, we were given access to their training course for free. Outside the current project, I also did a few courses sponsored directly by Digiteum.
Any specific project or industry you would really like to work with?
Healthcare is a very exciting field to apply your knowledge in. Generally, the medical field collects a lot of data, and there are so many opportunities to work with it, including, for example, using IoT telemetry. We all know that data is the new oil.
How does engineering translate into your everyday life? Does it reflect in your lifestyle, life goals, hobbies?
I love order, efficiency and all things smart. I'm currently building a house and apply the knowledge we gained during the recent IoT home automation project to drive energy efficiency and sustainability to my own home. I'm very keen on these things and I'm curious how it all works out.
So what you say is that you use your experience in building smart home systems to build your own smart home?
This is my goal, yes. It's still distant, but I'm on the way. I develop architectural solutions that will become the foundation for my house to become automated, sustainable and efficient.
For one, I want to automate routine operations such as opening the curtains or turning the lights or devices on/off, taking care of temperature control, setting the security alarm, and so on. All these things can be automated today, and the house can self-service to some extent.
We now have access to devices, components and international protocols such as ZigBee and Z-Wave that enable smart home infrastructure.
And there aren't many out-of-the-box solutions, are there?
It's still rare for real estate developers to take care of energy efficiency from the start here. We don't bother too much because we have relatively low energy tariffs.
My goal was always to make my house as environmentally friendly as possible. Hopefully, I'll get there. And hopefully, we will soon have access to highly efficient PV that would work even with the scarce sun in Belarus. Germany, for example, has nearly the same amount of sunlight as we do, and yet renewable energy is developed much better there.
When I design my house, I already consider how I will be able to upgrade it to solar in the future. I believe that in some ten-year time everyone will have green and automated houses. Everyone knows that this is the future.
Is being an engineer stressful? Technologies develop so fast. Does it feel like you always have to run to keep up with everything that is going on in tech?
I consider myself to be pretty stress-resistant. I can be impulsive, and I tend to express my opinion when it's necessary. As for the dynamic world of tech, I find it comfortable. I love learning new things and embrace change. Moreover, I see it as a big benefit of my job as it allows you to be creative and come up with many different ways to solve one problem.
Besides, it's hard to stay relevant in this profession otherwise. It's true, technologies do move fast, things change, approaches evolve. If you are not comfortable with it, then maybe you shouldn't be working in engineering.
Truer words were never spoken. Just like design or management, an engineering career can be as impactful on the lifestyle, aspiration and identity of those who take this responsible role.
Huge thanks to Dmitry for sharing his career story and showing us engineering in perspective – not only as a dynamic and exciting career journey but also as a fulfilling and practical craft for life.
Do you find it relatable? We offer several exciting career opportunities for senior engineers on projects in spotstech, agtech, pharma, photography and other fields. Check our career page or contact our Talent Manager directly at jobs@digiteum.com to start a conversation.