What You Need to Know About Starting a Career at Digiteum: Part 1
Learn first-hand from our co-CEO, CTO, talent and management team about the recruiting, interview and onboarding at Digiteum.
Demand for talent and exceptional skill in IT is insane these days. Like other companies, we are always looking for opportunities to expand our team with brilliant tech and business specialists. Right now, we have more than 10 engineering job openings in Poland for projects in the UK, US, and Spain.
We have talked to some of the key people who take part in the talent sourcing, interviewing and onboarding, including Digiteum's CTO and co-CEO, to explain how these processes work in our company.
If you are looking for a new big step in your career and consider Digiteum, read on – you won't regret it! You will learn a thing or two about recruiting and onboarding, find out what our decision-makers look for and value in people, and how they manage to build up teams that work together for more than a decade. Meet:
Katherine Lazarevich – Digiteum co-CEO
Viktor Lazarevich – CTO
Maxim Ilyin – Project Manager
Tatsiana Saplitsa – Project Manager
Darya Kryvetskaya – HR Manager
Monika Naumczyk – Talent Manager
In Part 1 of this guide, we talk to our talent management team about the recruiting process, Digiteum brand, onboarding and speculate about what it takes to find and attract new talent in today's reality.
Let's start with step one. Monika, Darya, you do a tremendous amount of work to find talent and attract new candidates. How does your day look?
Darya: My average day consists of meetings with our clients and prospective candidates. We partner with two recruitment agencies, and I lead communication with them and our agency candidates. I speak about our company, team and projects. My job is to prescreen candidates – check soft skills and English fluency, learn about their goals and the reasons why they consider switching jobs. If it's a match, we move on with the recruitment process.
What about you, Monika? Is your daily routine the same?
Monika: I do a similar job in Poland, and I also work on employer branding. We opened a branch in Gdansk, and there's a lot of work to do to build up brand awareness and the company's image in this market. We also collaborate with recruiting agencies here, which makes it easier to get to know candidates and introduce ourselves. They know candidates and put a word for us.
Is it different to work with candidates in different locations?
Darya: The major difference is the candidate pool and expectations. In Belarus, engineers are very confident in their skills, and they are used to being headhunted rather than search for opportunities themselves. It can be challenging for recruiters. The process itself is the same though.
Monika: It's true, Polish candidates tend to look for new opportunities themselves. This is what I was really surprised with at first when I joined Digiteum – in Belarus you need to headhunt. In Poland, candidates use job portals and actively search for their dream jobs.
It's hard to say if competition is the key reason for that. Despite C19, demand for software engineers is soaring everywhere – developers get thousands of messages from recruiters, and it's not easy to convince them to look into your job offer.
Especially if your brand is new in the market. What does it take to build a company's image in this market from scratch?
Monika: The biggest challenge is to build brand awareness. We need to show that we are a mature company with more than 10 years in the market and explain why we have decided to expand to Poland. I would say we are still in the first phase of this process.
Also, we are normally looking for middle and senior engineers. We can't build up brand awareness at the university level, so engineers won't learn about us from junior or internship opportunities.
On the other hand, we have quite an advantage in this market mainly thanks to our clients – we work with companies across Europe and North America and provide many fresh opportunities to engineers.
Dasha, do you have to deal with a similar challenge?
Darya: Generally, candidates don't know much about our brand. However, it's not a big deal since there are many companies of similar size (less than 100 people) in this market and candidates are familiar with that. They are usually eager to get to know us. So, I can't say we have any problems with branding, even though this is something we should always work on.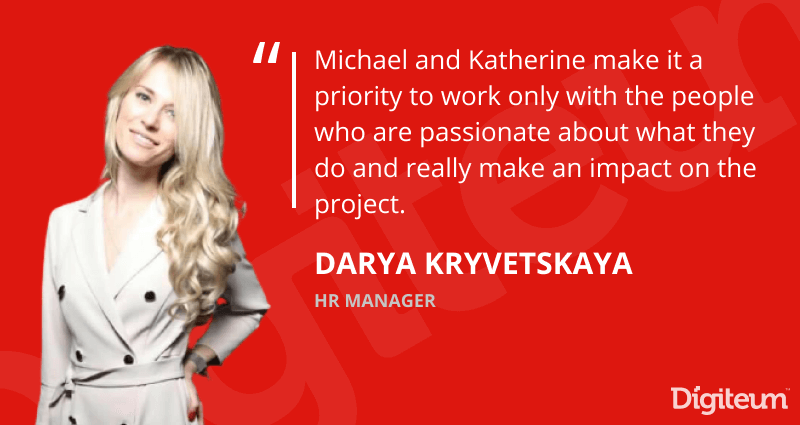 What is it that impresses candidates during the recruitment process?
Darya: Our team. I think our projects and our team are the major advantages, particularly for highly qualified candidates. We have a very high seniority level and we make it clear from the very beginning. Candidates see it at interviews – they deal with senior-level questions and touch upon such topics that instantly make them realize they are dealing with a strong tech team.
Another thing is being a family-type of company, and this is something that really scores points with many candidates. Not everyone wants to work at a huge IT company after all. Many engineers prefer working at smaller companies and develop relationships within the team.
Monika: Also, it gives engineers a chance to make a bigger impact on projects, for instance, take part in architecture development, and contribute more.
Darya: Honestly, I don't want us to ever outgrow this valuable quality. I hope we can get bigger but keep this level of connection and spirit within the company.
Seems like our interviewing team also contributes a lot to translating this idea.
Darya: Yeah, some candidates are blown away by our interviewers who make a big difference. For instance, when Elena, our PM, and Dmitry, the lead engineer, work together at an interview, candidates see what a wonderful team they make and just want to be a part of it.
Monika: It's a bit tricky with online interviews because some part of this vibe gets lost on a call.
I wonder what helps candidates make their minds. Darya, in your experience, what matters to candidates when they consider joining Digiteum?
Darya: Candidates respond to the fact that we have a long history – the company is in the market for more than 10 years, we have many long-term projects. It provides a certain feeling of stability which, frankly, many of us need right now.
Another important thing is the unique composition of our teams. Michael (Digiteum co-CEO) and Katherine make it a priority to work only with the people who are passionate about what they do and really make an impact on the project. It has never been the goal to bloat the team for the sake of growing. On the contrary, every member of the Digiteum team is carefully selected. This is something that many experienced engineers are looking for because they want to create and work next to like-minded people.
Monika: I can say that I personally was impressed by the percentage of women in management at Digiteum. It is unique.
More than 50% of the management team at Digiteum are talented women in tech.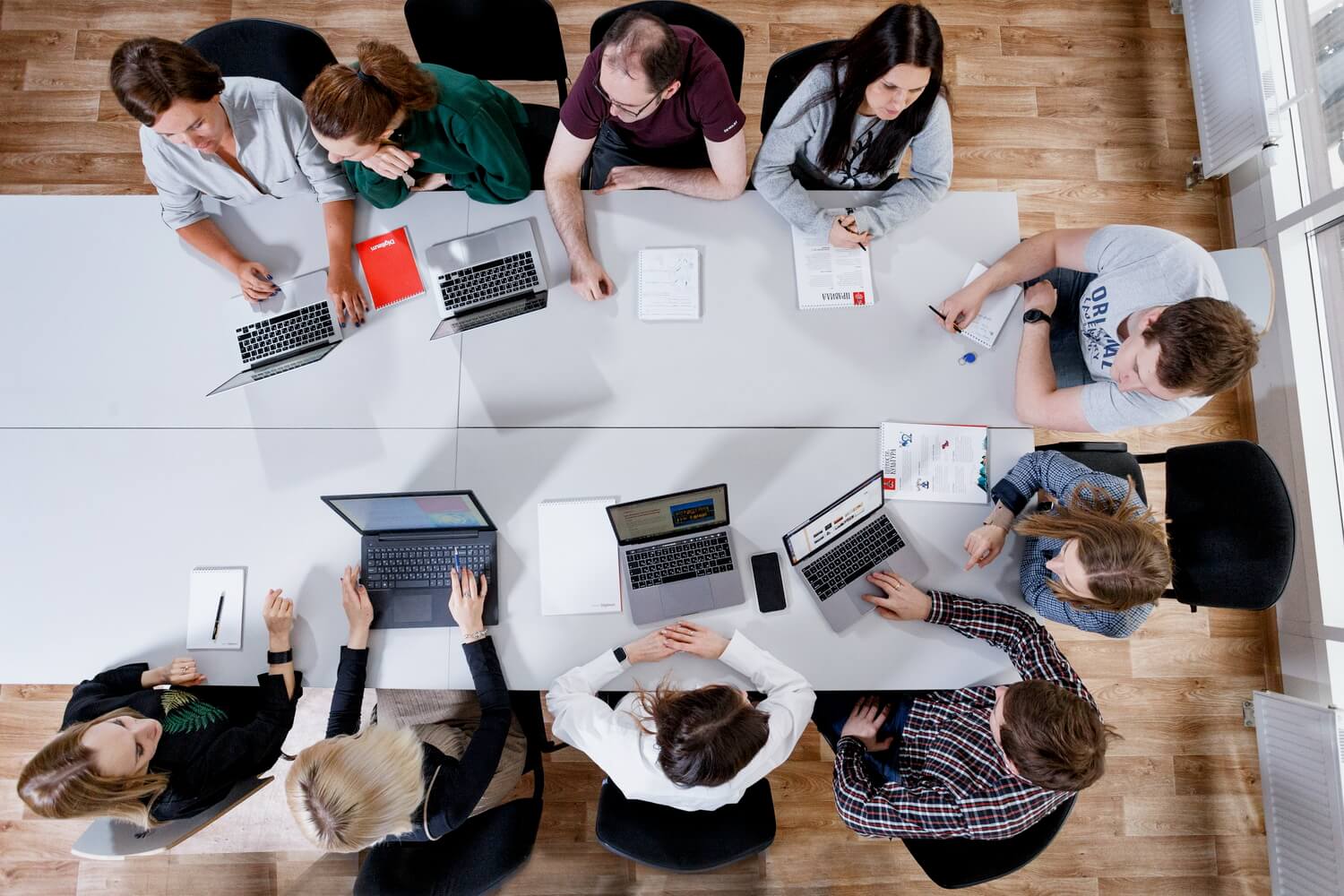 What happens to the candidates who accept our offers and become employees? How does the onboarding process look?
Darya: In Minsk, we meet with new employees at the office, have a talk and I lead them straight to the accounting for quick paperwork. We also have a short meeting where I can describe how our processes work and introduce the new people to their teams and project managers. In about 1-2 months we have a catch-up call to see if everything works well, if their expectations match the reality. Also, all new people get access to our online corporate handbook where they can learn about the company's values and culture.
After the onboarding, Michael and Katherine also have a short rather informal meeting with new employees to talk about the company, project and see if everything is all right. All in all, the trial takes three months. It's a good working process.
So even with home office you get a chance to have a personal meeting?
Darya: Yeah, once or twice a month I come to the office, have a coffee and a quick talk with people who are there at that time. All new employees come to the office at least once. It's a tradition and not a problem in Belarus even for the people who don't live in Minsk. They can come for a day, pop into the office, and then start working from home.
How was your onboarding in Gdansk, Monika?
Monika: My onboarding went mostly online. I have received all the materials in English and had additional calls with Kate. Later, we had an informal offline meeting with our team in Gdansk.
I could feel the friendly atmosphere in the company from day one. Everyone is responsive, and you always get the answers even to very specific questions real fast. I also enjoy that everyone welcomes initiative and there's a strong positive approach to try things rather than find reasons not to.
Can you say anything about the trends in the talent market?
Darya: Things are happening much faster these days, and we need to speed up too. We can't afford to have an overly long recruitment process or too many interviews. The competition is tense.
There is a very high demand for relocating as engineers are looking for opportunities to move and work from other countries.
Monika: In Poland, the competition is very high too, and many companies from other western locations besides Poland target this region for software developers. I agree with Darya, the process should be short and quick.
On the other hand, now that most interviews are online, many engineers go for it just to learn about their opportunities and the market. They easily jump in on a call and then decline offers because changing a job wasn't their goal in the first place. It's harder for recruiters to figure out people's motives.
Another strong trend is that promoting job opportunities is no longer the recruiters' job. Other people at the company can become ambassadors, increase brand awareness and talk about the opportunities we provide.
Who better than our leadership team to give a glimpse of the company's opportunities, culture and atmosphere? In Part 2 of this guide, we talk to our CTO, co-CEO and Project Managers about the specifics of the interviewing process, Digiteum values and focus on putting together strong teams. Stay tuned!
Right now, we have about a dozen middle and senior-level opportunities for engineers in Poland. Check out Career page to see if there's anything that matches your goals and aspirations and hit us up at jobs@digiteum.com.