Digiteum Design Team is somewhat like Radiohead. They never cease to surprise us with crisp and consistently classy work, only get better with time and, importantly, haven't changed the original lineup.
Alex has been working at Digiteum for more than 8 years now and had a hand in quite a few major projects, including Oxford Languages and Printique. 8 years is an impressive number — most tech companies don't even last this long. But get this… Pavel, the second lead in the band, has been a part of the company almost since the day it was founded back in 2010. If this is not a long-term commitment, then what is?
Now, it's always a thrill to interview the legends but we tried to keep it cool. We asked our UX/UI designers about the process and tools they use and learned about their view on design as a trade and a lifestyle.
Walk us through the very beginning of the design process. Who's usually on your team and how does it go?
Pavel: When we have all the information about the project, we put together a UX team and brainstorm. Anyone can be a part of this team. However, normally it consists of a few developers, business analysts, project managers, and designers, of course.
The process usually starts with a lot of shouting, fighting and laughing. Surprisingly, we end up with a set of sketches and a list of ideas that later could be used on the project. In some cases, I work alone, go through all the prep work with a client and do the research myself.
Alex: I want to add that we rarely get to work together on one project.
Pavel: Unfortunately.
Alex: Yeah.
Pavel: But we still work as a team. We understand each other well — we have been working side by side for a very long time.
What about clients? Who do you work with on the client's side?
Pavel: As a rule, clients don't have their own design teams. Often, we work either directly with clients or with project managers and tech teams on their side. Right now I work with a marketing team, but this is an exception.
What information do you need to have to get down to a new project? And how do you use it?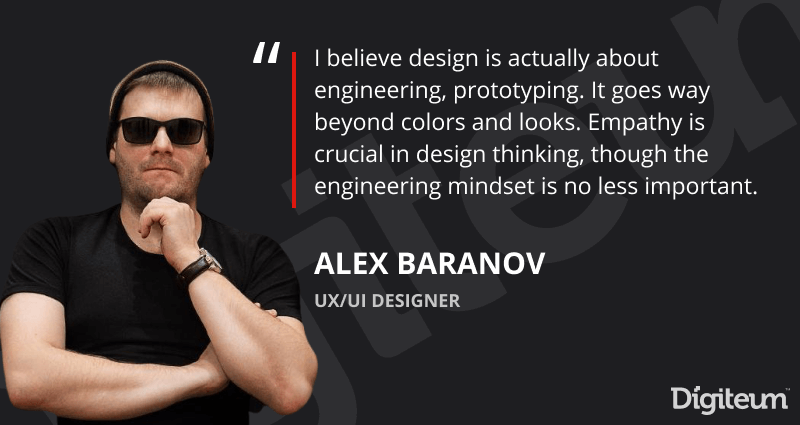 Alex: Good question. It depends on the project, of course, but generally, we are trying to collect as much information as we can. Then we choose 2-3 or, rarely, more design methodologies to work with the data we have. Wireframing, prototyping, mind mapping are some of the most frequent design techniques we use. My personal favorite to kick off with is mood boarding.
Pavel: Mood boards are a great technique for competitor research, by the way. You need to be careful with it though not to get too inspired by someone else's design because it may affect your own ideas.
What about branding? Do you get something from a client or have to build from scratch?
Pavel: We always ask clients if they have any branding materials we could use. Usually, the best way to get it is from the marketing team. And if there's nothing, we can also help.
Alex: Though branding is an entirely different segment of design. The process of creating a brand identity alone may take up to 1-2 weeks.
What tools do you use on a daily basis? Do you have any favorites?
Pavel: Figma is our favorite tool, and Alex will back me up on this. It pretty much occupies the space of UI design nowadays and is the only reasonable option to create interfaces. As for me, I also keep my favorite arsenal at hand — Adobe Photoshop, Illustrator for vector files, 3ds Max for special cases, and After Effects for animation, which can also be used for small tasks like animating fancy buttons or explaining certain behavior for developers. But Figma is without a doubt number one.
Alex: I'm not a fan of Adobe products. I have been dreaming for a very long time to have just one tool, and Figma could really do this for designers.
Do you also use Figma to showcase your work to stakeholders?
Pavel: Yes, it has a comment feature, which is very convenient. Every comment is connected to a specific part of the interface, so you can do the amendments quickly and resolve issues on the fly.
Alex: I would add one more approach outside Figma — Miro whiteboard tool. Some designers use this handy tool to communicate with managers, clients and customers.
What happens when you hand your design over to developers? Do you get feedback? Are there any frictions and, if yes, how do you solve them?
Alex: In my experience, developers would always add something to our templates. They have a certain eye for design and see it differently. For example, they may find a mistake or suggest something. And sometimes they may even say that something cannot be done.
Pavel: Frictions may happen if there are no rules for responsive design. In this case, we always try to create responsive breakpoints. Aside from that, we provide an entire design system or a set of reusable components that can be used not only by developers but also by other designers in the future.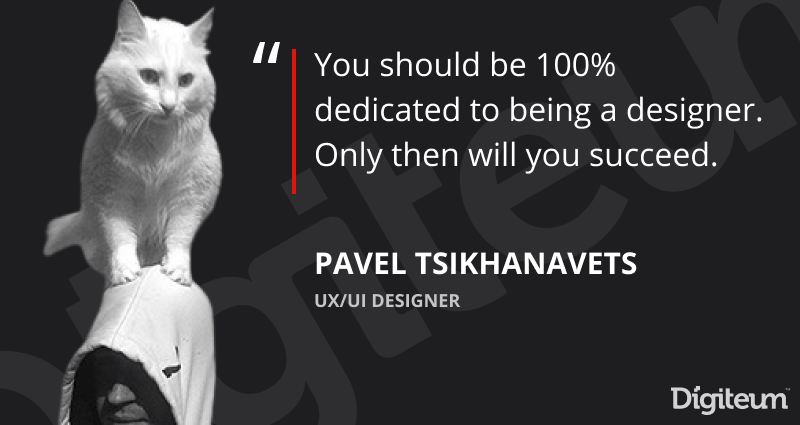 What about QA engineers? Do you also work with the QA team?
Pavel: Sure, they always ask how certain elements are supposed to behave to make sure they are testing the interface right.
Alex: Sometimes clients skimp on QA, and this can be a really bad idea. I had a strange experience working without a QA.
What would be the most complex thing you have ever done or had to deal with? Any domain or certain audience?
Alex: I don't think there's anything I would call complex. We can design for any audience or domain.
Pavel: True, there's no such thing as a difficult domain or audience for us. There are some projects, however, that may bring certain novelty. For example, I work on a project that has many AI-based features for process automation. It doesn't create any difficulty but requires additional research on my end. It's rather interesting because you learn something new.
Alex: Clients can be difficult though.
Okay, let's work it from the other angle. What would be your most memorable project?
Pavel: I have one project in mind. I won't say I'm proud of the interface because it's fairly old. We designed an application that was focused on helping lymphoma patients. It was featured in the Apple App Store and the design was recognized as the best in its category. It was nice to know that something you were a part of gained respect and moreover could help so many people.
But in general, it's hard to pick one. We are happy to see our projects go live. It's always a moment of joy for a designer to see a project go public because not all of them do.
Alex: And some of them stay offline. I agree with Pavel, it's hard to pick one project. Over time, as your experience grows and you work on projects for a while, things get blurry.
Empathy is important in design. Does a designer also need to have an engineering mindset to create good design?
Pavel: Empathy — yes, engineering mindset — I don't think so. Usually, common sense is enough. As a designer, you need to understand users, walk a mile or two in their shoes. But you don't need to understand the developer.
Alex: I would argue with that. I believe design is actually about engineering, prototyping. It goes way beyond colors and looks. Empathy is crucial in design thinking, though the engineering mindset is no less important.
Pavel: So the truth is somewhere in between, we'll go with that.
How do you keep yourself in shape, workwise? Do you follow design trends?
Alex: This is an easy question. We don't really follow trends because most of them are just a one-day thing.

Pavel: I would break this question into two parts. First of all, we do read and know what's on. At the same time, we know that all trends are cyclical. One day, flat design is popular; the next day, we return to old-school and then cycle back to flat. Every time we see an article saying something like 'Check These 2021 Design Trends' we know it's nonsense. And everyone familiar with the history of design knows why.
Alex: Unless it is connected directly to user experience. Then what we talk about is user patterns, which we widely employ on our projects. For example, an easy sign-up — no one knew about it just a few years ago, and now everyone uses it.
How do you learn about these new patterns?
Pavel: We can read about it, or we can also experience new user patterns as we are, in fact, also users. Like anyone else, we use apps that set the trends.
Alex: And we gather insights and share when we see something interesting.
Could you drop a few names for us?
Alex: I would mention Spotify. Their former art director and design lead Tobias van Schneider is a well-known person in the design space. He and his team created a great product.
Pavel: I'd say Instagram. Not for the fancy design but for the features they introduce which are quite uncanny. They do something bold that users wouldn't stop complaining about, and in time you realize that this is the design we will be using from now on. They are not afraid of experimenting.
What would you recommend for the new generation of designers?
Pavel: I envy the people who are just entering the design space. They have all the instruments and advanced tools they need to create everything on the fly. And there's just so much information.
So first of all, I would recommend using these tools wisely. And more importantly, to always find pleasure in what you do. It may sound cliché, but this is the only way not to lose your way to become a better designer and, in the end, a better person.

Alex: It's hard to argue with Pavel. There are no exact ways. Newbies should do what they like and then they should add new design areas to their scope of learning. It's a difficult path because sometimes you don't want to learn.
When I was a younger specialist, I was promoting design as the most interesting job you could ever have. Now I realize how hard it can be, especially when you need to communicate visual experience.
Pavel: It's not as fancy as it sounds, and you should be 100% dedicated to being a designer. Only then will you succeed.
Designer's work is constantly tested. It is challenged by the evolution of UI, changing UX patterns, user preferences, diversity of opinion, and the cruelest of all — time.
Yet, somehow this interview leaves the impression that if you work in design for some time and have a good process, tools and teams at hand, these challenges don't pose too much trouble.
If you want to learn more about our processes, teams or simply get to know Digiteum people better, check the Digiteum Team category on our blog. And if you feel you could step up and consider joining our team, go straight to the Career page and review the fresh opportunities we offer.