Digiteum Talks: Working on a Project for Diaceutics
Back in 2020, Digiteum joined efforts with several tech agencies to build an innovative network solution for precision medicine. Diaceutics, a leading data analytics company in this niche, set a goal to build a working platform in less than a year, and they did. Today, 13 people from Digiteum contribute to this project across several teams, including backend and data engineering, DevOps, QA and management.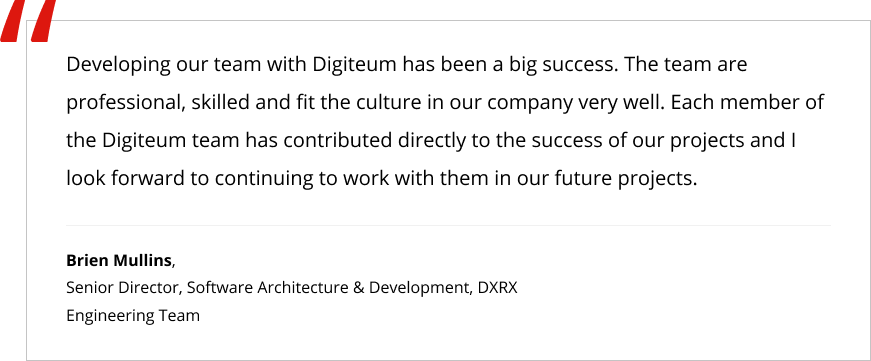 We talked to some of them to learn about the project, working environment and their journeys at Digiteum. We have Elena here — a seasoned Project Manager who easily handles diverse teams and enterprise-level projects. Dmitry, our lead engineer with a strong tech background. Yuri and Arthur — two highly qualified DevOps engineers who laid the foundation for the DevOps competence at Digiteum. And Natallia, a skilled QA lead with development experience and incredible dedication to work.
Tell us in simple terms what you do?
Elena: As a Project Manager, I oversee the collaboration between Digiteum and Diaceutics on this project. As a Scrum Master, I facilitate the work of our agile team, make sure things go smooth and engineers keep good speed and deliver successfully from sprint to sprint. My job is to ensure nothing prevents them from doing a great job.
Dmitry: I have worked on the system's frontend and backend from the very start, took part in the architecture development. Today I'm directly involved in data engineering and work with data scientists. We build custom data pipelines and tailor them to platform customers' business goals. In a word, we manipulate data so that customers could make sense of it.
Natallia: I'm a lead QA on the project. We have a QA team of 4, including 2 QA automation engineers. We do the testing and check that everything works as it should. It's a very dynamic and multicomponent system, so we also work on the efficient testing strategy, integrate test automation and things like that.
Yuri: I was one of the first DevOps engineers on the project. My job is to develop, support and scale our infrastructure. I work directly with all the tools that keep the system stable. CI/CD is mostly on Arthur — he makes sure we scale up and deploy fast and keep the code neat.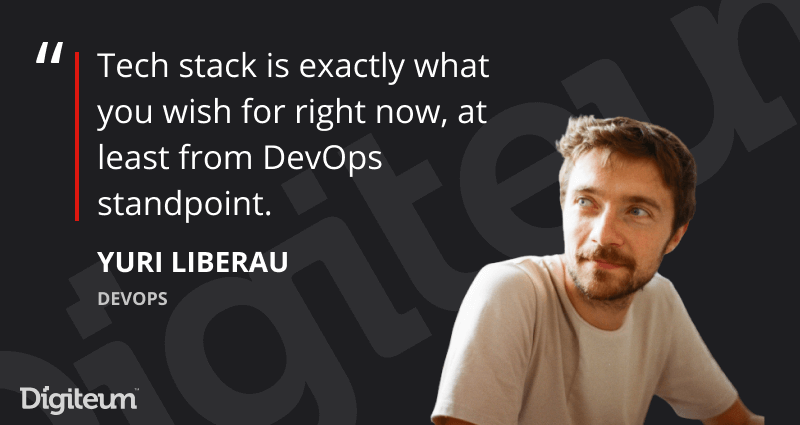 Looks like you all have different stories. What was and maybe still is challenging for you?
Yuri: We started with a smaller DevOps team, and it was a bit rough at the beginning. Now we have a solid and very skilled crew of five including a cloud architect, so things are less intense, but still very dynamic.
Arthur: My challenge is not to forget to track the time on Fridays. It pisses Elena off, and I apologize for that. Sorry, Elena. 🙂
Dima, what about you? You have worked on big data projects at Digiteum before. Does it get any easier?
Dmitry: I'd say it's different. I used to work on an IoT system and deal with telemetry. This time, data is different — we have a bigger volume, multiple formats and sources. So yeah, we always have to optimize, customize, tune the flow. It's challenging, but it also keeps you busy.
Right now we have an exciting opportunity for a talented Senior Full Stack Software Engineer (Java/Angular) on this project. Learn about the position and apply to become a part of this dynamic project and vibrant environment.
Natallia, you have joined Digiteum and started working on the project less than a year ago. What was the most challenging and, perhaps, surprising for you?
Natallia: In general, it was weird to switch jobs and start a new project in the middle of COVID-19 doing everything remotely. You get to see new colleagues when you pop in the office, but these are the people you may never work with directly.
One of the most surprising things was to find out that the whole QA team would be fully distributed. And I didn't expect to get so much appreciation for the job we do. People are sincerely grateful when you find an issue. I understand that it's a cultural thing. And I have to admit it doesn't make it less enjoyable.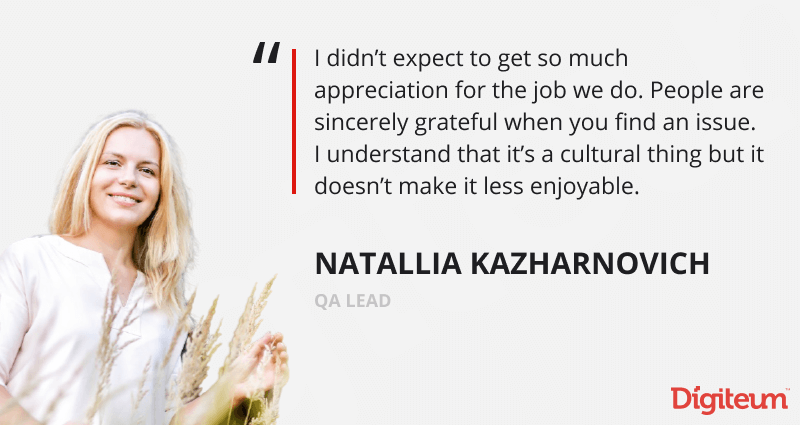 You all mentioned at some point that the project is very dynamic. What does it take to be a part of it? Who do you think would fit in?
Yuri: First of all, a person needs to have a good tech background, hands-on experience with AWS, Terraform, Kubernetes or at least be familiar with the essentials of our tech stack. You can't be an expert on all things, so the desire to learn matters too.
Dmitry: Agree, one needs to be fluent in many things and be willing to do the research, improve skill and evolve with the project.
Natallia: I say it's crucial to be result-oriented and genuinely care, especially if you work in QA. It's not enough just to be committed to given tasks. You need to be invested in the overall success. Sometimes you have to go the extra mile for the benefit of the project, and it's okay.
Elena: From my perspective, apart from all that, a person should have excellent social skills. This is not the kind of environment where you can lock up and quietly do your job. We have a lot of everyday communication and remote collaboration. And you need English fluency to survive. We work with people from different parts of the UK and Ireland.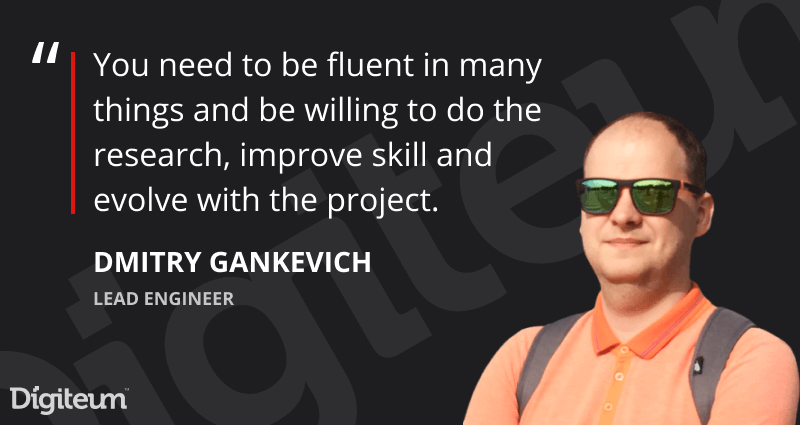 It makes sense, and there's a slight time difference. How do you handle this, by the way? Does it change your routine?
Elena: Noone works 9 to 5 in IT, so 2-3 hour gap usually doesn't make much difference for us. And even though it's not a big deal, we actually consider time difference when planning activities to make sure everyone is happy.
Natallia: People I work with are very understanding when it comes to calls. I had to slightly rebuild my personal remote routine though — start my day a bit later, clock off later — and it works for me.
And it's worth it, I suppose. You contribute to a very important project.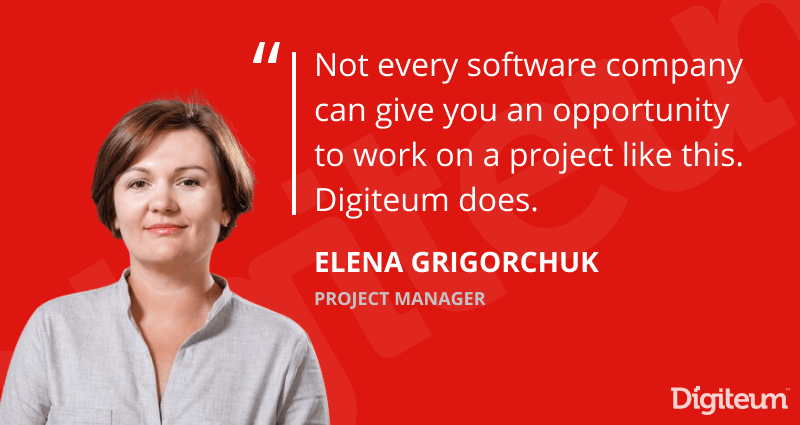 Elena: It is important, and it is a privilege to work on it. The platform is focused on improving medical diagnostics at scale. It is also a chance to work with very advanced technology, which is not cheap, and cutting-edge tech stack. Not every software company can give you an opportunity to work on a project like this. Digiteum does.
Yuri: Tech stack is exactly what you wish for right now, at least from DevOps standpoint.
What about you, Arthur? Was tech stack the deciding factor to join Digiteum and work on this project?
Arthur: One of the most important for sure. I always try to combine many factors, but there are three I can single out. First, tech stack. The world of IT is all about continuous transformation. We have to keep up with the speed, learn new technologies to stay in. Team is also very important, but this is always a lottery. You can't really know anything about the team unless you work with them for some time. And value — the fundamental idea of paid work.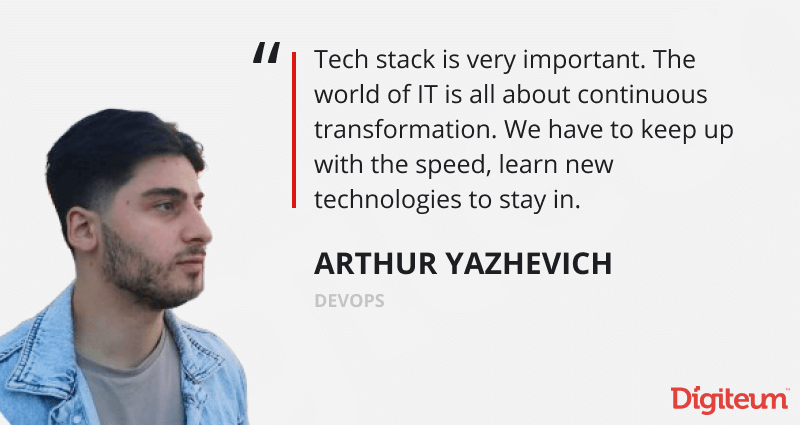 Wow, good talk! Wondering who wouldn't want to be a part of this team. Check our Career page or contact us directly at jobs@digiteum.com to learn about the open opportunities on this project and at Digiteum in general.