Why Didn't We Start This Whole Coworking Thing Earlier?
When are you getting back to the office?
You are probably sick of this question. It just seems so 2021. After all, people have been talking about and probing hybrid work for more than a year now.
At Digiteum Poland, we didn't bother our team with questions, or surveys, or polls. Neither did we even think of a draconian "get to the office or leave" measure (looking at you, Elon).
Instead, we decided to give people what they actually want – an opportunity to meet at an office space every once in a while, collab, mingle, and NOT ruin the working routines that they have been building for the last two years.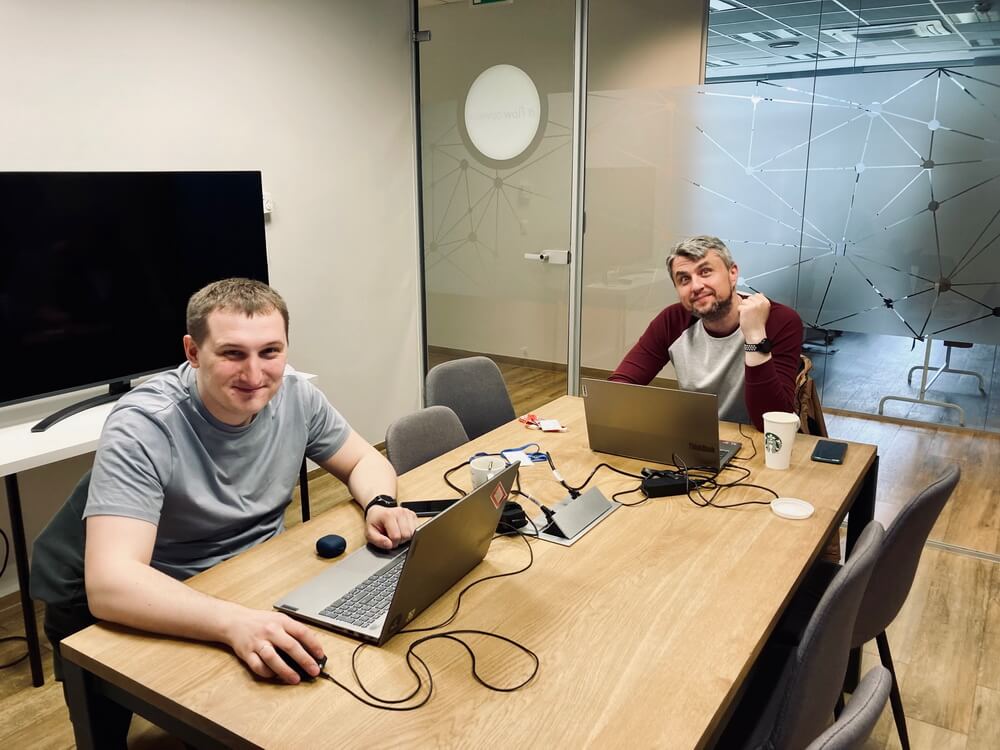 So as of May, the whole Digiteum Poland gets together at a cozy coworking space in Gdańsk. And it seems to be working for everyone.
We meet once per week, so there's no drama with the commute.
The space has everything you need to focus, make calls and chillax in a swing chair.
And most pleasant of all, team lunch is back!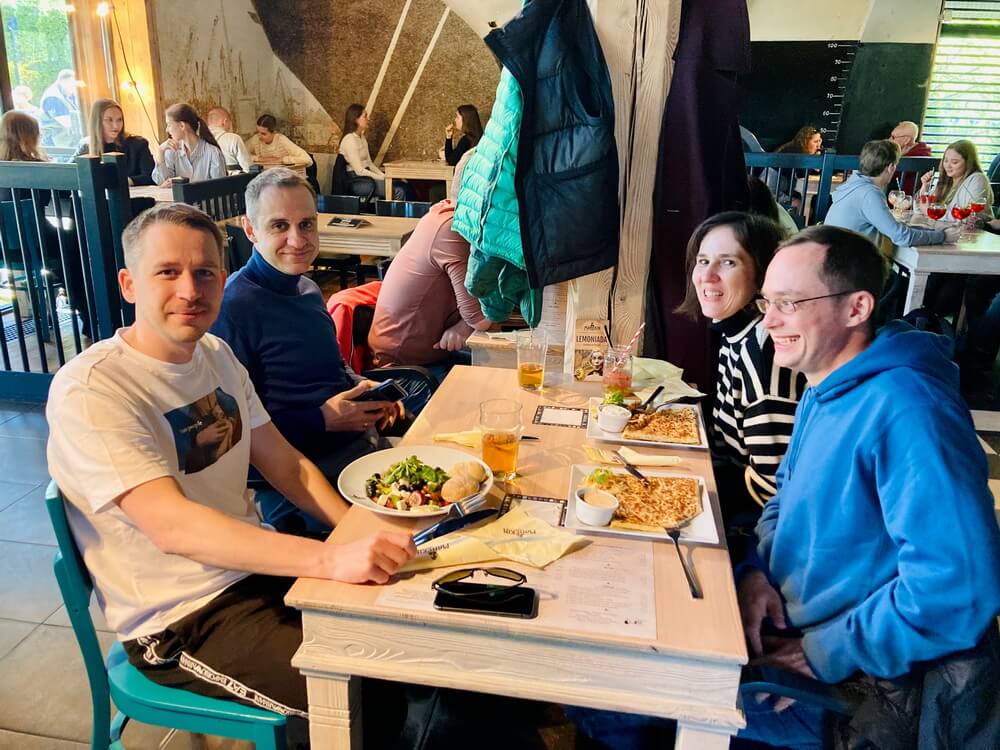 But don't just take our word for it. Check what people are saying:
"I've heard some team members who work fully remotely started to get jealous"
To be honest, before we started the coworking thing, we already had a small initiative with my colleague Ala (Alicja, Talent Sourcer) to meet monthly and work together.
I love the idea of a coworking space! This is something I was really waiting for. I'm an extrovert, and the hybrid model is a perfect opportunity to spend more time with people I only know from video calls.
However, it was a bit weird at the beginning to get used to many people in the same room and have different calls or tasks. I felt overwhelmed with the sounds and space. Some of us were a bit shy, but then people started joking and sharing about their hobbies and interests. The atmosphere now is very informal and friendly. I've heard that some team members who work fully remotely started to get jealous.
Monika, Talent Manager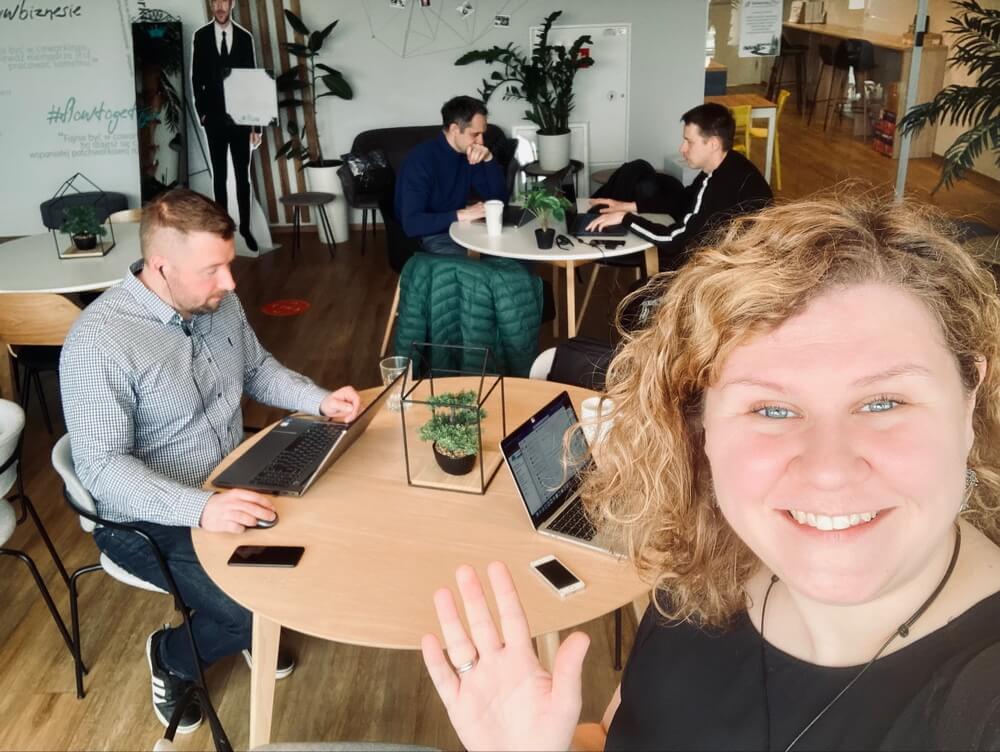 "No virtual coffee break will ever beat face-to-face communication"
Meeting in person is the best thing about coworking. Say what you will, but no virtual coffee break will ever beat face-to-face communication. We really did miss all these breaks, team lunch, and just random talks along the way.
I can't say it was somehow new or confusing compared to today's working routine. It neither decreased nor improved productivity. And yet the biggest benefit that I have just mentioned outweighs any drawback. And so we continue meeting at the coworking space every week.
Katherine, Co-founder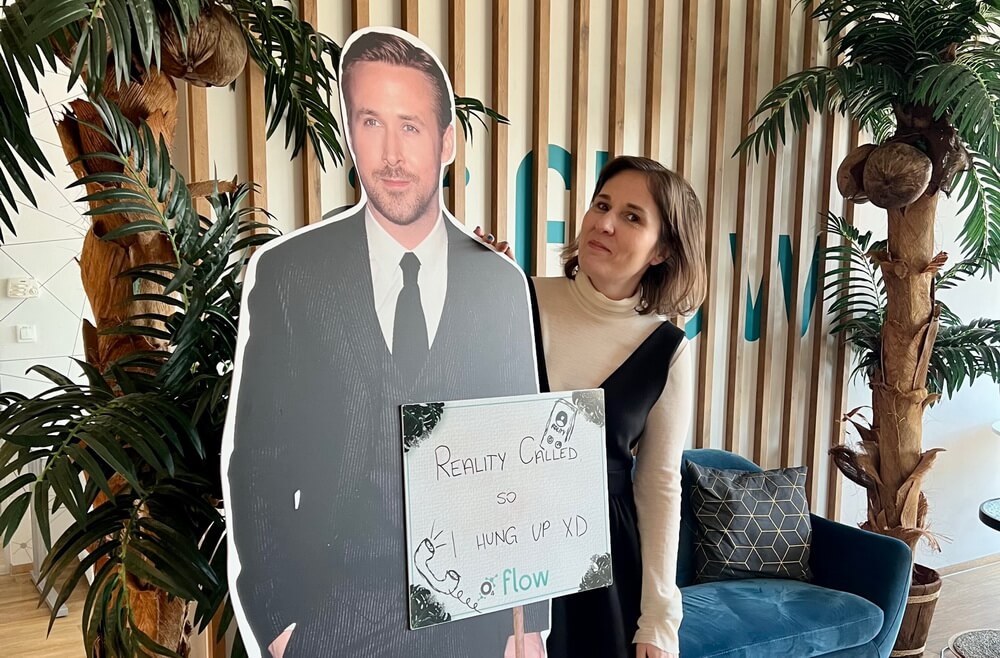 "How great it is that we can have a flexible arrangement"
A month ago, I was craving to get back to the office, and recently we started coworking in Gdańsk once a week. But in my case, this means spending 1.5 hours just to get to the place. This is when I realized how great it is that we can have a flexible arrangement and work from home without wasting hours on commute. At the same time, I think it's nice that now and then we can come and collab in one space.
Adam, Key Account Manager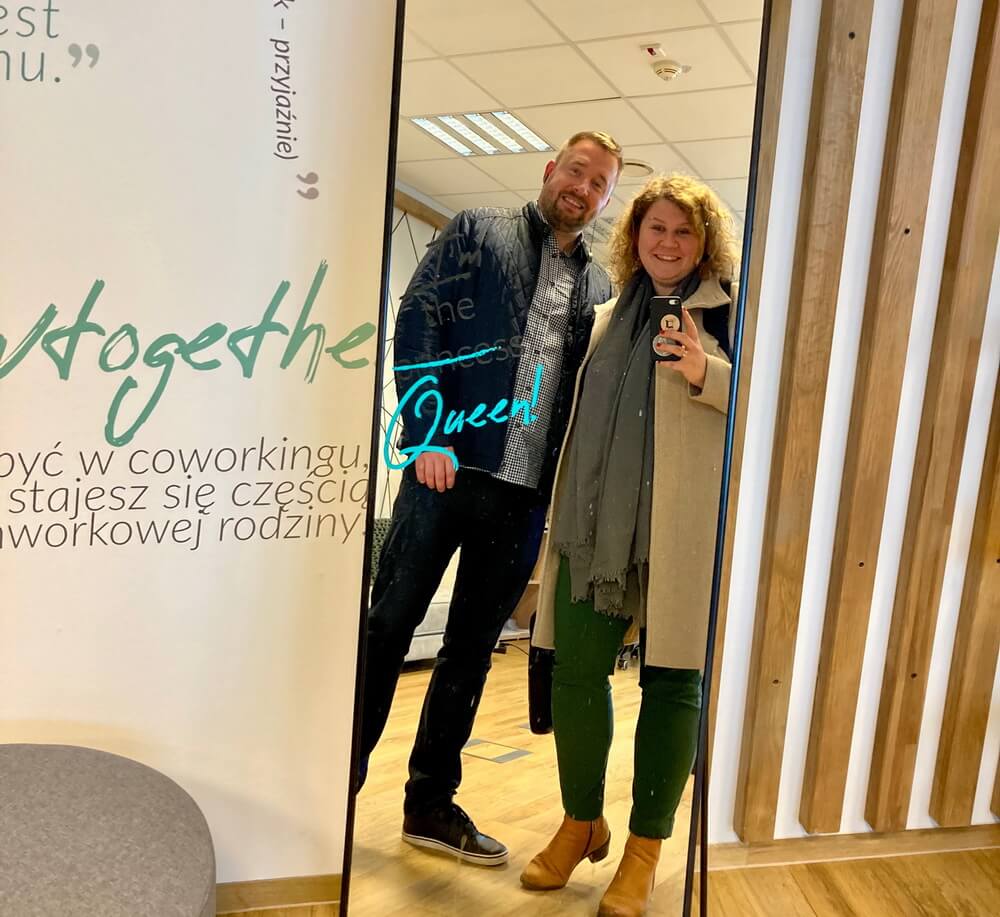 "The coworking space is great, everything is designed for the comfortable work"
For me, it's a great chance to finally communicate with colleagues face-to-face. It feels a bit unusual after several years of home office, but once a week is a good start as it does not require fully rearranging the rest of your life. The coworking space is great – everything is designed for comfortable work here. You have the place to collaborate with colleagues, rest and relax areas, and the space where you can get some silence and concentration you need.
Elena, Project Manager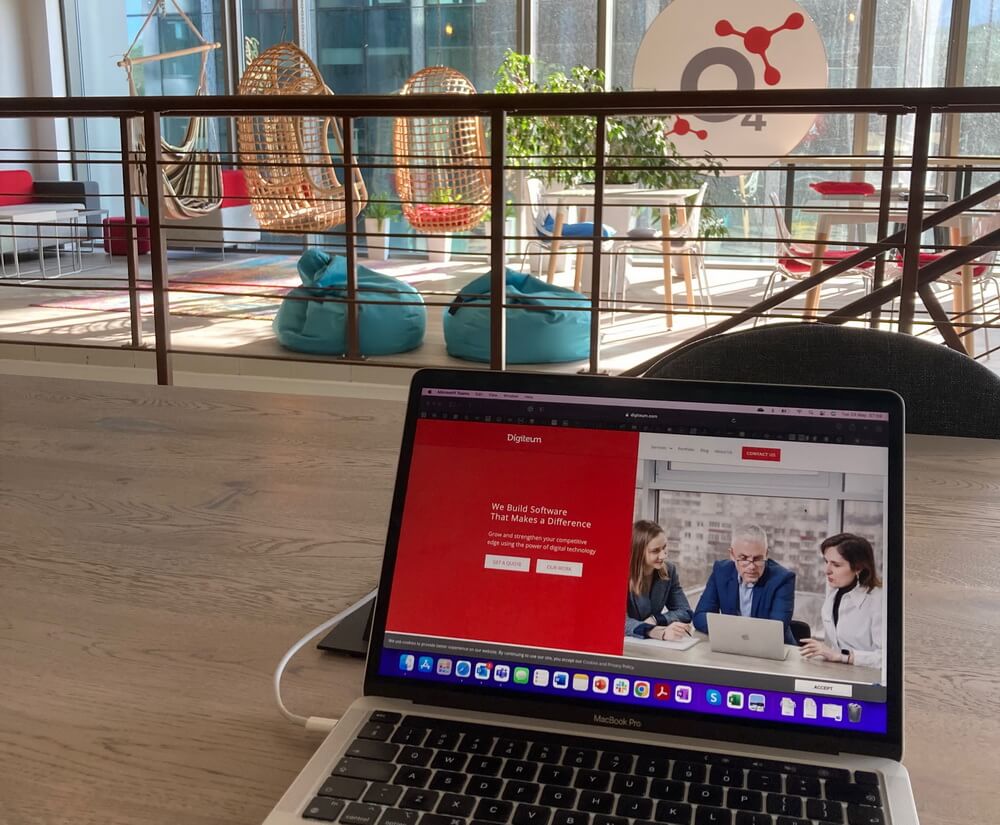 So what's the bottom line?
We are saying big fat yes to regular coworking and invite YOU to join the crew.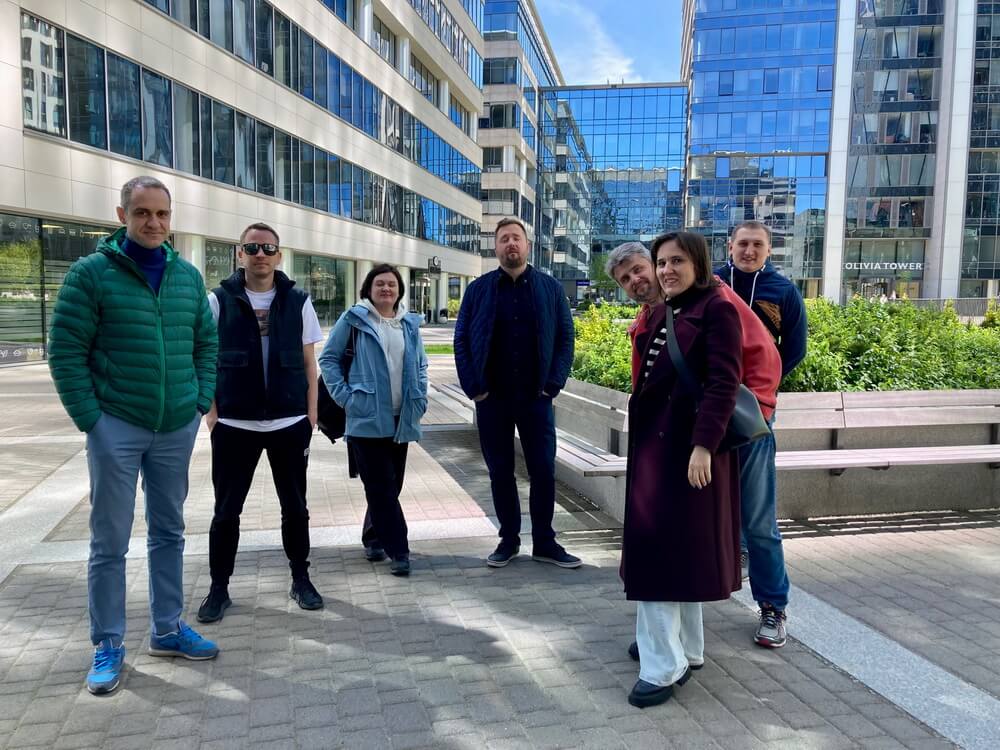 If this flexible work arrangement feels like your cup of tea, check open positions or drop a line at jobs@digiteum.com to learn how to get on board.