Shopping bot for retail
Meet Shoppie – an intelligent digital assistant that helps ladies choose proper shoes for different jeans styles and order them right on Facebook Messenger. Chatbots like Shoppie are a great example of retail initiatives to improve sales.
Shoppie can have many faces because it's a demo bot. It demonstrates how a smart recommendation, order and sales automation can work. Once you test it on sneakers and pumps, the rest depends solely on your imagination.
4 Capabilities of a Demo Chatbot for Retail
1. Search, match, recommend and help customers choose products online
That being said, the application of different technologies — chatbots, AI, IoT in retail industry — is limited by its creator's imagination. Shoppie chatbot, for instance, justifies its name and acts as a shopping clerk.
Like a shopping assistant, it builds up a casual dialogue in messenger to help users choose products online. Like a shopping assistant, it adjusts its recommendations to customer's input, say size, style, color, etc. Like a shopping assistant, it guides customers along the whole purchase journey from search to checkout.
Unlike a shopping assistant, it is never rude, tired or lazy. Shopping bot works 24/7/365.
2. Provide customer support
Shoppie may never become an extraordinary personal stylist due to the lack of imagination, but it knows the job when it comes to customer support. Tracking and shipping information? No problem! Returning and refunding policy? Easy-peasy! Size information and conversion table? Here you go!
Available round the clock, chatbots in retail industry are able to answer FAQ, give directions, provide information about the brand and its products and services, and basically, any other information customers should or want to know about retailers and their products. All via a simple chat. These features make chatbots thrive not only in retail but also in many other customer-centric services (e.g. chatbot for patient symptom tracking, order and delivery bots, virtual office assistants, etc.)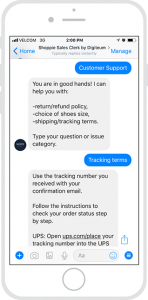 3. Establish reliable connection with customers at their territory
If your target audience uses smartphones, and today almost everyone uses a smartphone, you understand the importance of having your people happy regardless of the device and time for shopping. And still, mobile experience remains a sensitive issue for many retail and ecommerce brands.
Most chatbots are mobile native and function by simple texting. In fact, chatbots were born for a mobile-first environment where on average top 5 mobile apps are messengers.
For instance, Shoppie demo bot occupies Facebook Messenger. It's simpler this way (thanks, Chatfuel). However, broad integration capabilities and flexibility of chatbot technology allow engineers to build bots anywhere, be it messengers, website, custom digital system, voice assistants such as Amazon Alexa, or even email agents and SMS. This is on one side. On the other side, chatbot creators can integrate almost any API-enabled system with a bot – order processing, payment, notifications, reviews, etc. In other words, chatbots are ultra-flexible when it comes to adapting to customer location, buying habits and industry specifics, and even languages. Check a Chatbot in Hindi language we've built for Oxford Languages to boost customer engagement.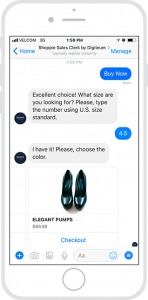 4. Create smooth online shopping experience
Can you improve your checkout rate and sell online more with a bot? Sure, you just need a good dialogue for that.
Shoppie demo bot reveals the power of texting for online shopping. The bot leads users along their purchase journeys step by step and makes this experience as short and efficient as possible. It's close to I came I saw I conquer, only in case of a chatbot it's I text, I pick, I buy.
As a demo bot, Shoppie demonstrates this process using the best practices of action-focused conversation. It's short, casual and to the point. This is exactly what you need to avoid the confusion emerging from not intuitive websites or apps, problem of choice and second-thoughts that often make customers abandon online carts.
However, talkative and responsive thanks to NLP tools for chatbot builders . Shoppie, for example, identifies various plain text input to help users navigate, quickly return to shopping process or other conversation lines, or simply have a healthy small talk. These are just the basics for a demo bot. In practice, AI-powered bots for retail and ecommerce become smart self-learning digital tools for both serving customers and collecting customer data for further personalization and optimization of services.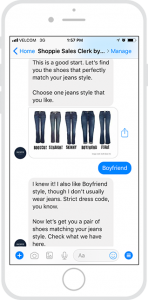 Of course, every demo chatbot dreams of becoming a fully functional profit-making bot when it grows up. Which is in fact, not a too complex objective.
Flexibility and rapid testing of chatbot technology meets "fast-fail" approach that dominates the market. Chatbot is usually a fast launch – fast test project that allows to quickly generate necessary data to optimize a bot according to the customer and industry needs. Another benefit for retailers who temporarily or continuously experience the lack of human resources and find themselves in vital need of a technology solution to augment human teams. Building a chatbot is like hiring a digital personal assistant, only no paychecks required. And you can modify and switch it on and off as much as you want.
Fancy to know more about chatbots in retail? Or have a particular idea in mind and looking for a team for custom chatbot development? Contact Digiteum team to discuss a strategy on how a chatbot can bring value to your brand and customers. We will help you design, build and implement a truly beneficial chatbot solution for your business.