Pros and Cons of Working from Home
It's been over a year since we started working from home. One year is enough to form a strong opinion on remote work and not enough to completely give up on the good old days at the office. Once we're in this Goldilocks zone, we've decided to use this opportunity and ask people at Digiteum how they feel about the whole work-from-home thing. The answers were, so to say, eclectic.
What are your pros and cons of working from home? We'll begin with Katherine Lazarevich, Digiteum Co-Founder and Co-CEO.
It started as a temporary initiative, but nothing lasts longer than the temporary. I went through all five classic stages: denial, anger, bargaining, depression, and acceptance. It's hard for me to think about the pros and cons of remote work from a personal perspective only because I tend to think big about everything. That's why the company's life makes the top of my list.
I miss informal communication the most. We have online coffee breaks, we even had online wine tasting and parties. But it's not the same. When you are on fire at the office, sometimes it's enough just to go to the kitchen, bump into your colleagues, exchange some jokes and the stress is gone. You can go on with your day. Not to mention corporate events in and outside the office which are a huge source of fun. We are always looking for ways to stay connected and support our corporate culture even being online, but this is quite a challenge.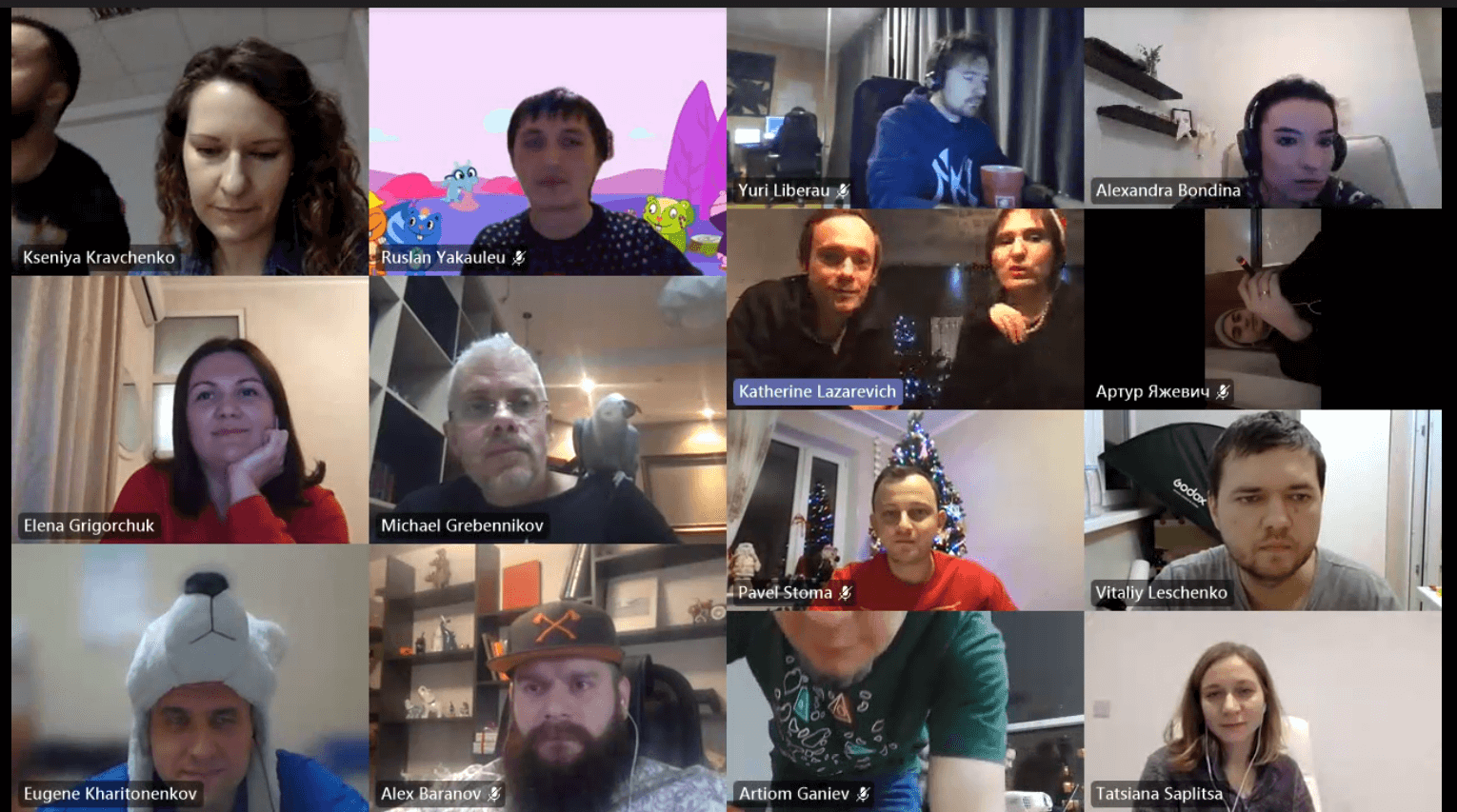 On the contrary, remote work took all geographical limitations and borders away. We've opened an office in Gdansk last year, but we are hiring all across Poland and Belarus. We don't have to limit ourselves and interview candidates from Minsk or Gdansk only, nor ask people to relocate. Our team has grown a lot since the pandemic, and I'm happy we are now more open for talent.
It makes perfect sense given how much effort and soul you put into building up awesome company culture and preserve it as the team scales.
But the devil is in detail, and it's often the little things that make our everyday lives joyful. Let's dig into that and see what others think about working from home.
Pros of working from home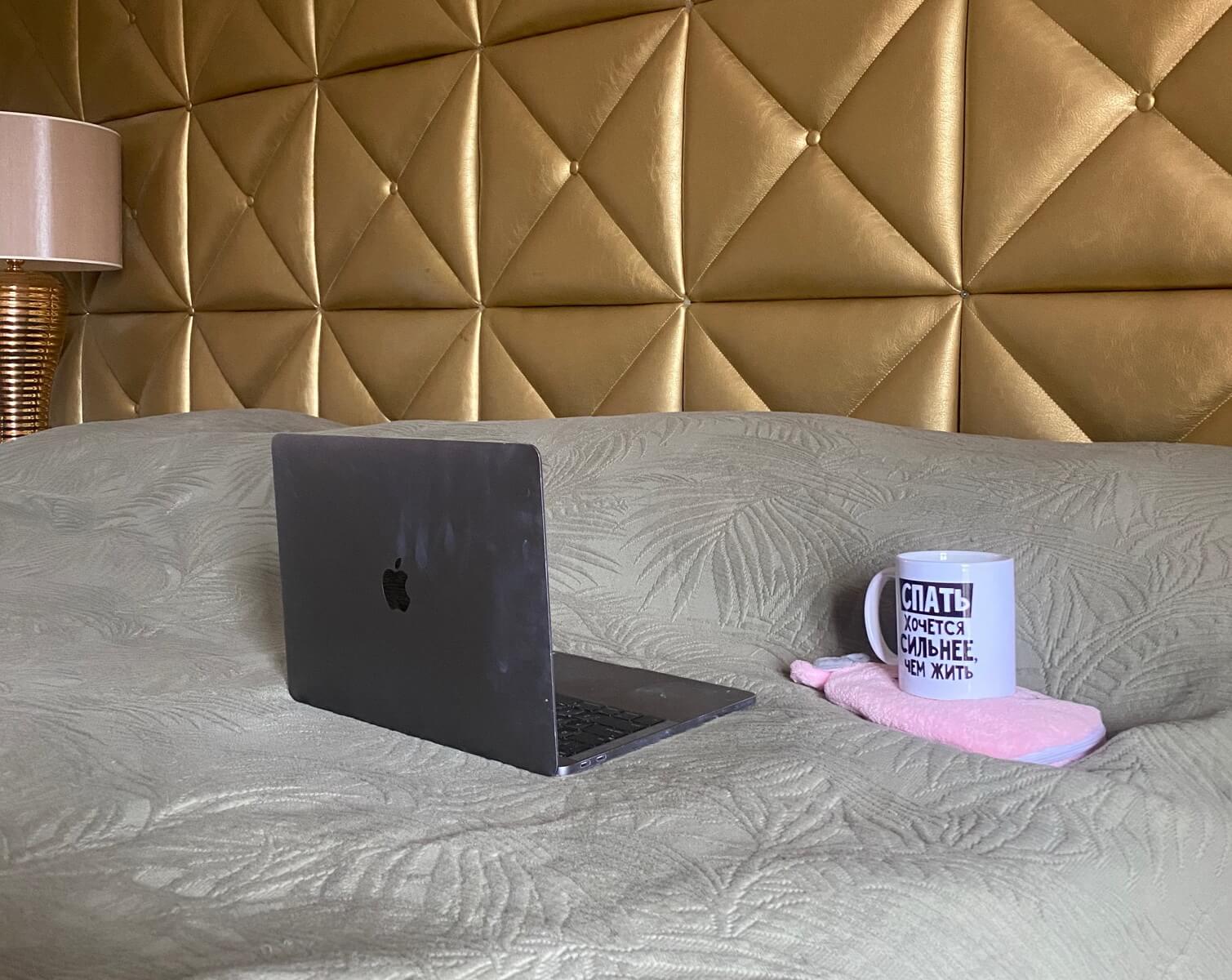 "You can sleep longer" makes the top 3, and there's no need to explain why.
Before the home office, we had a rule of 10:30, which is not so early if you think of it. You could get to the office anytime before 10:30. If you are a minute late, unless you have a good excuse, you have to bring in a penalty cake. Boy, it was a good rule, and good cakes too.
Things are different now. "I can stay in bed longer in the morning," says our Talent Manager, Monika. "I like the fact that I can add one hour to my sleep time, and I do need this additional hour on Friday. Maybe Thursday and Friday, okay, Wednesday too. But I'm willing to get up earlier at least 2 times a week," Katherine admits.
"Pants or No Pants" is one more point that appeared to be everyone's favorite. Not that we had a dress code or something. Now people go further and say that "pants are no longer needed."
"You can work in your PJs sometimes," says our PM, Elena. "No need to think what to wear," shares QA engineer, Anastasia.
This one comes with a twist though. After all, there's always another side.
I've heard that some people save time on putting on clothes, but I tend to be prepared for everything, so it's not my case. However, I miss the opportunity to dress up or mess around a little. Katherine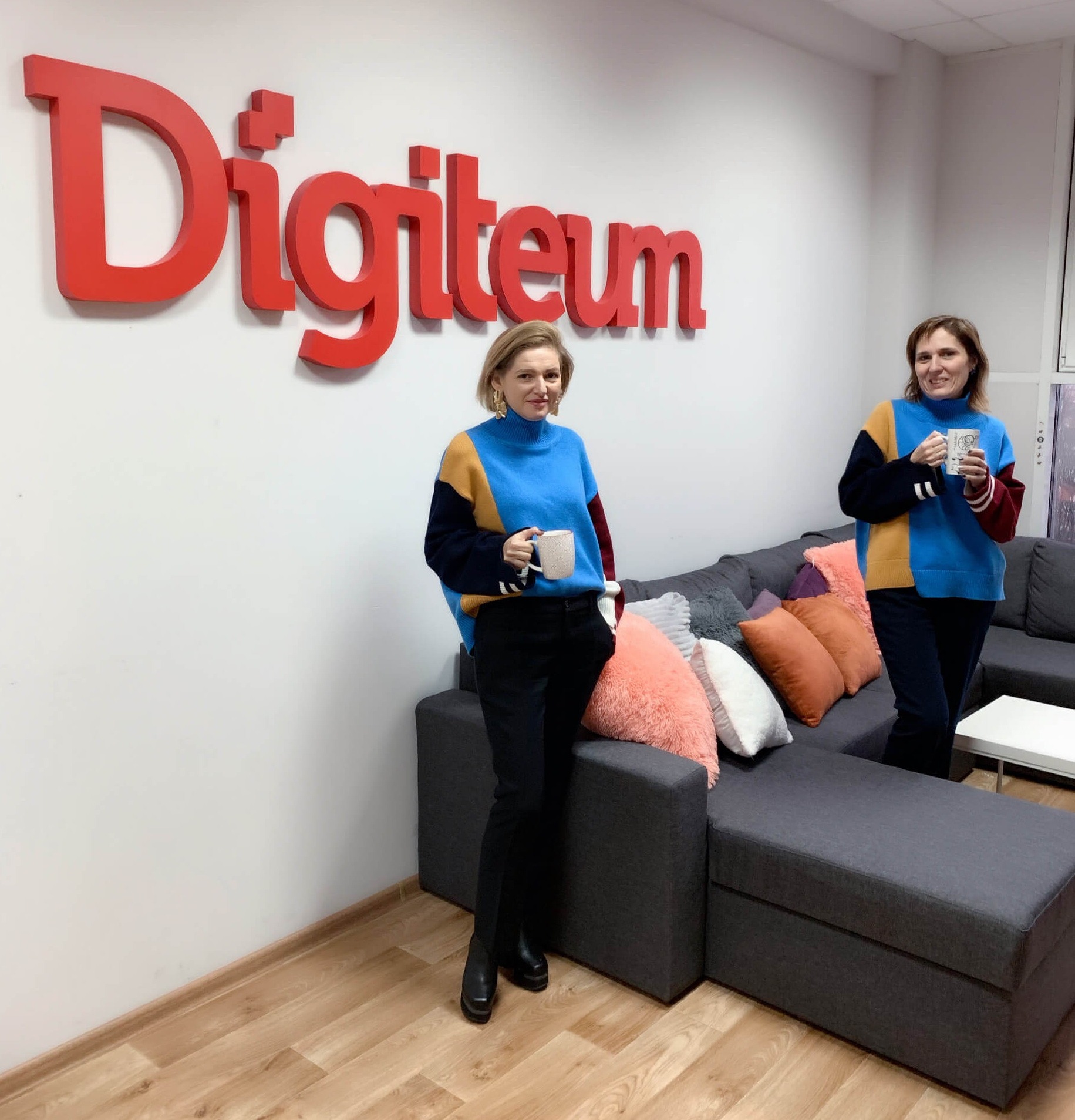 More than 50% of the folks we talked to mentioned commute. There are several reasons why no commute is one of the biggest pros in the list.
Digiteum Co-Founder and Co-CEO, Michael Grebennikov, says "it's a big time-saver," while Vitaliy, .NET engineer, adds that "you bring yourself to the workplace for free, saving not only time but also gas money." Makes sense, right?
It's worth noting that this is also an easy way for everyone to get more sustainable, and by "easy" I mean you don't need to do anything for that.
PJ is not the only thing that provides a special sense of comfort at home. Someone puts a "pillow full of fluff" to both pros and cons, and it's hard to argue with that. Here are some other things that make home office more comfortable than, well, office office.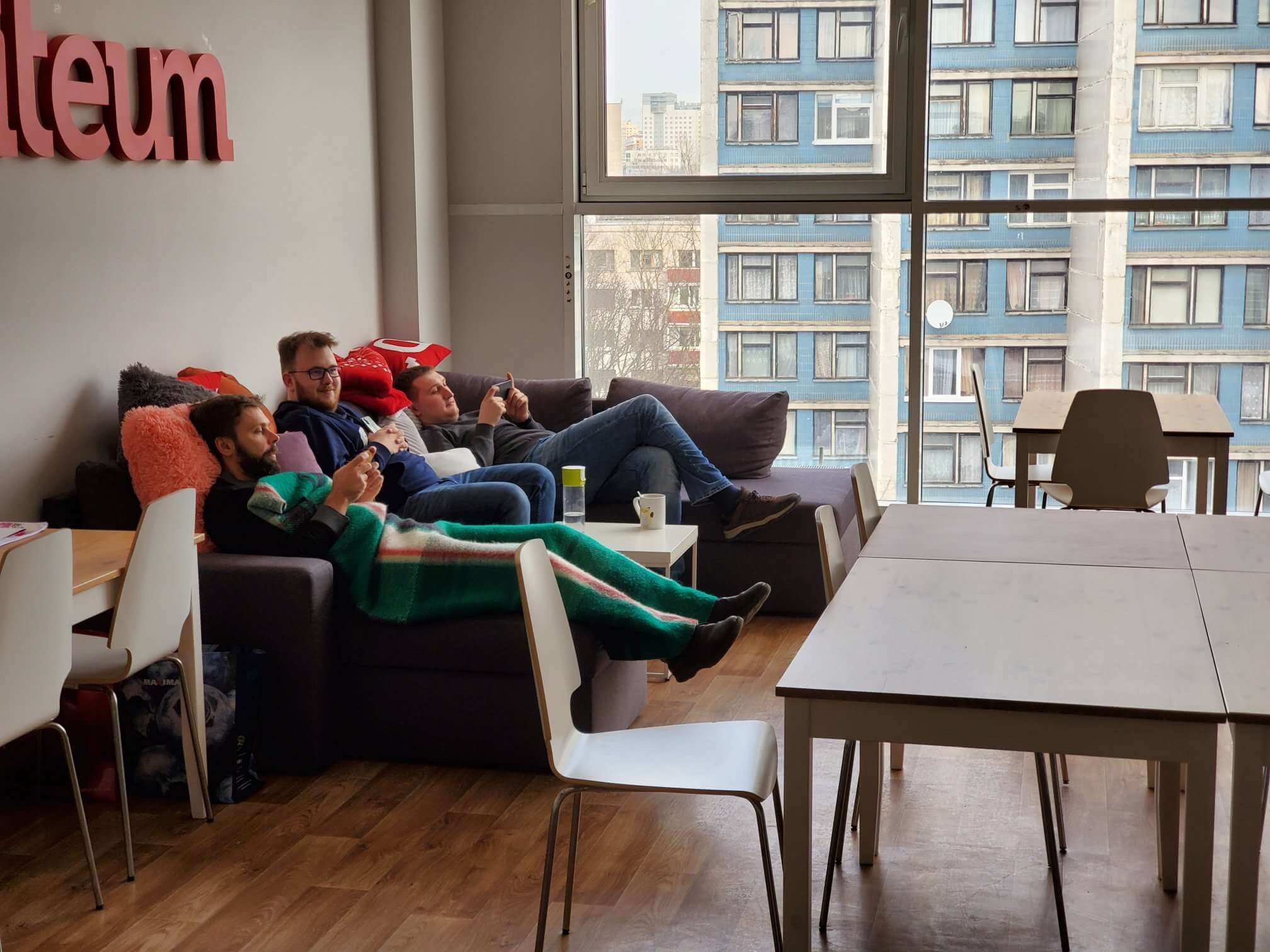 My dogs are sleeping near my chair, seems like I am working at Google office. Alex, UX/UI designer
I like my chair and stuff. Don't need to share the fridge, coffee machine, and it's nice. Siarhei, QA Automation engineer
There is no background noise at home. Denis, .Net engineer (lucky you, Denis)
You can feel the comfort of your home while doing your job. Natallia, QA lead
You have really flexible working hours and the possibility to have rest at any time or to have a nap. Victor, DevOps engineer
I can cook hot meals and eat it immediately. Monika
Last but not least pro is being able to spend more time with family. Michael, Natallia, Anastasia, Elena, and many others agree that this is a big benefit.
There are days when you need to focus on family matters. Things like commute eat a lot of time, while work from home gives you the flexibility you need. Alex, .Net engineer.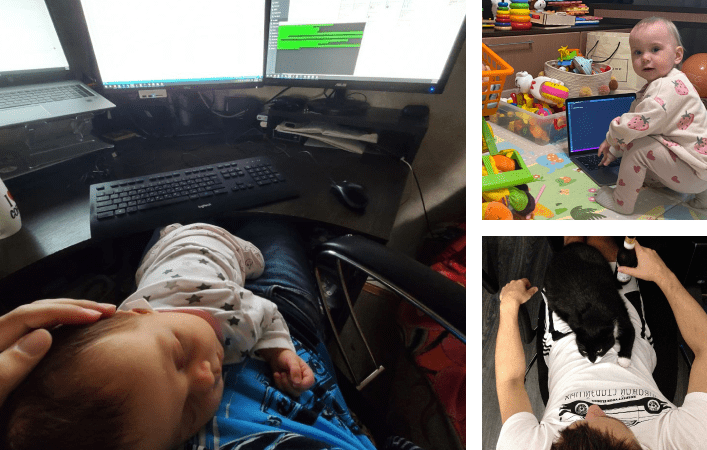 Sadly, working from home is not always rainbows and butterflies. There are several disadvantages that make many people long for getting back to the office.
Cons of working from home
Lack of live communication
You can't replace live communication. Calls and chats simply won't do the same job as a timely slap on the back or throwing a paper ball to get some attention. Vitaliy
I miss the positive vibe of our office space. Olga, QA engineer
The biggest disadvantage is the number of video calls. You can't just get into a room to solve a simple problem, you need to plan an online meeting. I hope that someone from Apple will read this interview and start putting some effort into improving AirPods battery life. Right now my headphones run out of battery too often. Katherine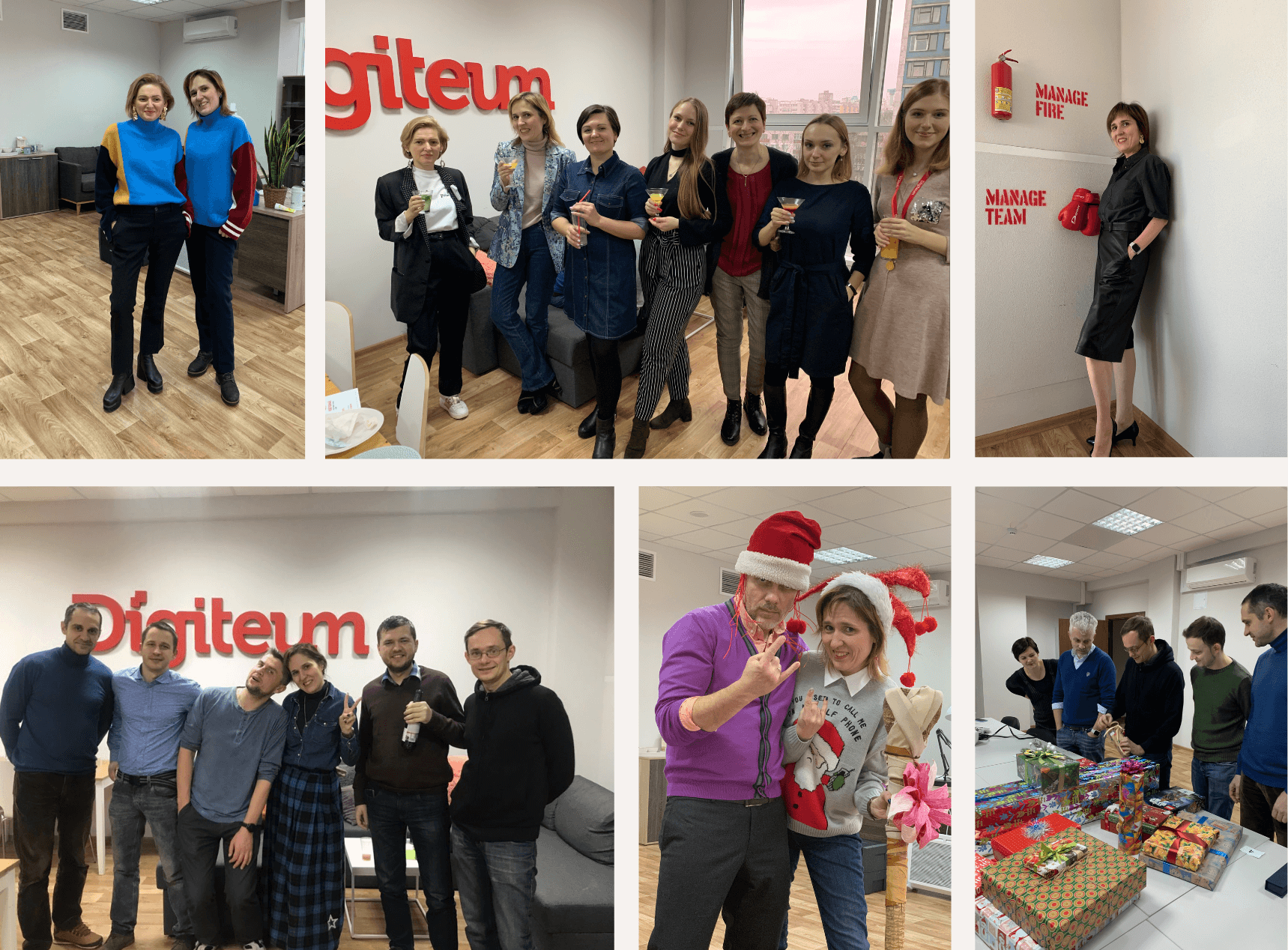 Do I work at home or do I live at work? (с) It's so easy to get lost these days. Telecommuting is incredibly flexible, but it works both ways, and people find it challenging. Siarhei noticed that "you start working weird hours easily" and "working never ends" added Natallia.
Sometimes you have a feeling that you are locked in an elite facility with an option to go out from time to time. Elena
DO NOT ENTER: Daddy is in the meeting
Not everyone has the luxury to lock in a separate room and work in peace. And it can be a problem, especially if you have a couple of toddlers at home.
According to our .NET engineer Alex, "it's not easy being cooped up with kids 24/7."
You may also have to share your working space, and it's not always 50/50.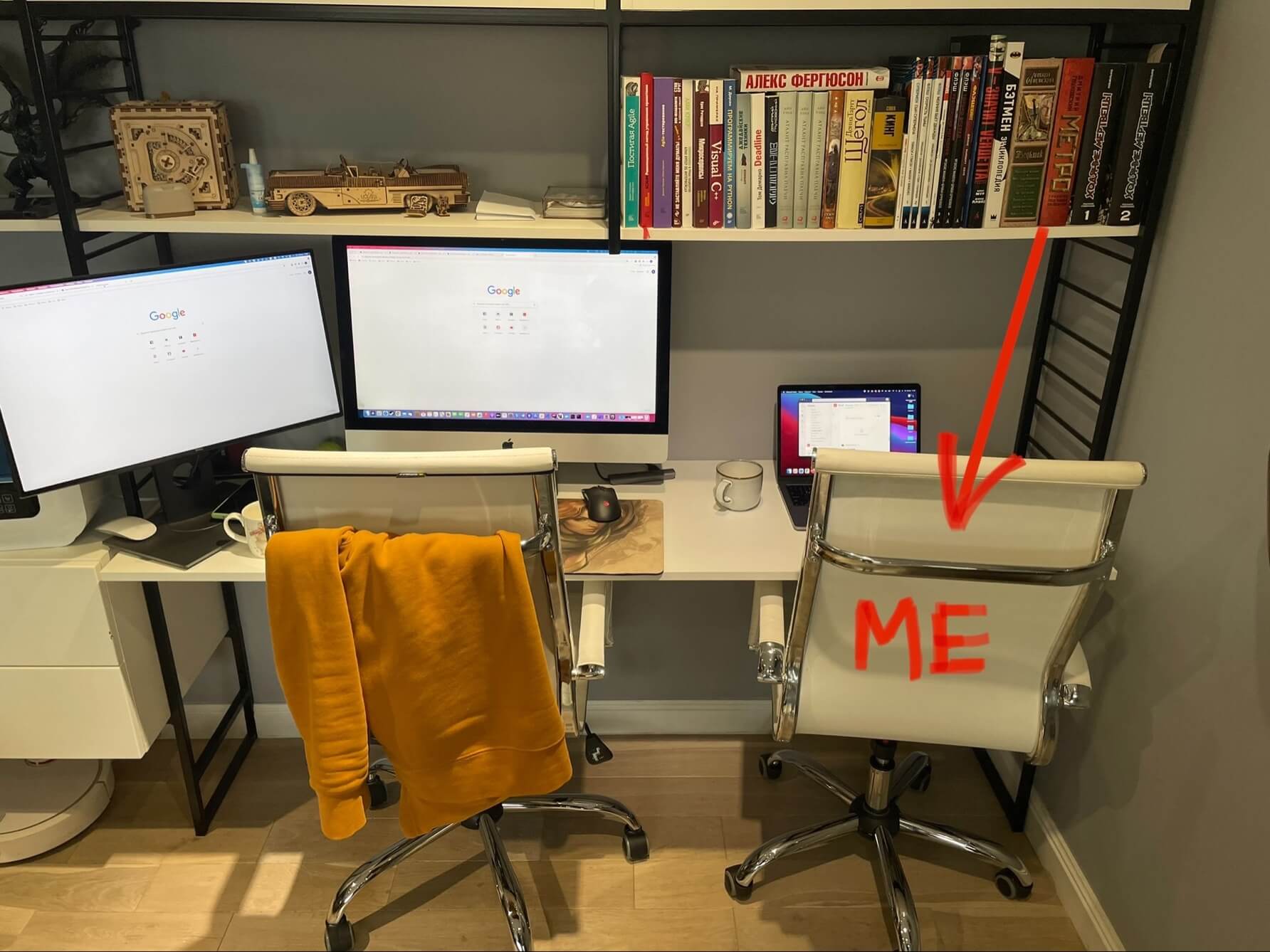 Working from home usually means you go out less, move less, and in time it starts showing.
"Going to the office was one of the few opportunities to go out," shares our UX/UI designer Alex. And Alex, by the way, has two gorgeous dogs to walk, so he's on the safe side. So as Anastasia who also has two pups. What about the rest of us, dogless humans?
Not to mention it is a twofold problem.
My fridge persistently calls me by name every hour. Michael
Digiteum switched to remote work in a matter of days. It was harder for some people than it was for others, but we managed. It was also a good test for resilience and commitment which we aced.
Today we work from 6 different countries, are constantly growing as a team and manage to preserve our unique atmosphere no matter the distance and limitations of remote work. For if you have a good team spirit, this is the only pro you will ever need.