How User-Centered Design Process and Principles Can Improve Your Product Development
You have to read the room to deliver a compelling message. You have to read your users to deliver a great product.
User-centered design (UCD) is an industry standard in product development. It helps create truly useful, convenient and lovable products. How? We are about to find out. In this post, we answer the question 'What is UCD?' and show how user-centered design process helps businesses create successful digital products.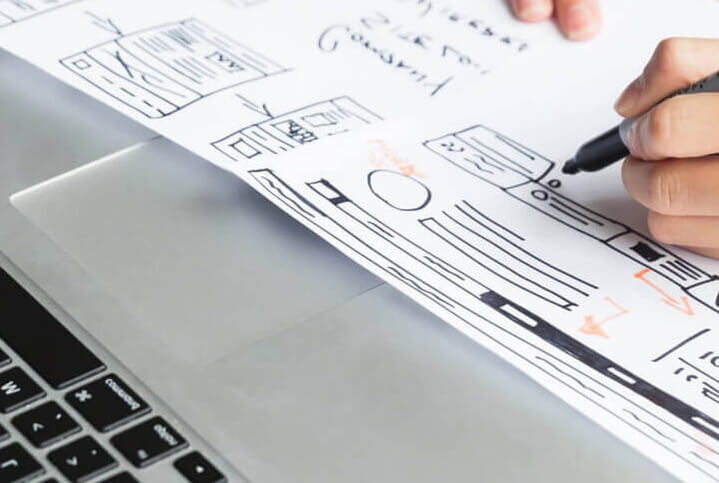 What is user-centered design? As the name suggests, user-centered design is an approach to the design process that puts user needs at the center throughout an entire product design and development lifecycle. In practice, this means that designers, as well as the rest of a product team, use different techniques to develop a profound understanding of end-users and then translate these insights into product requirements and the future design.
Formal user-centered design definition specifies that this is an iterative process driven by research, evaluation and user feedback.
Essentially, the concept of UCD derives from the idea that a good product must, first of all, serve the people who use it. This does not necessarily mean that user needs are always prioritized over business goals. On the contrary, the challenge and also the objective of UCD is to find the balance between the two.
Here are a few key principles of user-oriented design that help product teams develop usable and accessible software.
UCD methodology involves the use of different research techniques and tools that help study and discover unique characteristics of the target audience and environment.
Empathy is one of the central points of the UCD value system. Building empathy with end-users — getting a sense of their fears, feelings, frustrations, likes and dislikes — is an important goal of the user-centered design process.
Personal biases and assumptions that may slip into the process can compromise the very essence of a user-driven design. This is why every concept in UCD must be backed up by the insights gathered during the research phase and validated afterward. This point leads us directly to one of the key user-centered design principles.
Communicate, test and gather feedback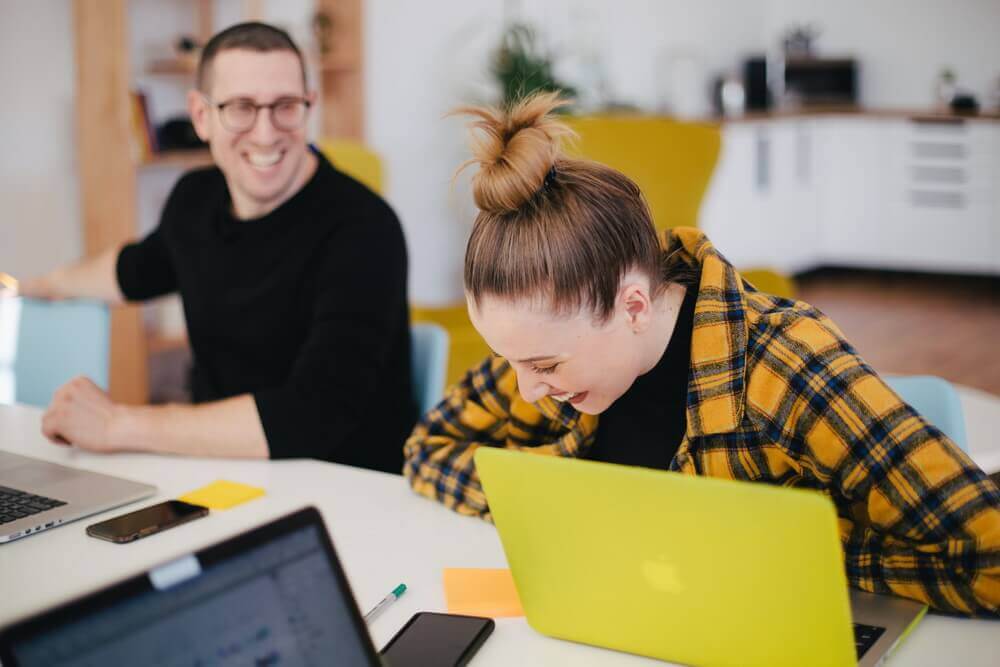 To build empathy, avoid bias and come up with relevant design concepts, product teams engage real end-users at different stages of the design and evaluation process. This principle is reflected in different design techniques we will be talking about later in the post.
Designers consider not only user characteristics and goals but also the context the product will be used in. Context breaks down into many different aspects that altogether give an idea of when, where and how the product will be used.
Are you looking for an experienced team to help you implement the UCD approach on your project? Contact our team to talk about your design and development needs. We usually reply on the same day and start with a no-obligation consultation to explore how we could help you with your project.
User-centered design process consists of several steps during which product teams apply different techniques and practices to gather requirements, develop and test user experience and visual design.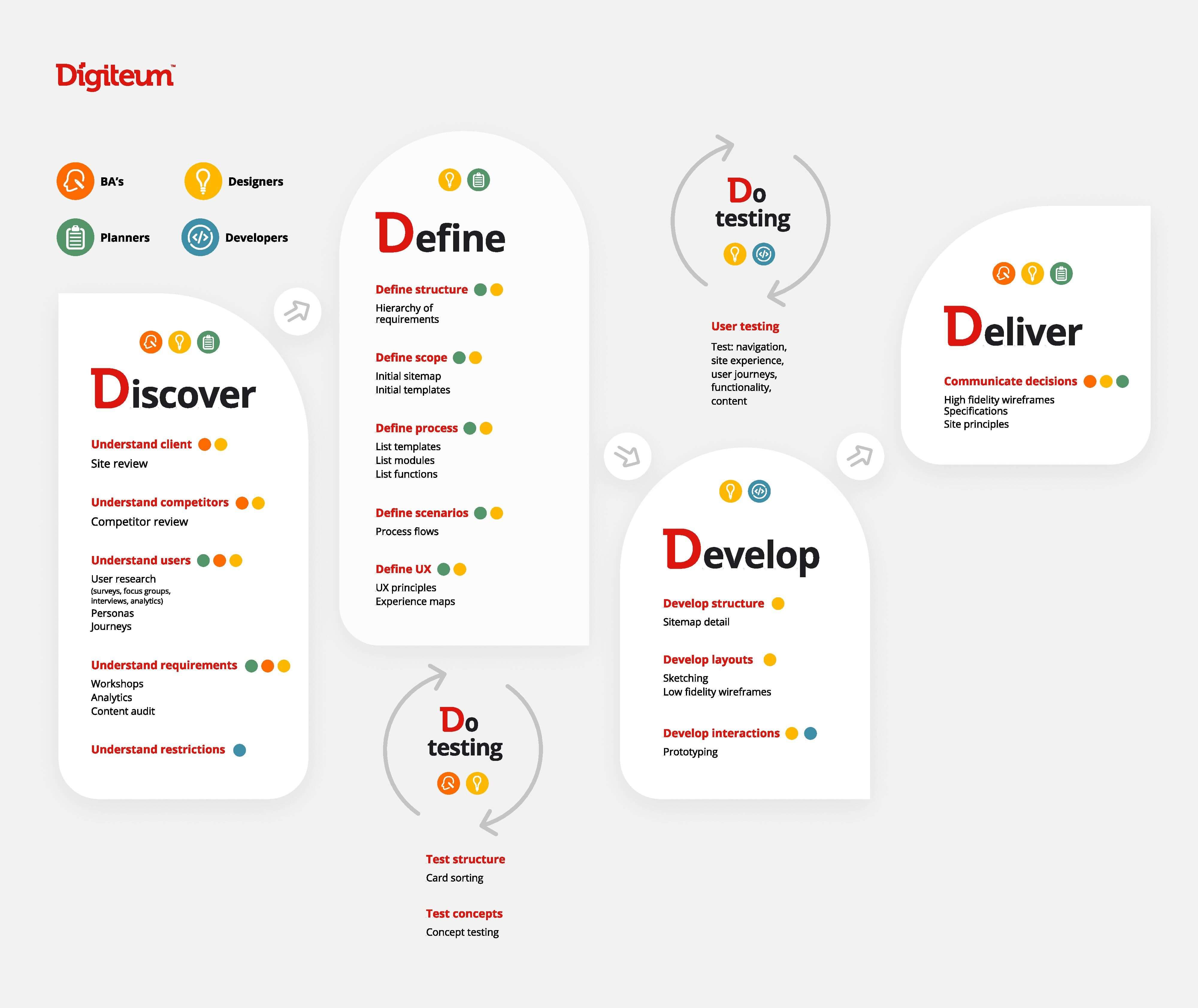 This is a research and analysis step that helps a UX team develop a profound understanding of the future users, their goals and the environment. It starts with identifying who will or may use the product. At this stage, the team uses several investigative techniques.
User interview is one of the key user-centered design methods that allow product teams to get essential information about the future users firsthand and learn about their goals, preferences and opinions.
This technique is often used to understand what users think about certain features, functionality or problems. These discussions are conducted in small diverse groups and allow to gather valuable feedback on how people believe the product should work and solve given problems.
Different analytics techniques and tools are used to review how existing systems are used, analyze user experience and interactions, and figure out what works and what doesn't.
By the end of the first out of four user-centered design steps, the design team has all the information to create:
User Personas — a collective image of one or more user segments with similar goals, requirements and needs. The example below shows a User Persona for online photo printing services.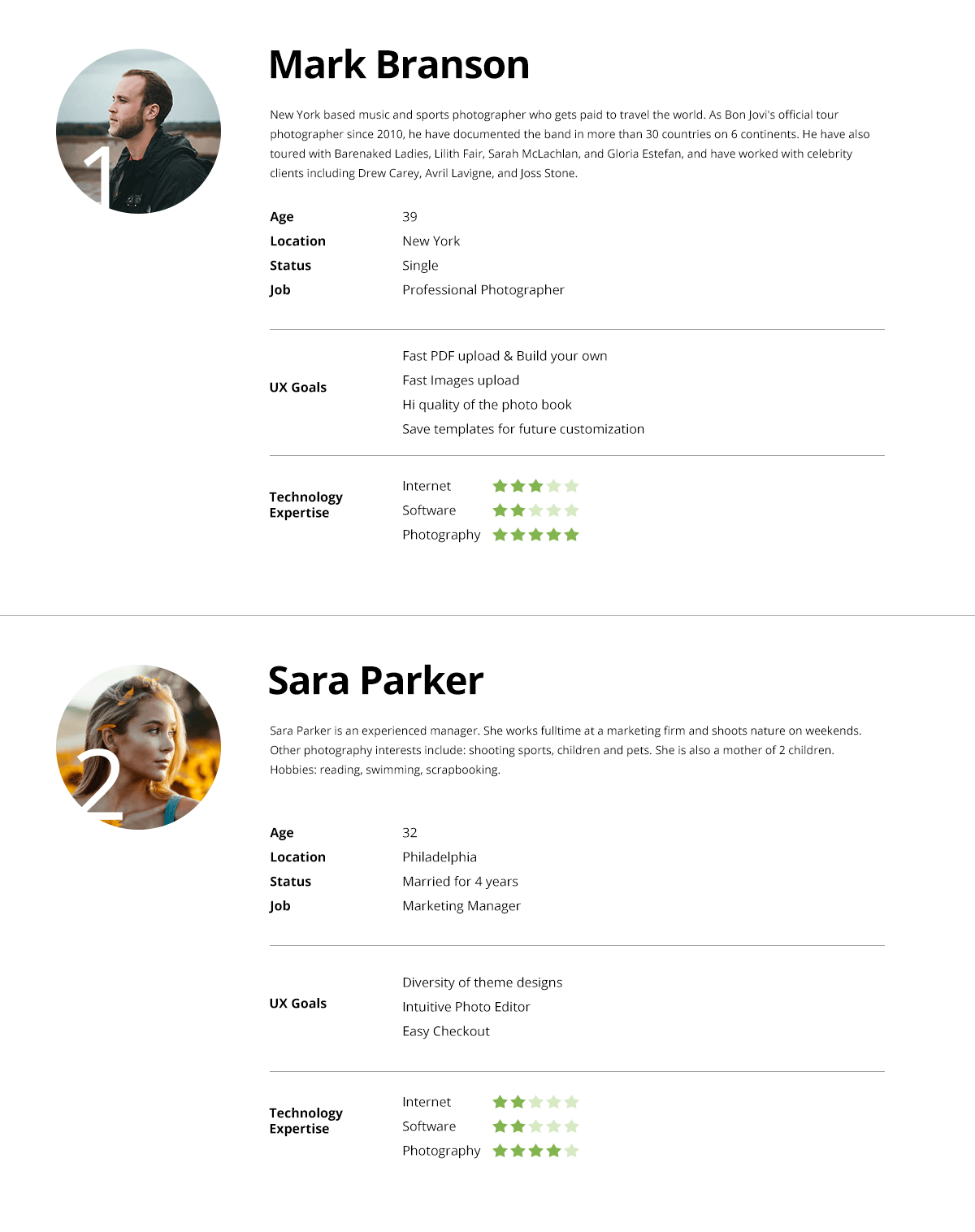 Scenarios — description of the actions Personas should make to reach different goals. See the example below that demonstrates the scenario for ordering flowers online.
Once the team discovers who will use the product and how it's time to define the structure and main components of the future system. At this step, designers collect different scenarios into user journeys maps, develop Information Architecture (IA) that shows how different components of the system connect and interact with each other, and suggest the navigation. Popular methods and techniques used at this stage are:
Card sorting allows to sort out content and information by categories and figure out how to develop effective navigation according to user expectations and requirements.
Free listing helps the UX team break down information into categories using user associations rather than default attributes. This approach is tied to how people understand and divide certain topics into categories and therefore helps create convenient navigation.
At this step of the design process, the UX team can already test design concepts, IA framework and navigation before moving to the next phase.
This is a very intensive phase that usually involves collaboration and experimenting. Based on the IA, the design team can now start prototyping and shaping the future product.
Sketching or paper prototyping is a highly collaborative and iterative technique that allows to quickly and effectively develop and test different design concepts and receive instant feedback.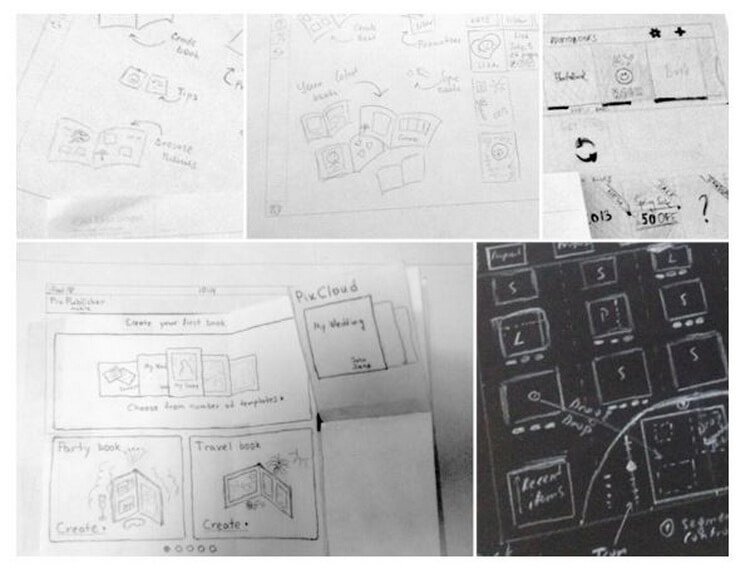 Lo-fi wireframes visualize the future interface, layout and interactions yet go without the final UI touch and detailed elements (colors, images, branding, content, etc.). Black and white wireframes can be easily turned into clickable prototypes using platforms like Marvel.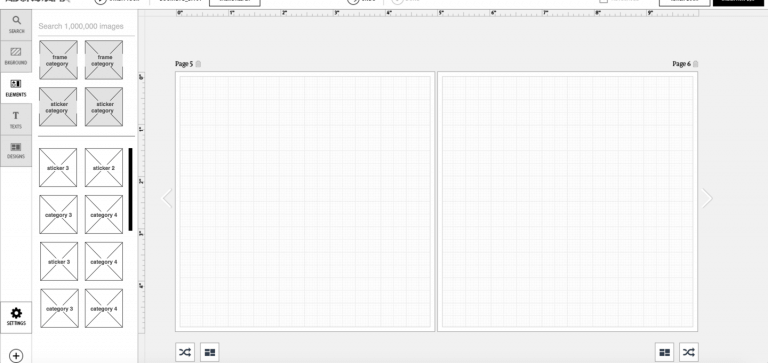 Both Paper Prototypes and Low-fidelity Wireframes are cost-effective techniques used for testing, experimenting and validation before starting the visual design phase. At this point, it's often recommended to do an early usability test and figure out how well the prototype performs against user expectations, goals and general product requirements.
At the last step of the UCD process, designers create a finished UI and design system that makes it reusable and transformable.
High-fidelity wireframes represent an original colorful interface that can be used for testing, presentation, validation and, essentially, as a deliverable. Design systems consist of an entire library of design elements, patterns, components, principles, style guides and interaction examples that can be used by design and engineering teams to further develop and build up the product.
Delivery is a final step, however, as we have mentioned in the user-centered design process definition, UCD is an iterative process that, in many cases, never really ends. Even after the product is developed and launched, it is monitored using different techniques and tools such as A/B tests, user surveys, accessibility analysis and heatmaps.
User-centered design approach helps companies create products that are relatable to the people who use them. This does not mean, however, that companies that bet on UCD have to sacrifice the business aspect of the product. On the contrary, the benefits of user-centered design for business have been proven multiple and multiple times.
Save on developing unnecessary functionality
UCD process helps the product team better understand what to develop and how. It's way cheaper to conduct effective iterations and make tests during the design stage than to find mistakes in a finished product, redesign and develop new features all over again.
Deliver a product that users actually want to use
UCD approach implies designing for users by putting them in the very center of the design process (literal UCD meaning). From the business point of view, this translates into higher customer engagement and satisfaction, less or no frustration, retainment and loyalty.
Enable accessibility and eliminate barriers
One of the main goals of user-centered design in software development is to translate a physical experience into digital or create an entirely new digital experience that will be accessible and barrier-free to all user categories. This is nearly impossible without understanding user capabilities, needs, fears and limitations.
Create a safe and resilient product
Another important reason for adhering to a user-based design strategy is to create a safer and more resilient product. Designers take into consideration context and the environment from the very start allowing them to design a system that will perform well in expected conditions.
Research-driven UCD process helps businesses better align priorities and refine overall product strategy ensuring that the product they create is exactly what their users need and want.
Digiteum has been a tech provider for a leading US photo laboratory for over a decade. The company provides superior photo product services to diverse audiences from tech-savvy pro photographers to amateurs and corporate clients.
During the years of our collaboration, we have designed and developed myriad web products and tools following the best practices of the user-centered design process.
User-centered design for a complex web application
Business problem: The client needed to develop a highly-intuitive web tool for photo book building. Normally, building a photo book online takes a lot of time and requires different tech skills depending on the context and user requirements. The goal was to transform a lengthy complex process into a user-friendly functionality that could address the needs of different user groups.
Our approach: Our team started with a Discovery project which, along with competitive analysis and market study, involved in-depth user research. Throughout the design and evaluation phases, the team used different UCD techniques — data analytics, the results of interviews, usability tests and focus groups discussions.
This research helped the UX team develop relevant User Personas and diversify user journeys based on user requirements and context. As a result, we could suggest the design for a complex web application that would not only be intuitive and easy to use but also provide unique benefits for different user groups. We introduced quick-build functionality to automate a lengthy photo book creation process in different scenarios both for amateurs and pro photographers.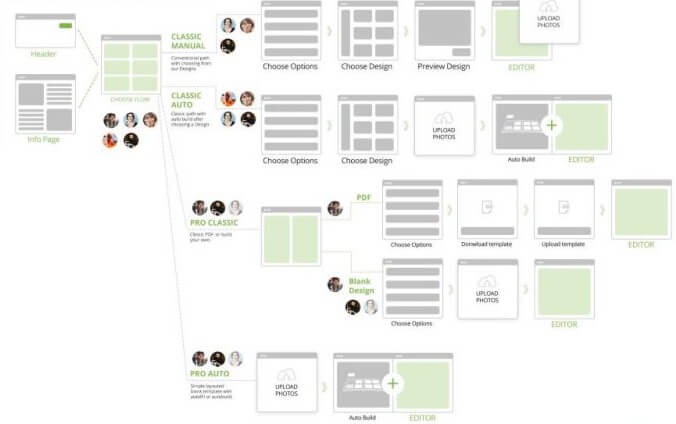 Result: The client is continuously growing as one of the leading photo printing service providers and boasts a superior web interface, according to independent reviewers. Since the new photo building tools have been introduced, the company has multiplied the number of online services, significantly increased the customer base and strengthened its position as a B2B and B2C printing service provider.
Is UCD what you are looking for on your project? Contact our design team and tell us about your business challenges. We provide an extensive range of custom software development services, including web design, web and mobile app development and MVP strategy. Let's talk!
User-centered design methodology offers a set of tools and practices to create convenient and practical digital products relatable to an end-user. Along with obvious benefits for designers, developers and users, UCD is a go-to approach for businesses to provide customers and clients with the products and services they need and want to use.
FAQ
What is user-centered design?
User-centered design is a complex of processes and principles that put users at the center of the entire product design and development lifecycle. It is implemented by the use of various research, ideation and evaluation techniques. Product and design teams engage end-users at different steps of the design process and gather important information, test and evaluate design concepts and develop truly useful digital products.
How does the user-centered design process look?
UCD is an iterative process that includes research, step-by-step development of user experience and frequent evaluation and testing.
Does investing in the UCD approach pay off?
User-centered design brings multiple benefits to businesses. It helps develop useful, safe and accessible digital products. This approach allows companies to optimize the cost of product design and development, refine product strategy and generally deliver better and more resilient products.