Why Belarus is the Best for IT Outsourcing Services
Indeed, Belarus stands out among other IT outsourcing service destinations, and we have already proved in on Medium when we talked about the agile development services provided by IT companies in this region. How it affects the U.S. tech shortage? Find out here or save time and go through the infographics to get to know Belarus as a great location for software development outsourcing.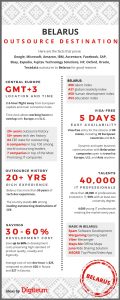 Learn about the best practices of software development team augmentation in our newest guide and contact our team to talk about your project.